Recently, the government of India, led by the inspiring Prime Minister Narendra Modi, announced it will expand its solar target to 100 GW by 2022, a seven-year period.
Currently, India has roughly 3-3.5 GW of connected solar power capacity as I write these words. This means that on average, India will have to install around 14.3 GW/year to achieve its goal.
To put things into perspective, consider the following observations:
14.3 GW/year is a faster installation rate than what nearby China has achieved in the past two years, while being the global leader in solar development.
The total average annual investment in the Indian solar industry will be more than $20B, around 25% of global investment (in 2013).
100 GW will be enough to power more than 40M households, which are 13% of all households in India.
This recent announcement establishes India as the most ambitious country with regard to solar development after China.
Around $150B will need to be invested in India's solar market over the next seven years. This poses both a great opportunity and an intense challenge for the Indian government. Let's talk about both:
The Opportunities and Risks
I'll divide the opportunity into two. The first opportunity is for project developers who will profit from selling electricity to India's electricity grid.
The second opportunity is selling modules to those developers who intend to construct massive projects throughout India.
The first type of opportunity is still risky in my opinion. India's government seems to be changing its policy quickly, a practice that tends to result in misunderstandings.
To follow the policy changes closely, you'll need to follow the JNNSM website, which shows the relevant documentation.
A recent document shows a very optimistic future. In short, the document shows plans to establish 25 mega-solar projects with a capacity of 500 MW and above, and a total capacity of 20 GW, in the next five years.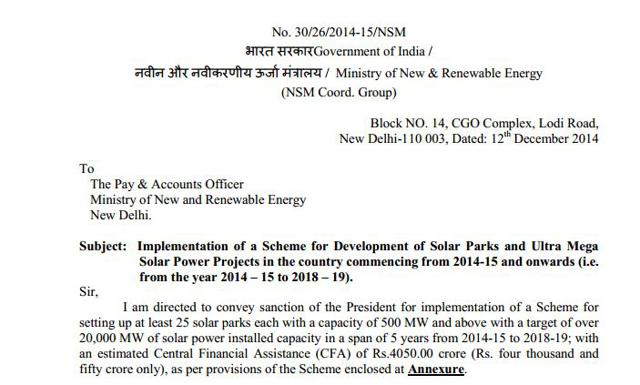 Source: JNNSM Website.
The document clearly refers to a power purchase agreement but leaves much room for future negotiation.

Source: JNNSM Website.
Developing a solar project is a business that carries a lot of regulatory risks. The life span of a typical project is 20-25 years, and it leans on a long-term contract to sell the electricity it generates for a fixed/variable price.
If, 10 years from now, the Indian government will decide to retro-actively change the price it pays solar project owners, it can drastically affect its IRR. Think that's not a possibility? Look no further than Italy.
With that in mind, the second opportunity is that being a meaningful supplier to Indian solar projects carries much less risk. The regulatory risks will probably put module prices under pressure in India, holding them close to prices in China, the lowest-price market for solar modules in the world, but the sheer size of the opportunity will offset that.
For a top Chinese module manufacturer, even winning only 10% of the market in India can significantly increase its shipments and revenues.
Who Will Benefit?
I will focus on public, global companies that could benefit the most from India's new target.
First Solar (NASDAQ:FSLR) and SunEdison (SUNE) are two of the notable players that are attracted to project development in India.
SunEdison with its aggressive move into the project development business in emerging markets has already signed an MoU with the government of Rajasthan, a northern state in India, for up to 5 GW of projects.
FSLR also announced a couple of projects in India, totaling 50 MW, which is still a drop in the sea compared to the 100 GW plan.
As for Chinese producers, each of the top, tier-1 producers can make a move into India and grab a significant market share.
The best positioned Chinese producers in my view are:
Trina Solar (NYSE:TSL), which is vocal about starting a production facility in India, where it claims to have a market share of 10%.
JinkoSolar (NYSE:JKS) also is very active in India, where it already has a partnership with a local distributor, PROINSO. JKS also has an active project development business unit that can venture into developments in India, if the economics are right.
Canadian Solar (NASDAQ:CSIQ) and JA Solar (NASDAQ:JASO) both told Reuters they are looking into making modules, or cells, in India.
Here is the quantified opportunity to supply modules to India's solar market over the next seven years.
| | | | | | |
| --- | --- | --- | --- | --- | --- |
| Market Share | 10% | 20% | 30% | 40% | 50% |
| Module Sales Next Seven Years | $5.5B | $11B | $16.5B | $22B | $27.5B |
| Average Annual Modules Sales | $785M | $1.5B | $2.3B | $3.1B | $4B |
Numbers Are Rounded.
Assumptions: Module price per watt of $0.55.
As you can see, the opportunity is very large for module suppliers. Even grabbing a 10% market share will result in significant revenue growth over the next several years.
Of course, this opportunity is not free of challenges.
Challenges
Domestic project developers in India will need access to low-cost capital in order to develop lucrative IRR projects.
Achieving the target will be much more difficult without a uniform and agreed-upon price per KWh for those projects.
Trade between China and India will have to be made as easy as possible. The majority of those 100 GW modules will come from China.
India's electricity grid will have to be developed and upgraded from year to year in order to support the major capacity expansion.
Conclusion
I suggest that if you follow the solar industry, you will want to closely monitor developments in India.
Although there are several challenges to achieving the 100 GW goal, Modi and the Indian government are backing the move, which is the most important indicator to the success of a domestic solar industry.
Any module provider that will be successful in India will enjoy a revenue stream that could, in fact, double its entire business, which should cause the market to reevaluate its valuation as the global solar industry growth story continues to unfold.
Disclosure: The author is long JKS, JASO.
The author wrote this article themselves, and it expresses their own opinions. The author is not receiving compensation for it (other than from Seeking Alpha). The author has no business relationship with any company whose stock is mentioned in this article.