I will start with a recap of my results from my Top Conviction Small & Mid Cap Longs for 2014. Please see a summary table of my picks from last year: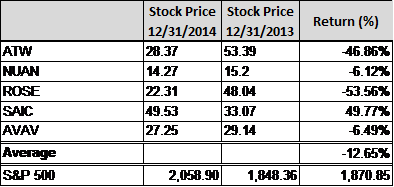 Last year the stocks that I selected were Atwood Oceanics (NYSE:ATW), Nuance Communications (NASDAQ:NUAN), Rosetta Resources (NASDAQ:ROSE), Aerovironment (NASDAQ:AVAV) and Science Applications International Corp (NYSE:SAIC). Two of these stocks were hammered in 2014 because of the fall of the price of oil, Atwood and Rosetta. Of the two I think Atwood is likely in the worst off place right now do to the overcapacity of Ultra Deepwater Drillships that will likely exist for the majority of 2015. NUAN started the year strong on the backs of takeover rumors and traded up 25% to $19 a share. I was lucky enough to sell my shares at that point. Since then Nuance's stock has fallen back down to levels similar to those starting the year, as a takeover seems less likely due to concerns over separating the healthcare business. SAIC performed in line with my expectations, as it expanded its margins all year and had a solid return as investors realized that revenue growth and margins were improving. Aerovironment was my most speculative pick of the group because the valuation was already at high levels at the end of last year. The company grew its revenues slightly below my expectations this year, but it is still positioned well going forward as the valuation is more realistic at these levels. My performance in my 2014 long picks was downright terrible and I hope to redeem myself with this year's picks.
With that said here is my list for 2015 small and middle capitalization stocks that I believe have a high likelihood to outperform in 2015. I will follow up this list with a list of companies that I believe have a high likelihood to underperform in 2015, as I did last year in "2014 Small And Mid Cap High Conviction Short".
ON Semiconductor (ONNN)
ON is a semiconductor manufacturer that specializes in "energy efficient" electronics solutions including those used in Mobile, Automotive, and LED Lighting. This company was brought to my attention when David Einhorn at Greenlight Capital added it in the Third Quarter of this year (via his 13F filing). The company is positioned well to take advantage of multiple industry tailwinds in the Automotive and Mobile segments. Cars are increasingly building in more and more cameras for everything from backup assistance to autopilot. ON Semiconductor is well positioned to take advantage of this market as they just completed the acquisition of Aptina which makes CMOS imaging sensors targeted at the automotive industry. This aligns well with their high end industrial image sensor business.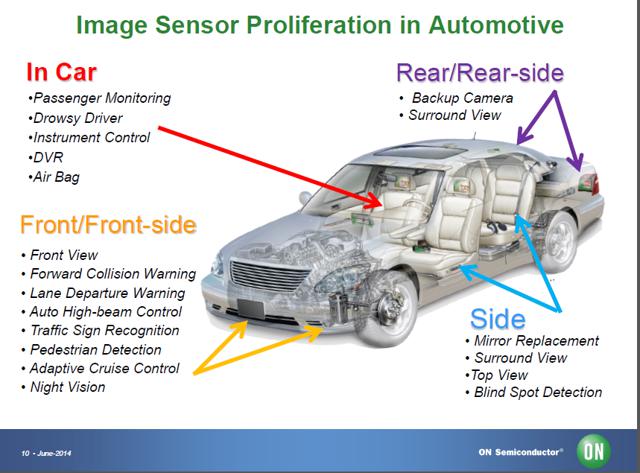 Source: ON Semiconductor Investor Presentation
Revenue growth over the next few years will likely outpace the last few years because of these industry tailwinds. Analysts are currently forecasting 23% revenue growth for 2015, and 23.2% EPS growth over the next 5 years. This is in juxtaposition to lackluster growth over the previous 5 years of -5.9%. This is an emerging growth story that the investor community has yet to recognize, and I believe at roughly a forward P/E of 11, you are buying a stock with likelihood to outperform over the next 2-3 years. The company has recently announced an upsized Buyback program of $1B of which they expect to distribute 80% of free cashflows to investors.
Market Price 12/31/14: $10.5
Intrinsic Value (based on DCF) : $16.05
Market Price/Intrinsic Value Ratio: 0.63
Renewable Energy Group (NASDAQ:REGI)
Renewable Energy Group (REG for short) is the largest biodiesel producer in the United States. The company made it the entire year of 2014 with positive earning and free cash flow (excluding acquisitions) in a very difficult environment for Biodiesel makers. This validates REG's business model, as they can actually operate successfully without the help of the Federal Government. In 2014 there was no Blender Tax Credit (BTC) or support from the EPA in the form of a Renewable Fuel Mandate, which affects RINs prices. For a better understanding of the government support I am referring to check out my article on REGI.
While REG made it through the entire year with strong performance in the face of weak government support, the Blender's Tax Credit for 2014 was approved on December 19th. What does that mean for REG? It means that the government will write a big check to REG for 2014 Biodiesel production, which will likely be $90m-$100m. This is about $2-$2.35 of cash per share, roughly doubling their cash reserves. The only downside right now is that when Congress approved the BTC for 2014, they did not approve it for 2015. For the 2015 BTC approval we will likely have to wait for Congress to start up in early 2015. The company is very cheap on a P/B, P/E, and P/FCF basis and is often thought of as a losing endeavour without the support of the Federal Government. I think 2014 really showed that they can go it alone if they have to at this point, which I don't think you can say for anyone else in the biodiesel industry. This distinction is largely a factor of the flexible inputs that allow them to use more than just virgin soybean oil as a feedstock.
Market Price 12/31/14: $9.75
Intrinsic Value (based on DCF & Cash): $13.75 w/o 2015 BTC, $16.6 w 2015 BTC
Market Price/Intrinsic Value Ratio: 0.70, 0.58
US Silica (NYSE:SLCA)
US Silica is one of the largest producers of Frac Sand or Proppants in the United States. US Silica has two segments Oil and Gas Sand and Industrial & Specialty Products. The Oil and Gas segment accounts for 74% of their top line revenue, making it their most important business. They have mines in Wisconsin, Illinois, Iowa, and Oklahoma that are in the Oil & Gas segment. They also have a thorough transportation infrastructure in order to be able to deliver Frac Sand to all of the major Shale basins.
The company's stock has declined 71% from its peak in September on the back of fears around the Capex spending of US Shale producers. There are a lot of shorts sellers that piled into a short position in US Silica believing they would be most impacted by a reduction in Capex spending by Shale Oil Exploration and Production companies due to the reduced oil price. US Silica and the frac sand industry dynamics are largely misunderstood by both the individual investor and most analysts. The main reason why I believe that is that investors and short sellers assume that a 25% capex cut will yield a 25% reduction in Frac Sand volumes. That thesis assumes that frac sand volumes per well are stagnant over time. Which is likely true until this past spring/summer when per well usage really took off, driven by increased drilling success and high IRRs when using significantly more frac sand.
There are two forces working against each other here, frac sand usage per well increasing and capex cuts from lower oil prices. I have run the numbers and frac sand usage outpaces capex cuts in most scenarios that I have tested. I expect them to report strong Q4 numbers on the backs of this. You can also see that the rig count has not fallen significantly in the US, off only 8% from it's peak in October.
US Silica is very cheap on a go forward basis and should have a pretty strong 2015, especially if the price of Oil rebounds into the $70 range. At $70 a barrel I expect Capex spending in most major basins to continue forward at close to the pace that it had in 2013 and 2014.
Market Price 12/31/14: $ 27.5
Intrinsic Value (based on DCF): $54.2
Market Price/Intrinsic Value Ratio: 0.50
SunEdision (SUNE)
SunEdision is a developer of Solar and now Wind electrical production around the world. The company is very complex. It has five business parts, its main Solar Development business, a stake in Terraform Power, a stake in a Joint Venture with Samsung, and a stake in SunEdison Semi, and Wind Development through the purchase of First Wind. The real value of the company comes from two of the businesses, the development business and the stake in TerraForm Power including the IDRs that it holds.
The development business is similar to that of SunPower as it has both a Utility and a Distributed (Homes and Businesses) segment. Having both a Utility and Distributed segment is important as the revenues and earnings flows are very different and are complementary. Utility solar revenues are very lumpy based on the delivery of projects, while Distributed Solar Revenues are much smoother.
SunEdision created a "YieldCo" called TerraForm Power (NASDAQ:TERP) in July of this year. TerraForm Power replaces Third Party companies that SunEdision used to sell its developed Solar Projects to once they were completed. This has allowed SunEdision to retain an additional 2% of returns on each project that they complete. An additional 2% return is actually about a 20% increase in returns from the previous 8-10% return they previously expected for projects sold to third parties. SunEdision holds Incentive Distribution Rights (IDRs) in TerraForm that pay a portion of TerraForms dividend to SunEdision for delivering completing projects to it. This IDR was originally expected to kick in 2016, but the First Wind acquisition has speed up the IDR timing by one year, likely in Q3 of 2015. The IDR could likely play SunEdision $0.20-$0.30 per share by 2017.
Because of the complicated company structure of SunEdision, the best way to value the company is through a Sum of Parts analysis. David Einhorn presented a sum of parts valuation of the company in October that valued the shares of SunEdision at $31.73. That was pre the acquisition of First Wind, so I tried to redo his valuation taking into account the First Wind acquisition. I also don't agree with his 15x multiple for the Development business, I think the multiple should be closer to 12.5x because of the low margins and risk associated with governmental support, permitting, and the nature of projects (delays).
Market Price 12/31/14: $ 19.3
Intrinsic Value (based on DCF): $34.09
Market Price/Intrinsic Value Ratio: 0.55
Voya Financial (VOYA)
Voya Financial was first brought my attention when Larry Robbins' Glenview Capital Management added it in the Third Quarter of this year (via his 13F filing). The company is an IPO carve out from the much larger ING Group. I highlighted my thesis in detail in a previous article. Not much has changed since I wrote that article, so I will just highlight my thesis.
Voya Financial is poised to begin to issue a dividend on a regular basis in 2015. Voya stock will likely go up towards its tangible book value of $56 a share when the market realizes that a dividend is likely and the revenue situation is improving post the IPO stabilization. It currently trades on the very low end of P/Tangible Book compared to other asset managers with similar U.S. Investment, Retirement, and Insurance businesses.
Market Price 12/31/14: $ 40.7
Intrinsic Value (based on Tangible Book Value): $56
Market Price/Intrinsic Value Ratio: 0.72
Notable Mentions for 2014 on the Long side: Boyd Gaming (NYSE:BYD), Biglari Holdings (NYSE:BH), and KKR & Co (NYSE:KKR)
Disclosure: The author is long ONNN, SUNE, REGI, SLCA.
The author wrote this article themselves, and it expresses their own opinions. The author is not receiving compensation for it (other than from Seeking Alpha). The author has no business relationship with any company whose stock is mentioned in this article.