Liquidity can do wonders to asset classes and China equities are one of the best recent examples of how liquidity can impact asset classes. In the last two months, the Shanghai index has surged by 38.5% to current levels of 3,350.
The rally primarily comes from a surprise interest rate cut from the People's Bank of China. The Chinese central bank cut its one-year deposit rate to 2.75% from 3.0% to try to revive its economy. There is no indication of economic revival, but equities have enjoyed the excess liquidity coming from the rate cut.
In my opinion, the rally will not sustain as there are bigger problems with China that will come to focus after this initial period of optimism on rate cuts. This article looks at the factors that make me bearish on Chinese equities for 2015.
The first reason to be bearish on China is the country's financial system. In particular, I am concerned about the banking sector and the rise in NPAs. In May 2014, Bloomberg reported that China's bad loans have increased the most since 2005. In October 2014, WSJ reported a continued increase in China bad loans as the economy continued to struggle.
With the latest interest rate cut providing more liquidity for speculation across asset classes and mistimed investments, I believe that China's banking system problems will only get bigger and a banking sector crisis is imminent in China.
The second important reason to be bearish on China is the country's GDP growth trajectory. According to IMF, China's economy is likely to grow at 7.1% in 2015 after a likely growth of 7.4% in 2014.
However, I believe that China's growth can be lower in 2015 considering the fact that Eurozone growth is on a decline and lower oil prices will impact growth in Middle East and Russia. In an uncertain economic environment globally, there is no big GDP growth trigger for the manufacturing hub.
China's manufacturing PMI is a good indication of the economic trend and as the chart below shows, China's official PMI was at 50.1 in December 2014.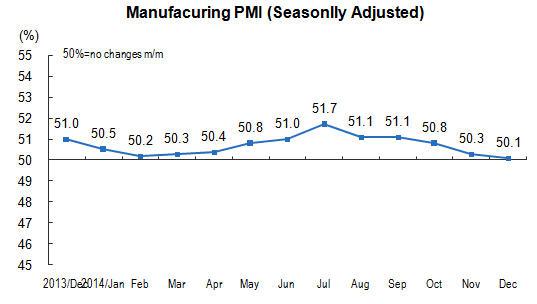 With a global slowdown underway, it is unlikely that the manufacturing PMI will improve in the coming months. Further, the government published numbers always need to be taken with a pinch of salt and I believe that China is already in a manufacturing recession.
The key point is that China has manufacturing excesses and an imbalance of consumption and manufacturing. That imbalance cannot be eliminated overnight (especially through expansionary monetary policies).
When China cut interest rates and announced stimulus after the financial crisis of 2008-09, the real estate sector witnessed a bubble. Similarly, the current interest rate cut will also create a bubble or temporary optimist in some sector of the economy. However, it is certainly not a long-term solution.
I must add here that amidst rising equity markets, China's November 2014 industrial profits suffered the sharpest fall in 27 months. It makes sense for the markets to recover when there is a bottom in place for the economy or for industrial profits.
However, equity markets surging when all indicators continue to decline rather steeply backs my point that the rally is only liquidity driven and the markets will trend lower as the initial exuberance on excel liquidity is over.
Therefore, in my view, Chinese equities can be avoided and investors should not fall in the trap by trying to gain from the unusual rally. The downside in the index can be equally sharp once it is clear that interest rate cuts have done very little for the real economy.
The ETFs To Avoid
In line with the opinion that China equities are likely to trend lower in 2015 and with the opinion that the banking sector might see more challenges, I would avoid the following ETFs.
iShares China Large-Cap ETF (NYSEARCA:FXI) - The first reason to avoid this ETF is the fact that it provides a broad exposure to China stock. It can be considered as a proxy for index investing and I am not bullish on the index trending higher in 2015. More specifically, among the ETF's top holdings, China Construction Bank has 7.83% weight, Industrial & Commerce Bank of China has 7.13% weight and Bank of China has 6.01% weight. Overall, the biggest holdings are weighted towards the financial sector followed by sectors such as oil & gas. Therefore, it is best to avoid the ETF considering the potential banking sector woes.
SPDR S&P China ETF (NYSEARCA:GXC) - While the ETF has a larger holding of 601 stocks, I still believe that the ETF can be avoided with 18% exposure to the financial sector among the top 10 holdings. I also believe that it is a better strategy to focus on individual growth stocks than to consider exposure to a large number of stocks through these ETFs. The ETF does have 3.14% exposure to Alibaba (NYSE:BABA), a stock that I am bullish on for 2015.
The Stocks To Consider
Baidu (NASDAQ:BIDU) - I had written a bullish article on Baidu on October 13, 2014. Since then, the stock has moved higher by 10% and I believe that these are robust returns within 3 months. I maintain my bullish view on the stock and I believe that the stock looks good to provide strong returns in 2015.
Alibaba - Alibaba is another interesting stock for 2015 and the company's growth potential is evident from the fact that Alibaba clocked single day sales exceeding $9 billion in November 2014. Being the largest e-commerce company in China, Alibaba is well positioned to grow at a robust pace in the coming years as online market penetration still has upside potential in the country.
To put things into perspective, annual active buyers have grown from 202 million in September 2013 to 307 million in September 2014. With a population of over 1.3 billion, there is significant penetration still to come in the online market in China and this will help the market leader to grow at a strong pace in the coming years.
I must add here that Alibaba has been consistently generating free cash flow and this gives the business higher financial flexibility. Besides the retail and wholesale marketplace, Alibaba has also made investments in the high growth cloud and data platform. While the segment forms only 2% of the company's revenue as of September 2014, it has been growing at 50% y-o-y pace and holds immense potential in the long term.
Considering these factors, I believe that Alibaba has huge upside growth potential. The stock is likely to do well in 2015 as the company's robust growth trajectory continues.
Disclosure: The author has no positions in any stocks mentioned, and no plans to initiate any positions within the next 72 hours.
The author wrote this article themselves, and it expresses their own opinions. The author is not receiving compensation for it (other than from Seeking Alpha). The author has no business relationship with any company whose stock is mentioned in this article.