The ongoing fall in the price of oil continues to adversely impact shares of leading oil companies. This has also brought down the price of United States Oil Fund (NYSEARCA:USO), which has recently dipped below $19 - its lowest level. Some attribute the drop in oil prices, among other reasons, to Saudi Arabia's actions to regain its market share in the oil market. If oil prices were to keep coming down, oil producers will eventually start losing money from their oil operations. How low does oil have to go in order to reach this break-point for oil producers?
The actions Saudi Arabia has taken may have stemmed from the drop in its market share in leading countries including the U.S. The chart below shows the changes in the country's share in U.S. oil imports, of the total, and the price of oil.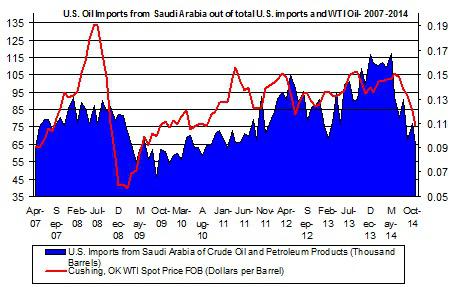 Data source: EIA.
The current low prices of oil are likely to cut down oil producers' profit margins in the coming quarters. But how low does oil need to go for oil companies to feel the pain?
Let's use a back-of-the-envelope calculation to answer this question for the oil industry. According to Damodaran, oil producers' EBITDA-to-revenue ratio comes to 42% (this number was last updated by in January 2014). This is based on data collected from 411 companies.
So let's consider this benchmark figure and factor in the average price of oil during 2013, which was close to $100 per barrel.
Assuming all things equal (this includes, among other, no changes in the production costs or composition of oil and natural gas in oil producers' portfolio) the profitability of oil producers, at roughly $60 per barrel, these companies are breaking even. Thus, a drop in oil prices to even lower levels could result in an operating loss for these oil producers.
Let's review a couple of U.S. based mid-level oil companies such as Chesapeake (NYSE:CHK). This company also heavily relies on natural gas and NGL in recent years. But let's only review its metrics for oil production: Chesapeake's operating cash flow per barrel of oil was around $20 in the past couple of quarters. This was when the oil market price was $100 and the realized price for the company was only $85. For this company the break even point will be around $65 - not far off the benchmark we calculated earlier.
Keep in mind that oil companies have already faced these low levels in the past. While shale oil has driven investments levels and productions costs up, the recent fall in prices is more likely to curb down growth in production in the short term period than cut down current output. After all, oil companies also face large debt levels and will need to pay off these debts with their operating cash flow. If we were to consider, as an example, Chevron (NYSE:CVX) -- back in 2009, when the average annual price was around $60, the company reported a profit margin of 18%. This came after in 2008 the average annual price of oil was $96 and its profitability reached over 19%. Back in 2009, its total revenue did fall by 37%, year over year. Moreover, its net income fell by 56%. But the company's wide range of operations and cut in costs resulted in little contraction in its profit margins.
The oil market is always changing - it doesn't take much for oil to bounce right back up. Just recall that back in 2011 the drop in Libya's oil output, which accounted for less than 2% of the world's output, drove oil prices up from mid-80s to the mid-90s within a few weeks.
Again I'm not claiming these figures listed above are the most accurate benchmarks to consider, only that they could provide a crude estimate for where oil companies' break even point for oil production may be. Oil producers could also keep going in a deficit - as coal companies have done in recent years. The only difference is that oil prices have a better chance of recovering compared to coal.
For those who consider investing in USO as way to go long on oil - beware of the ongoing Contango in the future markets.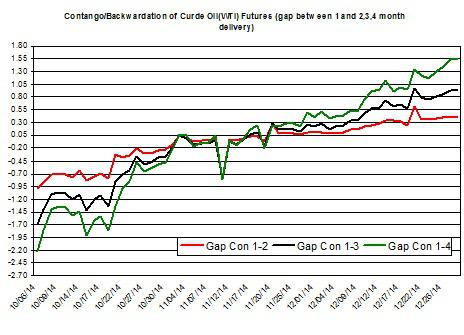 Data source: EIA.
As you can see, the current Contango in the oil futures markets is likely to keep USO underperforming the price of WTI because of roll decay. So investors who think of keeping USO for extended periods of time in the hopes of seeing oil prices recover in the future, should be aware that the Contango could wipe out a big portion of the gains - assuming oil prices were to rally.
The ongoing weakness in the oil market is likely to drive down oil producers' profits and revenue. Some oil companies that have other operations - operation that aren't adversely impacted by low oil prices (e.g. refineries) -- or are able to finance their potential losses will be able to keep going even if oil prices were to remain low for the long haul. For more, see "USO Investors - Beware of The Contango!"
Disclosure: The author has no positions in any stocks mentioned, and no plans to initiate any positions within the next 72 hours.
The author wrote this article themselves, and it expresses their own opinions. The author is not receiving compensation for it (other than from Seeking Alpha). The author has no business relationship with any company whose stock is mentioned in this article.