The year 2014 was the first for my investing account, as it was slowly put together from my original savings & contributions from my swing trading account. Just like my previous article, I'm now going to provide a table of my positions, then go into detail of what has changed over the year and the last quarter, then go onto my game plan for 2015.

Source: Nick Mackintosh
As you can see from my table, most of you will be familiar with the names that make up my portfolio, however I'll go into some detail over the UK names you may not be familiar with.
Hargreaves Lansdown
Hargreaves Lansdown (OTCPK:HRGLY) was founded in 1981 by chartered accountants Peter Hargreaves and Stephen Lansdown. It is based in Bristol. The company owns one of Britain's biggest "fund supermarkets", a low-cost platform that allows investors to buy a wide range of funds from investment houses. The group has billions of pounds of assets under management on behalf of private investors.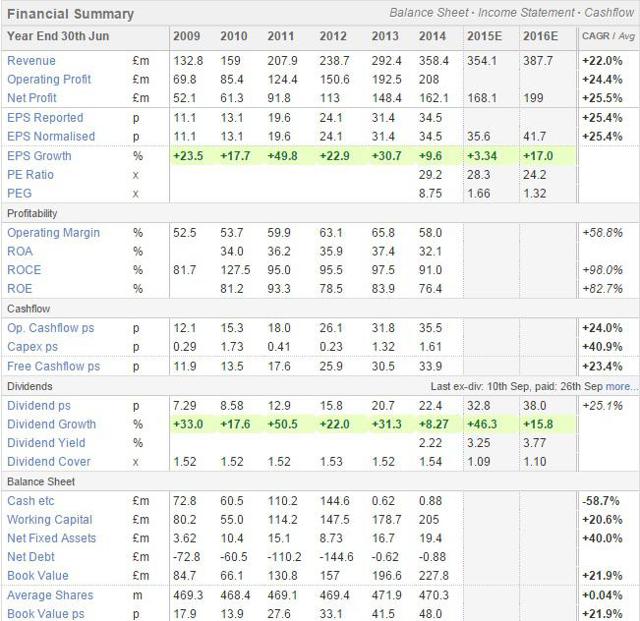 Source: Information provided by stockopedia.com
This was one of my first positions initiated and I would love to add to it, unfortunately I chose a time when the PE ratio was extremely high, and it still is at 29 currently. Reasons being its amazing quality factor with staggering growth seen in the net income. The company has also been generous by rewarding special dividends in virtually every year apart from 2007 and 2013. If we look at the company's profitability, for 2014 its operating margin was 58%, return on assets was 32%, return on capital employed was 91%, and return on equity was 76%. These figures are among the highest in the financial sector.
The table below (excluding specials) showcases the dividend growth it has provided for shareholders and why the company is part of my portfolio.
Annual Dividends
| | | |
| --- | --- | --- |
| Year | Amount | Change |
| 2006 | 2.17p |   |
| 2007 | 3.0p | 38.2% |
| 2008 | 5.485p | 82.8% |
| 2009 | 7.294p | 33.0% |
| 2010 | 10.28p | 40.9% |
| 2011 | 12.91p | 25.6% |
| 2012 | 15.75p | 22.0% |
| 2013 | 20.68p | 31.3% |
| 2014 | 22.39p | 8.3% |
Source: Information provided by dividendmax.co.uk
MedicX Fund
MedicX Fund Ltd. (MXF) is a specialist primary care infrastructure investor in modern purpose-built primary healthcare properties, principally let to GPs and primary care trusts in the United Kingdom. MedicX Fund is a self managed closed-ended investment company, incorporated in 2006 and domiciled in Guernsey. The key objective of the company is to achieve rising rental income and capital growth from the ownership of its growing primary healthcare portfolio.
I discovered this company by browsing through the FTSE All-Share by yield first in search of a high income company that would make a great addition to my portfolio. I went through my standard procedures by checking the entire financial summary and liked what I saw for a number of reasons.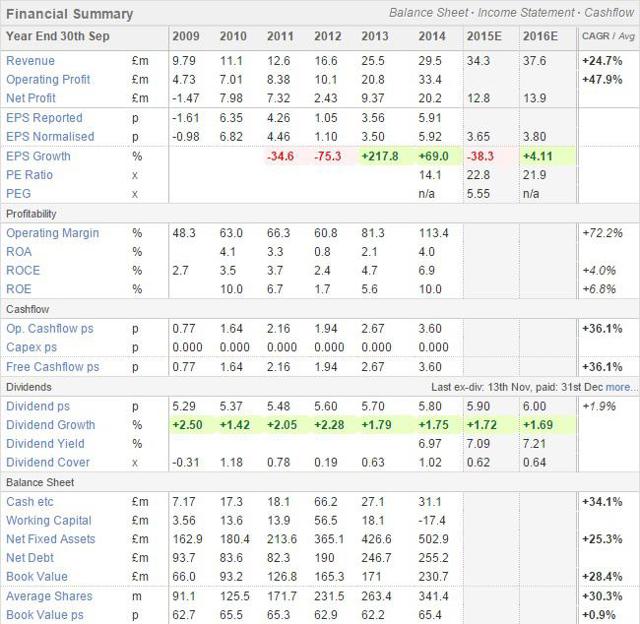 Source: Information provided by stockopedia.com
Looking at the table we can see that revenue has been growing steadily with operating profit rapidly outpacing as it should. Return on capital employed is slowly growing as the company is less reliant on debt and more on share issues to raise the capital needed. Considering this is what you would class as an income stock, I don't mind having my ownership diluted as long as I'm getting paid, as I know the share price won't rise or fall too far from its net asset value. In the future I'd expect to see dividends covered by operating cash flow from the rental income once the company is passed its growth stage.
Also worth mentioning after I discovered its potential I messaged the analysts at Shares Magazine through Twitter (one of the top UK publications, the other being Investors Chronicle). They liked the company enough to put my "tweet" on one of their pages and done a full-page report with a buy recommendation.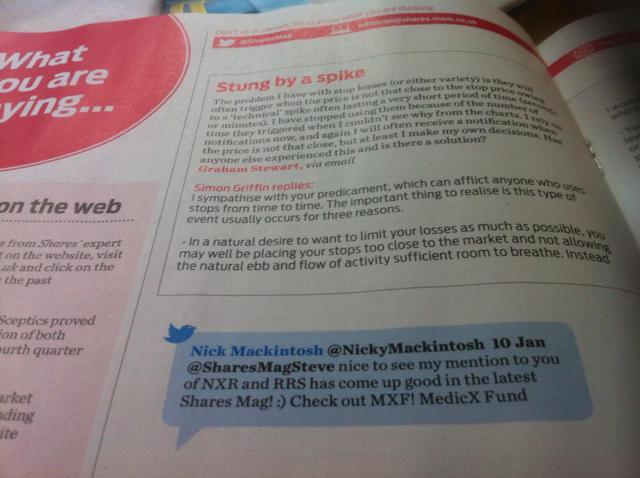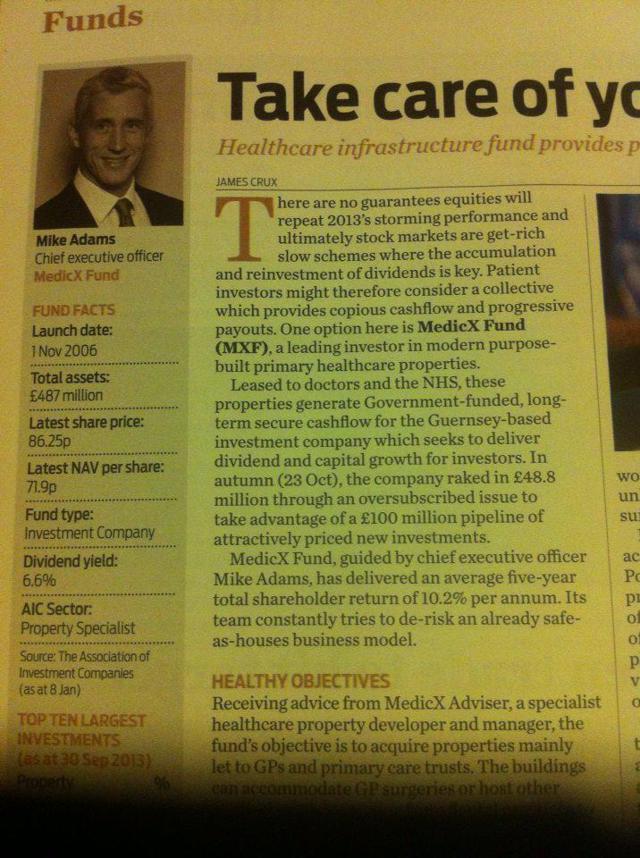 Source: Shares Magazine, Issue 16th January 2014
It's also worth noting that the company is still small sporting a market capitalization of £300 million, with average traded volume of 308,000 over the past 3 months. So even though there is slightly more risk, the company has plenty of room to grow as its using capital to acquire more properties. The company currently has a portfolio of 139 healthcare properties, 131 are operational and fully let with 8 under construction.
Quindell
Quindell (QUPPD) has been a major pain in my ass and a company I wish I could forget. This is a company that's on the Alternative Investment Market (AIM 100), which allows start-up and smaller companies to float shares in able to raise capital in order to expand their business. This means this was my only growth position in my portfolio.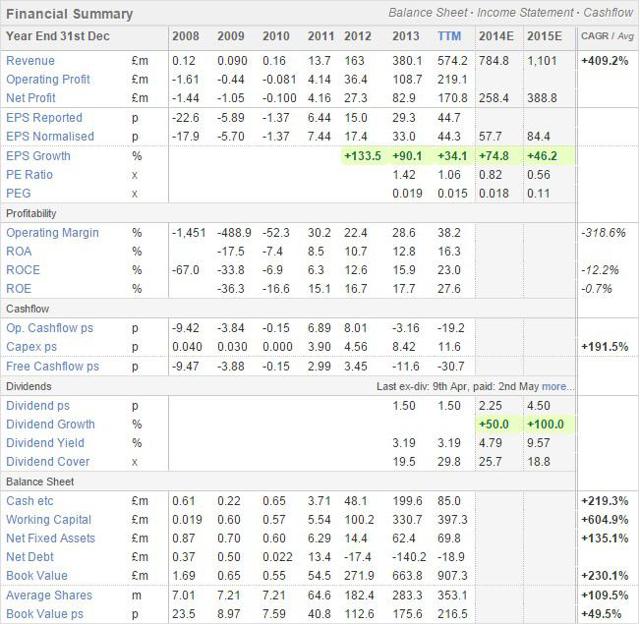 Source: Information provided by stockopedia.com
On the 22nd April 2014, Gotham City Research released a report titled "Quindell PLC: A Country Club Built on Quicksand". The report basically stated that up to 80% of the company's profits are suspect and the acquisitions made from capital gained through share issues made no logical sense to its business model. Within 30 minutes of this report being released, the share price of Quindell had tanked by nearly 50%.
Quindell immediately refuted the accusations and then went on to issue a libel lawsuit which they won due to the anonymous short-seller obviously not showing up to court!
Throughout the year the company released RNS statements assuring shareholders that their cash inflow from operations were above previous estimates and would soon no longer need to raise capital through share issues. A bombshell was dropped in November when regulators forced the former CEO and Founder Rob Terry and 2 other directors were actually selling shares instead of a supposed complex fundraising agreement. It was also discovered that the company delayed the timing of the announcement of the resignation of the joint-broker Canaccord Genuity in October.
At the end of the day so many things went wrong in a short space of time, recently the share price has been growing double digits after a few positive RNS releases while the company awaits the outcome from PwC, the independent auditor brought in to scrutinize the accounts.
Last month it was announced that Lord Myners, a former city minister, has asked the government if it would investigate Quindell's board of directors and financial advisors. The company is also under attack from a class action lawsuit by one of the UK's leading litigation firms, Your Legal Friend, on behalf of shareholders in an effort to recover compensation for their losses.
I was aware that the company had no positive cash flow at the time of investing, as every few days there was an RNS statement of either a new business acquisition or a new contract deal. I knew I was taking a risk in order to potentially have massive growth but it's clearly backfired, "cash is king" is the appropriate adage I would use to prevent others from making the same mistake.
Royal Mail
Royal Mail (OTCPK:ROYMF) is the UK's largest postal and delivery service and was owned by the taxpayer, until it was privatized and floated on the London Stock Exchange last year, their IPO was in October 2013. This was widely considered to be an income stock as there is not much room for growth. The capital raised in the IPO has been used to increased profitability by improving margins. City Links recent announcement of going into administration on December 24, 2014, provides Royal Mail with an opportunity to gain further business. There is some risk from the likes of Amazon (NASDAQ:AMZN) who opened their own delivery business (Amazon Logistics) 2 years ago. Hopefully once we gain more information on Royal Mails financial position, we can determine what action to take.
Dividend Increases
Below I will provide you with the list of dividend increases I received for 2014 since the beginning of my portfolio in February.
10 December 2014 Stagecoach (OTC:SAGKY) increases 2015 interim dividend by 10.3%
04 November 2014 Imperial Tobacco (ITYBY) increases its 2014 full year dividend by 10%
28 October 2014 BP (NYSE:BP) increases 2014 Q3 dividend by 5%
03 September 2014 Hargreaves Lansdown increases full year dividend by 8%
08 August 2014 Catlin Group (OTCPK:CLNGF) increases 2014 interim dividend by 5%
30 July 2014 British American Tobacco (NYSEMKT:BTI) increases 2014 interim dividend by 6%
29 July 2014 BP increases 2014 Q2 dividend by 8.3%
25 June 2014 Stagecoach increases 2014 full year dividend by 10.5%
07 May 2014 Imperial Tobacco increases 2014 interim dividend by 10%
27 February 2014 British American Tobacco increases 2013 final dividend by 5%
Portfolio Changes In Q4 2014
Below I'll provide you with a table that shows the transactions over the last 3 months and the reasons for doing so.

Source: Nick Mackintosh
Barratt Developments (OTCPK:BTDPF) is a company that acquires land and then constructs residential property developments and then sells the homes throughout the UK. House building has been growing momentum throughout the UK over the past few years and I feel that Barratt Developments and Berkeley Group (OTCPK:BKGFY) are the best in the business. Both have provided impressive dividend increases since they have been reinstated and are looking to strengthen their balance sheets in order to survive any future crash in the housing sector like we saw in 2008.
I sold Catlin Group after the announced acquisition by XL Group (NYSE:XL), you can find my first article here followed by the update advising investors to sell. This is something I'm disappointed by as I was happy to have found a strong insurance company to compliment my portfolio. In the future I will be looking at either Amlin (OTCPK:APLCY) or Admiral (OTCPK:AMIGF) to get an insurance company back into the portfolio. The replacement ended up being BHP Billiton (NYSE:BHP), not only is the company a powerhouse in the basic materials sector, its PE is close to an all-time low due to the reduction in iron ore prices and slower growth in China who imports a lot of it. The current dividend yield of 5.7% and CAGR of 8.1% over the past 5 years puts it above Chowder's buying rule of 12% combined.
I sold Stagecoach even though the dividend increases have been impressive this year for 2 simple reasons. The first being I wasn't happy with the yield, as the average for the FTSE is 3.01%. Second being Go-Ahead (OTCPK:GHGUY) appear to be the superior business in the passenger transportation subsector. I'm also looking to add easyJet (OTCQX:ESYJY) when possible due to its dominant position over rivals Ryanair (NASDAQ:RYAAY) and International Consolidated Airlines (OTCPK:ICAGY).
Dynex Capital (NYSE:DX) is a mortgage real estate investment trust that I decided to add into the portfolio to compliment my other REIT MedicX Fund. Both will provide income with to help contribute to asset purchases in the future, analysis from Cash King and ColoradoWealthManagementFund made this decision a little easier. I also wanted to improve my yield on cost due to Quindell adding next to nothing in terms of dividends. The company is also known as 1 of the safest in the mREIT space so I'm reducing my risk slightly, even though it's still quite high.
Game Plan For 2015
On the 10th January I have a £1000 buy order for GlaxoSmithKline (NYSE:GSK) as I need to add to my defensive positions. Then I will add to the following depending on their current valuations, Unilever (NYSE:UL), Imperial Tobacco , British American Tobacco and National Grid (NYSE:NGG). There are a number of companies I wish to initiate a new position in, these will include AstraZeneca (NYSE:AZN), Shire (NASDAQ:SHPG), Hikma Pharmaceuticals (OTCPK:HKMPY), Cranswick (OTC:CRWCY), SABMiller (OTCPK:SBMRY), Diageo (NYSE:DEO), Reckitt Benckiser (OTCPK:RBGPF), Carnival (NYSE:CCL), Compass Group (OTCPK:CMPGF), WPP (WPPGY), Sky (OTCQX:SKYAY), Next (OTCPK:NXGPF), and finally Whitbread (OTCPK:WTBCY).
All are large cap companies with a market capitalization far exceeding £2 billion with the exception of Cranswick, so should provide my portfolio with the defensive qualities needed from a dividend growth aspect and volatility that is considerably less than the overall market.
Don't be fooled by the relatively small portfolio, with contributions a regular factor, it should more than double in size by the end of 2015. With this I have an income target of £700, I would also like to see my yield on cost rise above the 5% average, with a 5-year CAGR above the 7% average.
Disclosure: The author is long BHP, GSK, NGG, UL, BP, BTI, ITYBY, DX, MXF, ROYMF.
The author wrote this article themselves, and it expresses their own opinions. The author is not receiving compensation for it (other than from Seeking Alpha). The author has no business relationship with any company whose stock is mentioned in this article.
Editor's Note: This article discusses one or more securities that do not trade on a major U.S. exchange. Please be aware of the risks associated with these stocks.