By Jodie Gunzberg
A strong US dollar is generally bad news for commodities since historically as the U.S dollar strengthens, goods priced in dollars become more expensive for other currencies. The historical negative relationship between the U.S. dollar and the S&P GSCI is shown below.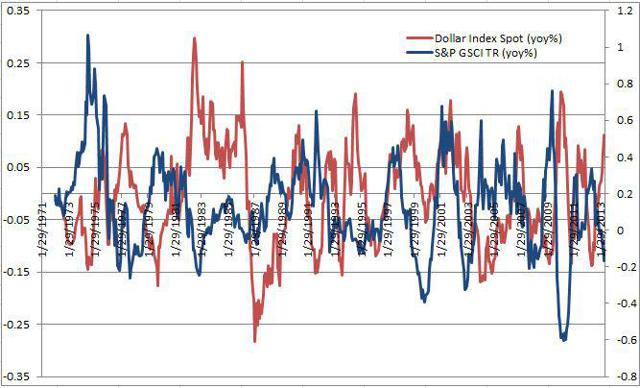 Source: S&P Dow Jones Indices and Bloomberg. Monthly data from 1/70-6/13. Charts and graphs are provided for illustrative purposes only. Indices are unmanaged statistical composites and their returns do not include payment of any sales charges or fees an investor would pay to purchase the securities the index represents. Such costs would lower performance. It is not possible to invest directly in an index. Past performance is not an indication of future results. The inception date for the S&P GSCI was May 1, 1991, at the market close. All information presented prior to the index inception date is back-tested. There are inherent limitations associated with back-tested data.
While the broad based indices are negatively correlated with the U.S. dollar, some commodities are more negatively correlated with the US dollar than others. In the long term, since the inception of each single commodity index, ten commodities have a lower than -0.3 correlation to the U.S. dollar: lead, copper, aluminum, nickel, gold, Kansas wheat, Brent, WTI, unleaded gasoline and gasoil with the lead leading the pack with the biggest negative relationship at -0.52.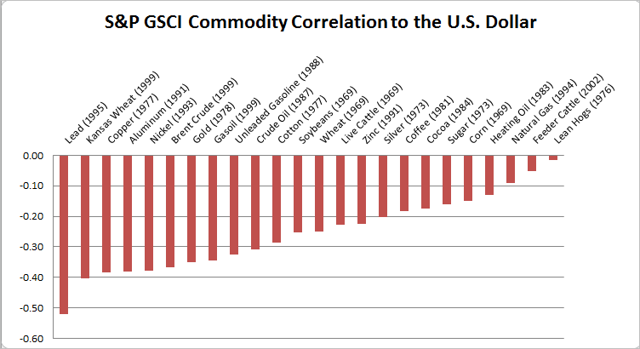 When reducing the time period to ten years for all commodities, a different pattern appears. The first observation is that with the exception of feeder cattle, all correlations became more strongly negative. However, some much more than others. Cocoa, corn, heating oil, WTI, silver, soybeans and unleaded gasoline all has greater than -0.3 decreases in correlation, implying a stronger negative relationship with the U.S. dollar. The five commodities of the petroleum complex have the greatest inverse sensitivity, ranging from -0.62 to -0.67. On the other hand, it is not surprising to see zinc, natural gas, live cattle, lean hogs, sugar and feeder cattle with almost no correlation. With the exception of zinc, these commodities are highly sensitive to weather. Other factors like transportability and the global usage (natural gas is local) may influence the relationship.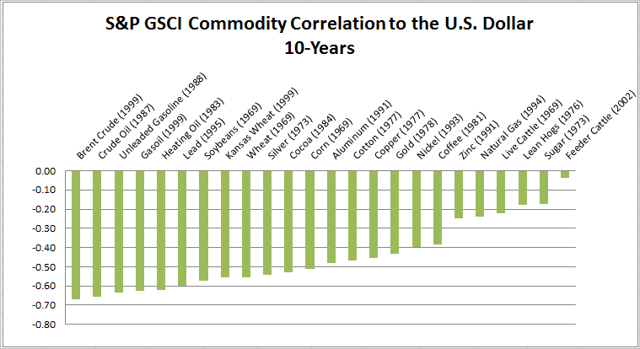 Disclosure: © S&P Dow Jones Indices LLC 2013. Indexology® is a trademark of S&P Dow Jones Indices LLC (SPDJI). S&P® is a trademark of Standard & Poor's Financial Services LLC and Dow Jones® is a trademark of Dow Jones Trademark Holdings LLC, and those marks have been licensed to S&P DJI. This material is reproduced with the prior written consent of S&P DJI. For more information on S&P DJI and to see our full disclaimer, visit www.spdji.com/terms-of-use.