Investors who purchased shares in Micron Technology (NASDAQ:MU) when its share price bottomed out in October 2011 should congratulate themselves as they achieved an eight-bagger by doing so. Micron's financial results benefited from consolidation in the memory semiconductor industry as well as its bargain purchase of Elpida Memory in 2013, which served as the catalyst for the rapid rise in Micron's share price during the last 40 months. However, we believe that due to softening revenue projections, investors should take their profits in Micron.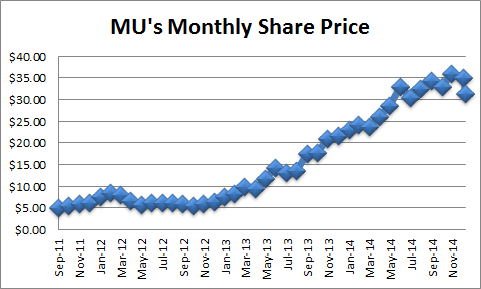 BUSINESS PROFILE
Micron is one of the world's leading semiconductor firms. Micron manufactures and sells a full range of full range of DRAM, NAND Flash and NOR Flash memory, as well as other innovative memory technologies, packaging solutions and semiconductor systems for use in leading-edge computing, consumer, networking, automotive, industrial, embedded and mobile products. On July 31, 2013, Micron completed the acquisition of Elpida, now known as Micron Memory Japan, and a controlling interest in Rexchip, now known as Micron Memory Taiwan. In Q3 2014, Micron reorganized itself along the following four reportable business segments:
Compute and Networking Business Unit ("CNBU"): Includes DRAM and NOR Flash products sold to the computing, networking, graphics and cloud server markets.
Mobile Business Unit ("MBU"): Includes DRAM, NAND Flash and NOR Flash products sold to the smartphone, feature phone and tablet mobile-device market.
Storage Business Unit ("SBU"): Includes NAND Flash components and SSDs sold into enterprise and client storage, cloud and removable storage markets. SBU also includes NAND Flash products sold to Intel through Micron's IMFT joint venture.
Embedded Business Unit ("EBU"): Includes DRAM, NAND Flash and NOR Flash products sold into automotive and industrial applications, as well as the connected home and consumer electronics markets.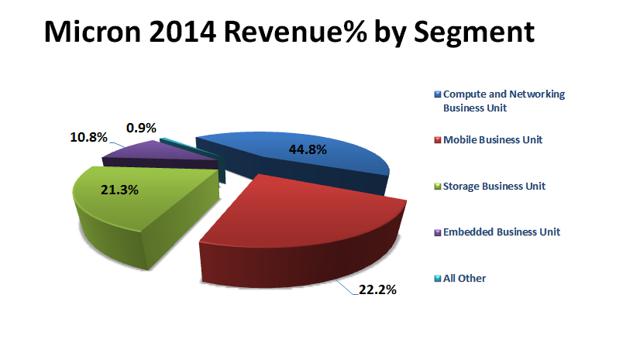 Source: Micron's 2014 Annual Financial Report
On October 6, 2014, Samsung (OTC:SSNLF) announced it would spend $14.7B in a new chip plant in South Korea in order to help boost its competitiveness in the semiconductor industry. Samsung took this action in response to weak demand for its smartphone products. The plant will make either logic or memory chips, but Samsung has not made a final decision on the plant's production. Samsung said that its chip production capacity would increase by a "low double-digit percentage" once the new plant is opened in H2 2017. Three firms (Samsung, SK Hynix and Micron) control more than 90% of the DRAM chip market and consolidation in the sector helped the remaining firms generate strong revenue and profit growth. However, a recent article by Gartner suggests that semiconductor revenue will slow down in 2016 and is predicting a bust for the DRAM market. We have also seen soft production and pricing volumes projected by Micron for Q2 2015. Due to the volatile, commodity-like industry environment, Morningstar expects that its operating margins will decline from 24% to the mid-teens over the next few years.
RECENT QUARTER
Micron generated solid results during its most recent quarter, part of which were boosted by an additional selling week during the Q1 2015 period as Q1 2015 contained 14 weeks whereas Q1 2014 contained 13 weeks. Micron's revenue grew by 13.13% year-over-year during the quarter on a reported basis and 5.05% on an adjusted basis. Micron's gross margin rate increased by 4.1% and this was primarily due to the absence of $111M in non-cash, non-recurring charges associated with the stepped up inventory value of legacy Elpida. This helped boost Micron's reported gross margin in terms of dollars increased by 28%, which more than offset the 14.7% increase in operating expenses. Micron's adjusted gross margin dollar growth of 17.7% benefited from $2B in capital investment expenditures associated with manufacturing improvements over the last couple of years and was the key driver behind its adjusted EPS growth of 26%. Micron's financial performance by division was as follows:

Source: Micron's last two transcripts
FORWARD FORECASTS
Micron's CapEx: $3.6B-$4B in FY2015, up from $2.6B in FY2014.
Depreciation: $2.9B in FY 2015, up from $2.1B in FY 2014
Q2 2015 Revenue: $4.1B-$4.3B, 0%-4% growth versus Q2 2014.
DRAM production below the market due to the deployment of 20NM technology in 2015, which will reduce wafer output by 15%-20% per square foot of clean room space.
DRAM revenue in Q2 2015 will decline on a linked-quarter basis due to lower projected production volumes and like-for-like pricing that ranges from stagnant to a slight decline.
NAND bit growth in Q2 2015 will be below the market average. This is due to a shift in the product mix towards the mobile segment.
Micron will begin manufacturing 3D NAND in H2 2015 and expects to achieve industry leadership 3D technology in 3D NAND, which may potentially have a significant positive impact over the long-term time period.
Micron will incur $35M in non-cash interest expense for the amortization of debt discounts, convertible notes, and MMJ debt as well as $30M in non-cash taxes related to the Elpida acquisition.
FINANCIAL POSITION
Micron has a solid financial position. Micron's $5.3B in cash and marketable investment securities nearly offsets its $5.8B in outstanding debt (at face value). Investors should note that the market value of Micron's debt is higher than the face value by approximately $3B due to the fact that Micron has five outstanding convertible bond issues that are currently in the money. Micron's shareholder equity (book value) of $11.7B is double the book value of its outstanding debt ($5.8B). More than half of Micron's asset base is financed by shareholders' equity and Micron announced in October 2014 that it authorized a share buyback of up to $1B. Micron has over $3.17B in gross deferred tax assets after accounting for deferred tax liabilities, but excluding a $2.3B valuation allowance. The valuation allowance is based on Micron's assessment that it may not potentially utilize a significant portion of its deferred tax assets that were created because of operating loss carryforwards. We expect Micron to utilize these tax assets over the next four to five years, and afterwards incur a 20% average tax rate going forward. Most of Micron's income is earned outside of the United States and is taxed at a lower marginal rate than the 39.8% combined federal and Idaho corporate tax rate that it would face on its U.S. operations.
NOTABLE STAKEHOLDERS
Baupost Group (51.7M shares, 4.81% of Micron's shares)
Greenlight Capital (30.5M shares, 2.84%, but sold 9.9M shares in Q3 2014)
Viking Global Investors (20.6M shares, 1.92%)
Donald Smith & Company (16.5M shares, 1.54%)
D.E. Shaw (16.5M shares, 1.54% but also 8.45M puts and 4.27M calls)
Coatue Management (15.6M shares, 1.46%)
Citadel Investment Group owns $731M of Micron's convertible bonds (market value), 4.3M shares, 2.16M puts and 1.31M calls
Whitney Tilson's T2 Partners owns 94K shares, which represents only 1bp of Micron's outstanding share base, but represents 6.2% of his portfolio. However, Tilson has pared his Micron holdings by 15% since March 2014.
In conclusion, investors in Micron should take their profits and redeploy them elsewhere. Micron benefited from a more rational industry environment over the last couple of years, which enabled it to finally generate a satisfactory financial performance for its shareholders and as a result its share price has reached levels last seen in 2002. However, we do not expect this environment to continue and we expect its operating margins will decline over the next few years. We're seeing signs of this as Micron projects softer volumes and pricing for its products. We also expect that Micron will end up utilizing its deferred tax assets within the next four to five years, which will result in Micron facing a corporate tax rate of at least 20% over the long term and will reduce its long-term earnings run rate by a similar amount. For these reasons, we can see why David Einhorn and Whitney Tilson have reduced their stakes in Micron.
Disclosure: The author has no positions in any stocks mentioned, and no plans to initiate any positions within the next 72 hours.
The author wrote this article themselves, and it expresses their own opinions. The author is not receiving compensation for it (other than from Seeking Alpha). The author has no business relationship with any company whose stock is mentioned in this article.