This series of articles discusses, at a high level, some of the key issues for BDCs with general descriptions and links to relevant articles. In 'Part 1' I discussed dividend coverage, potential impacts from an economic downturn and BDC management expenses. 'Part 2'discussed the preliminary results of a reader survey, potential equity issuances and the impacts from rising interest rates and 'Part 3' covered total returns over the last two years and how it is related net asset value ("NAV") per share changes for each BDC. This article will cover pricing and valuations for BDCs using historical multiples of NAV and dividend yields.
I have recently conducted a survey regarding the 10 most important issues (potential opportunities and risks) for BDCs going into 2015 and I believe many of these will continue to drive a widening valuation gap between BDCs.
Dividend coverage (Part 1)
Potential impacts from an economic downturn (Part 1)
Management expenses and operational efficiency (Part 1)
Potential equity issuances (Part 2)
Impacts from rising interest rates (Part 2)
Total return potential (Part 3)
Pricing and valuations
Inside and institutional ownership levels
General market trends: competition, credit spreads, regulations, etc.
Potential oil/energy related issues
The results of the survey are displayed in real time after each response, so please visit the following link to participate. There are now 165 responses and I will update the results at the end of this series.
As mentioned in previous articles, BDCs had a tough year in 2014 for various reasons. Many of them were temporary and/or are starting to turn around and I will cover this in a separate series. The following chart shows BDC performance over the last 12 months.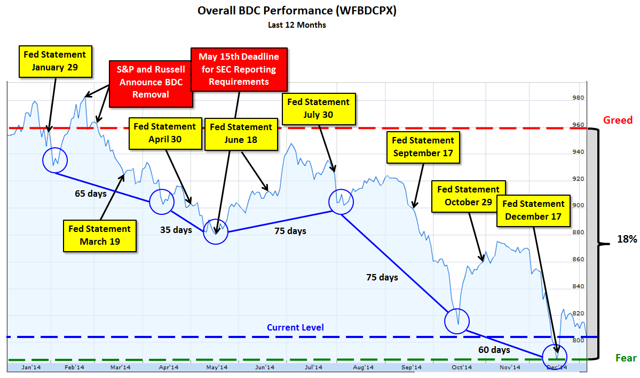 Current NAV Multiples
There is a large spread between prices paid for BDCs using multiples of NAV per share. Typically internally managed companies trade at a premium compared to their peer group especially Hercules Technology Growth Capital (NASDAQ:HTGC), Main Street Capital (NYSE:MAIN) and Triangle Capital (NYSE:TCAP). BDCs with a majority of the portfolio in first lien senior secured debt as well as a history of higher dividend coverage usually trade at a premium including HTGC, MAIN, Golub Capital BDC (NASDAQ:GBDC), TCP Capital (NASDAQ:TCPC), New Mountain Finance (NYSE:NMFC), FS Investment Corp (NYSE:FSIC), PennantPark Floating Rate Capital (NASDAQ:PFLT) and TPG Specialty Lending (NYSE:TSLX).
KCAP Financial (NASDAQ:KCAP) is the other internally managed BDC that I follow but it is priced at premium compared to a riskier peer group as discussed in "PSEC or MCC". Along with KCAP, I consider BlackRock Kelso Capital (NASDAQ:BKCC), Fifth Street Finance (FSC), Medley Capital (NYSE:MCC), Prospect Capital (NASDAQ:PSEC) and TICC Capital (TICC) to be higher risk due to riskier investments and/or reliance on fee income and potential dividend coverage issues. Apollo Investment (NASDAQ:AINV), Gladstone Capital (NASDAQ:GLAD) and PennantPark Investment (NASDAQ:PNNT) have better than average dividend coverage but also have much higher amounts of oil/energy exposure in their portfolios than other BDCs, so I believe that is the reason for having 10% to 15% discounts to book value and I will cover this at a high level later in the series.

Historical NAV Multiples
The following chart shows the average price-to-NAV multiples over the last four years that has averaged around book value or 99% of NAV. Currently BDCs are averaging a 5% discount to NAV but as discussed in the previous section, BDCs are priced differently based on investors' perception of dividend coverage and/or capital preservation.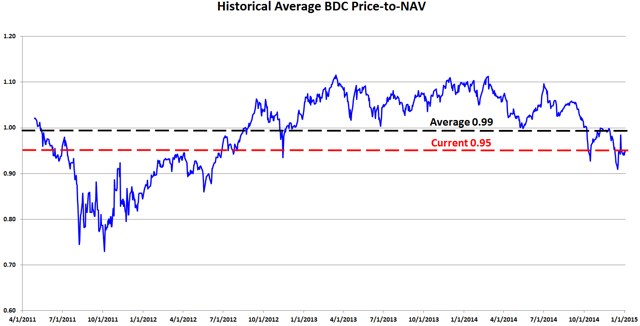 Current Dividend Yields
Along with NAV per share, many investors use expected dividend yield as a gauge of value for investing in BDCs. This also relies on investors' perception of dividend coverage and/or capital preservation. Usually investors will demand higher returns for what they believe has higher risk compared to alternative investments and will discount the prices paid if they believe there is a chance of a dividend cut. I do not actively follow Full Circle Capital (FULL) due to its lack of dividend coverage and declining NAV per share as discussed in Part 3. I believe there is a chance that MCC will cut its dividend this year as discussed in my recent "MCC Articles". TICC, KCAP and PSEC have off balance sheet leverage risk due to large amounts of CLO investments and investors are likely expecting higher returns for this risk. MAIN, HTGC, GBDC, PFLT and TCPC are all much lower yielding and this likely due to perceived safety in their portfolios.

Historical Dividend Yields
Over the last four years, BDCs have average around 10.0% regular dividend yield but due to depressed pricing multiples the average is currently closer to 10.8%. I believe this will become a large incentive for investors in 2015 that are seeking to beat S&P 500 returns. Again I will cover this in another series along with some of the positive trends that BDC investors can look for this coming year.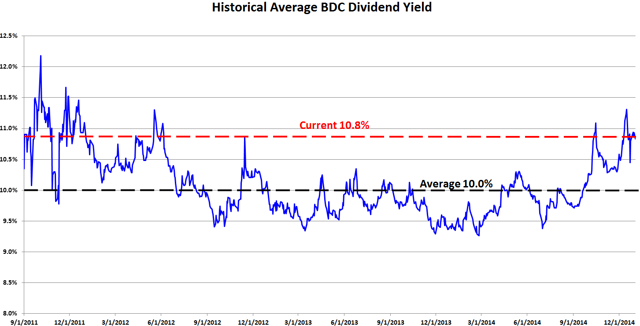 I will cover the following issues at a high level in the remaining articles for this series: inside and institutional ownership levels, general market trends: competition, credit spreads, regulations, etc. and potential oil/energy related issues.
Personal note: I have updated my positions to reflect changes in my holdings, but please keep in mind that some of the positions are very small and mostly for research purposes.
For more information about pricing multiples and dividend yields please see my "BDC Research Page" and for information on specific BDCs please visit my "Index to BDC Articles".
Disclosure: The author is long AINV, ARCC, BKCC, FDUS, FSC, FSIC, GBDC, GLAD, HTGC, MAIN, MCC, NMFC, PFLT, PNNT, PSEC, TCAP, TCPC, TICC, TSLX.
The author wrote this article themselves, and it expresses their own opinions. The author is not receiving compensation for it (other than from Seeking Alpha). The author has no business relationship with any company whose stock is mentioned in this article.
Editor's Note: This article covers one or more stocks trading at less than $1 per share and/or with less than a $100 million market cap. Please be aware of the risks associated with these stocks.