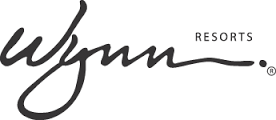 Wynn Resorts (NASDAQ:WYNN) is nearly all in on Macau, which is the only place in China where gambling is legal. Approximately 70% of the company's total revenue comes from its Macau operations. Wynn Resorts has positioned itself as the leading luxury casino brand in China. Wynn is one of only six companies licensed to operate casinos in China. The other five companies are: Las Vegas Sands (NYSE:LVS), MGM Resorts (NYSE:MGM), Melco Crown Entertainment Limited (MPEL), Galaxy Entertainment Group (OTCMKTS: OTCPK:OTCPK:GXYEY), and SJM Holdings (OTCPK:SJMHF). One significant competitive advantage that Wynn Resorts has over these companies is that since it has positioned itself as a high-end, premier, luxury brand, its customers pay the highest room rates and bet the most per hand in the industry. Moreover, Wynn, due to its focus on the upper-class market, achieves the highest revenue and EBITDA per table in the industry. However, the company's focus on the high-end market in China is also a potential risk to investing in Wynn, as that market is more sensitive to economic conditions such as interest rates, the stock market, and credit conditions. The barriers to entry of the Macau casino market are quite strong as companies must first receive a license from the Chinese government and must have sufficient capital to purchase what limited amount of land there is available in Macau - the most densely populated region on earth. So it is highly unlikely that other competitors will be able to enter this market.
In 2014, Macau gaming revenue outpaced 2013's revenue for the first five months of the year, but in the past seven months gaming revenue has declined year-over-year. Total gaming revenue in Macau was $44 billion in 2014, marking a decline of 2.6% year-over-year, highlighted by a drastic 30.4% decline in December. Below is a chart comparing Macau's monthly gaming revenue (in millions of Macau Pataca) in 2013 to that in 2014.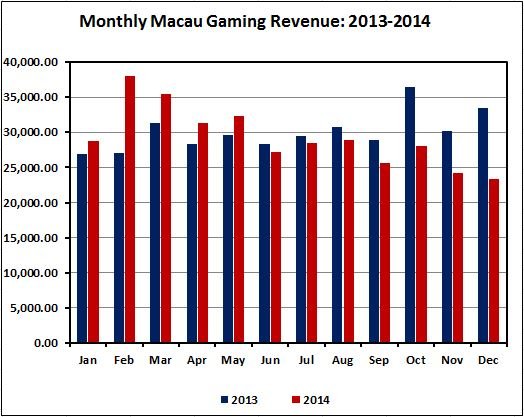 Source: Benzinga.com
In 2015, the majority of analysts are projecting Macau gaming revenue to decline once again; however, most agree that will only be a result of weakness in the first half as they are predicting a nice rebound in the second half. Deutsche Bank expects gaming revenue in Macau to decline 8% year-over-year with a 21% decline in the first half, but a 7% increase in the second half. Similarly, Morgan Stanley projects Macau's gaming revenue to decline by 4% year-over-year with an 18% decline in the first half, but a 14% rebound in the second half. Due to these projections, I would hold off on buying any of these casino & resort stocks operating in Macau until the second half of the year. I believe the stock prices of all these companies will recover quite nicely in the second half of 2015, as earnings expectations will be set extremely low after the disastrous second half in 2014. So I have a buy rating on all these companies for the second half of 2015. Out of the group, however, I like Wynn Resorts the most as the VIP market is more lucrative demonstrated by the highest revenue and EBITDA per table in the industry.
Disclosure: The author has no positions in any stocks mentioned, and no plans to initiate any positions within the next 72 hours.
The author wrote this article themselves, and it expresses their own opinions. The author is not receiving compensation for it (other than from Seeking Alpha). The author has no business relationship with any company whose stock is mentioned in this article.