US futures are higher today, but that does not mean too much considering we were also higher yesterday before selling off. There are a lot of questions in the market right now and many center on Europe and the moves they are set to announce later this month. So long as the market is left to speculate as to what moves the ECB will take to boost the European economy, fear will rule the day.
Also in the news this morning are reports of some sort of terrorist attack in Paris which targeted a magazine. Early reports indicate that there are 12 dead, including two police officers, with another 10-12 injured.
Yields on Greek bonds moved above the 10% level for the first time in years as concerns grow about its current financial and political issues.
Chart of the Day:
With the S&P 500 (NYSEARCA:SPY) approaching the 2,000 point level, we are watching to see if support kicks in around this level as it has in the past. We are nearing the area where the last correction ended, as can be seen by the following chart.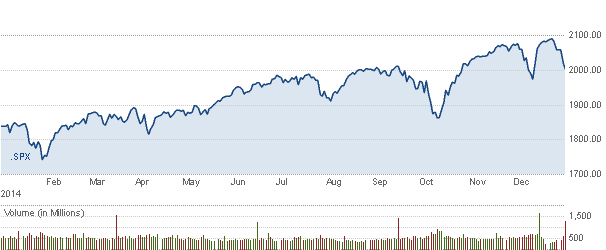 Source: CNBC
We have economic news today, and it is as follows:
MBA Mortgage Index (7:00 a.m. EST): Est.: N/A Act: -9.1%
ADP Employment Change (8:15 a.m. EST): Est.: 230k Act: 241k
Trade Balance (8:30 a.m. EST): Est.: -$41.8 B Act: -$39.0 B
Crude Inventories (10:30 a.m. EST): Est.: N/A
FOMC Minutes (2:00 p.m. EST): Est.: N/A
The Asian markets are higher today:
All Ordinaries - down 0.21%
Shanghai Composite - up 0.69%
Nikkei 225 - up 0.01%
NZSE 50 - down 0.06%
Seoul Composite - up 0.07%
In Europe, markets are higher today:
CAC 40 - up 1.45%
DAX - up 1.23%
FTSE 100 - up 1.18%
OSE - down 1.20%
Another Deal For Keurig's Cold Brew Machine
Keurig Green Mountain (NASDAQ:GMCR) signed a deal with Dr. Pepper Snapple that will enable the company to create and sell capsules for its new cold-drinks machine that will rival SodaStream International's (NASDAQ:SODA) current offerings. The capsules will be marketed under Dr. Pepper Snapple's soda brands and will bolster Keurig Green Mountain's currently planned offerings, which include Coca-Cola's (NYSE:KO) soda brands as well.
While there are few details surrounding the transaction, we do know that the deal is exclusive and will lock Dr. Pepper Snapple into a multi-year agreement which prevents it from licensing its brands to rivals, namely SodaStream. There is no current relationship between Keurig and Dr. Pepper Snapple; however, Coca-Cola is a significant shareholder of Keurig.
3G Capital Planning Another Takeover?
The private equity firm 3G Capital has raised $5 billion for a new fund, which has kicked off fresh speculation as to which companies could be targets. The Wall Street Journal reported that Campbell Soup (NYSE:CPB) and PepsiCo (NYSE:PEP) could be targets, according to their sources, and speculated that other food companies that could be targets include Kellogg Company (NYSE:K) and Kraft Foods Group (KRFT).
Although all of the above mentioned companies have market capitalizations well north of $5 billion, 3G Capital generally raises only the funds it needs to do a transaction and borrows heavily to fund the rest. Readers will remember that Warren Buffett has helped fund previous transactions that the group has been involved in, including Heinz.
Healthcare M&A In 2015
We have seen numerous articles in the last week or so regarding healthcare M&A and who the likely buyers and sellers are. While many analysts are still torn between whether Pfizer (NYSE:PFE) will break-up into separate companies or resume its 'grow-by-acquisition' strategy that previously had been taken off of the table by management, it is widely believed that some transaction will take place in 2015 after the failed bid for AstraZeneca (NYSE:AZN) last year.
Shire Plc is also viewed as a buyer after last year's deal to sell the company to AbbVie (NYSE:ABBV) fell apart and Shire collected a hefty break-up fee.
While there are numerous names which show up on the list of companies expected to sell, we noticed that many of those names also show up on the list of potential buyers. The one name that everyone seems to be able to agree on as far as being in play is Zoetis (NYSE:ZTS) because of Bill Ackman's stake.
Disclosure: The author has no positions in any stocks mentioned, and no plans to initiate any positions within the next 72 hours.
The author wrote this article themselves, and it expresses their own opinions. The author is not receiving compensation for it (other than from Seeking Alpha). The author has no business relationship with any company whose stock is mentioned in this article.