Introduction
West Texas Intermediate oil fell below $50 a barrel in trading on Monday, its lowest point since April 2009. Brent crude oil fell below $50 briefly on Wednesday. Oil prices have been in a nose dive ever since the beginning of last September when oil was trading over $100 a barrel.
Lower oil prices have had a significant impact on energy producers, and many energy stocks have already seen significant declines. Oil may continue to drop because of overproduction, a refusal to cut production by OPEC, and a decline in demand from major consumers like China. But if oil remains depressed, what impact will this have on major oil companies?
Major producers will be affected in a variety of ways, such as through weaker share prices, concerns about the viability of current high-cost production sites, and more cautious future investments. However, even though oil is likely to stay below $50 in the near-term, unforeseen cuts by OPEC or political instability could lead to an oil rebound that could rally depressed energy stocks.
Why Oil May Remain Low
Oil supply and demand were off during 2014. Supply kept increasing, while demand waned.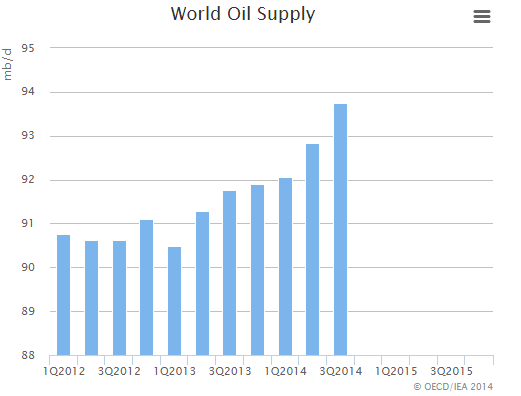 Source: International Energy Agency
This asymmetry will continue into 2015.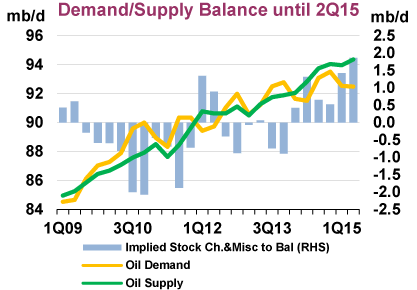 Source: International Energy Agency
With global supply at around 94 mb/d and demand at least 1 mb/d lower, this has sent oil prices down.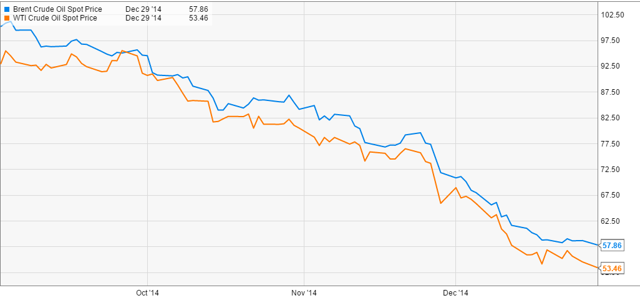 Source: Ycharts.com
A lot of oil production growth has come from non-OPEC producers.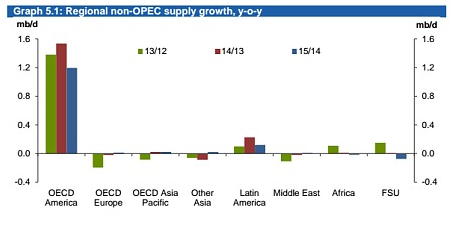 Source: The Telegraph/UK
Overproduction has occurred for several reasons. First, the U.S. has ramped up oil production from unconventional sources such as shale oil. This has allowed the U.S. to produce nearly 9 million barrels per day. Next, geopolitical turmoil in countries like Libya had pushed their oil production down, but that production is ramping back up. In fact, higher production from Russia and Iraq has led Qatar to estimate that there is a current surplus of 2 million barrels of oil a day. Finally, US consumption has decreased because of more fuel-efficient cars and cutbacks on the use of industrial oil.
OPEC is also contributing to low oil prices. At the last OPEC meeting in November, Saudi Arabia held the coalition of producers together by refusing to cut oil production. OPEC maintained its production quota of 30 million barrels a day, in spite of opposition from poorer members like Iran and Algeria that advocated for cuts. I have argued that Saudi Arabia's strategy is to maximize its market share and bankrupt high-cost shale producers, while others have argued that high oil prices challenge OPEC's continued existence because of the rise of alternative energy producers. Irrespective of the reasons for the refusal to cut production, the direct consequence has been to perpetuate the oversupply issue and drive down the price of oil.
Finally, demand for oil has been weaker in both Europe and China. There are serious concerns that Europe may fall into a recession in 2015, which will drive down demand. China is the world's second-largest consumer of oil and a slowdown in its factory production has raised the specter of lower long term demand. With lower global demand and higher supply, oil prices will continue to drop further. Global consumption of oil is only expected to rise 880,000 bpd in 2015.
Low Oil's Impact On Major Oil Companies
Low oil prices will affect major producers like ExxonMobil (NYSE:XOM), Shell (NYSE:RDS.A), Chevron (NYSE:CVX), and BP (NYSE:BP) in a variety of ways. In particular, they will be affected through depressed share prices, concerns about the viability of current high-cost production sites, and future investment.
Below is a graph that compares some highlights from each of these companies:
Company

Oil Production Per Day (In millions)

Valuation as of 1/6/15

(In billions $)

2013 Revenues (In billions $)

ExxonMobil

5.3

381

420

Shell

3.9

203

450

Chevron

3.5

203

220

BP

4.1

108

396
(Daily Oil production estimates taken from energydigital.com)
Cumulatively, these four companies produce nearly 17 million barrels per day, or about 18% of total daily global production.
These powerhouse companies' share prices have been negatively affected by the drop in the price of oil, as can be seen by overlaying their share prices with the price of WTI crude oil.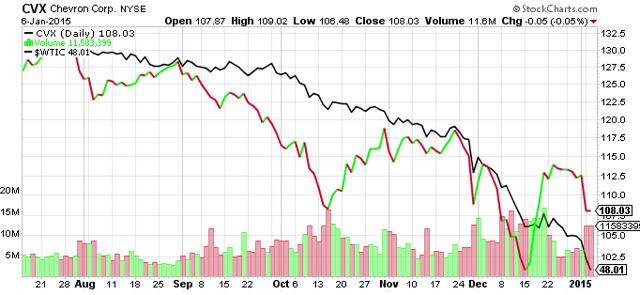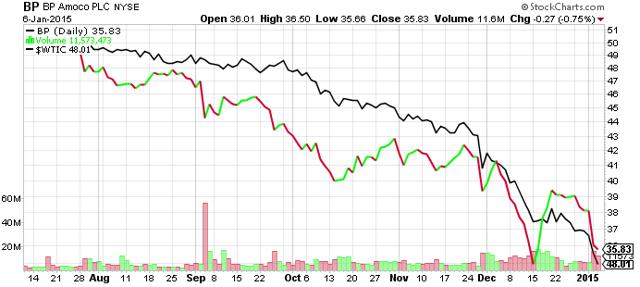 Source: Stockcharts.com
All producers have seen declines that track the decline in the price of oil. Each producer saw particularly sharp declines in the middle of October and in the middle of December. A current sell-off is underway that coincides with a further decline in the price of oil.
Intuitively it makes sense that lower oil prices will adversely affect share prices. After all, lower oil prices will bring in less revenues, which will cut into these companies' bottom lines. But how much will low oil prices really hurt these companies' profitability?
For ExxonMobil, it should still continue to be quite profitable. This is because it has a wide range of low-cost projects and extremely cheap production costs in the U.S., where it only costs ExxonMobil $12.72 to extract a barrel of oil. In addition, it has made long term investments in liquefied natural gas and deepwater drilling that will remain profitable across the $40 to $120 per barrel range.
For Chevron, it should also maintain healthy profits because of a diversified balance sheet. In addition, analysts anticipate that Chevron will cut 11 percent from its 2015 budget, giving the company a $34.3 billion budget rather than $40 billion. In spite of spending cuts, analysts from Citigroup downgraded their assessment for Chevron to Neutral from Buy earlier this week.
BP and Shell face larger challenges and both companies dividends are at risk. Shell is in relatively better shape, especially since it has a better balance sheet. In addition, at the end of Q3 Shell's ratio of net debt to total capital was a modest 11%. BP faces more significant challenges and has announced job cuts. It has also announced that it will cost $1 billion to streamline its business this year.
Looking forward, certain high-cost drilling projects that have already been invested in will not be affected because the investments have already been made. For example, BP has stated it will continue its oilsands projects. But Chevron's $10 billion shale gas project in Ukraine has been axed. In fact, $200 billion worth of projects have been delayed or canceled because of the decline in the price of oil. The number of oil rigs used around the world has also declined.
Although sunk costs will lead to further exploitation of already existing wells, future investment decisions will be impacted by the low cost of oil. As CEO and Chairman of ExxonMobil Rex Tillerson recently explained:
It really means a return to fundamentals for us. It's important about watching your cash, watching your investment decisions, being very disciplined about everything, and then looking for opportunities that may present themselves in an environment like this.
All these companies will have to make careful cost-benefit analyses for future investment projects with added awareness that low oil prices may be around for some time.
Can Oil Rebound?
The two main wildcards that could give oil a boost are production cuts by OPEC or a geopolitical crisis that leads to an unexpected decline in output. OPEC's next scheduled meeting is not until this June, but an emergency meeting could be called early if prices continue to decline. In addition, any significant geopolitical crisis that destabilizes an oil-producing nation could help boost the price of oil. But low oil prices could increase the chance for crises, as seen by events in Iraq. If Russia's economy continues to crumble, this could also adversely impact its overall production. The bottom line is that there are any number of unforeseen geopolitical crises that could help oil rebound in the coming months. This then would impact these major oil companies and would help to boost their share prices.
Conclusion
The price of oil has dropped by $50 in 4-months. The potential for it to continue to decline remains very real, especially because of overproduction, a lack of cuts by OPEC, and a decline in demand around the world. Low oil prices will affect major producers like ExxonMobil, Shell, Chevron, and BP in different ways. ExxonMobil and Chevron should be able to weather depressed oil prices and maintain healthy profits. Shell will face some difficulty, but BP faces the most significant challenges.
Many current projects will continue irrespective of the decline in oil price because these investments have already been paid for. However, future projects will have to take into account the lower cost of oil before making further investments, especially in high-cost production areas like shale. Although unforeseen cuts by OPEC or geopolitical crises could help oil rebound, oil prices will continue to remain depressed for the foreseeable future.
All of this will translate into continued pain for energy investors and will continue to hurt these Big Oil companies. A dramatic impact has already been felt by these Big Oil companies, and no one can predict with certainty when the price of oil will finally bottom out. Until it does, investing in Big Oil will remain a precarious proposition at best.
Disclosure: The author has no positions in any stocks mentioned, and no plans to initiate any positions within the next 72 hours.
The author wrote this article themselves, and it expresses their own opinions. The author is not receiving compensation for it (other than from Seeking Alpha). The author has no business relationship with any company whose stock is mentioned in this article.