On Jan. 6, farm irrigation and road infrastructure maker Lindsay (NYSE: NYSE:LNN) came out with its Q1 FY 2015 earnings statement. It's obvious that Lindsay is dealing with a supply/demand whiplash. Let's take a deeper look.
Fundamental decline
In the most recent quarter, Lindsay saw its revenue, net income and free cash flow decline 9%, 26%, and 43%, respectively. The company's domestic irrigation equipment segment served as the primary drag on these results. In recent times, a prolonged drought caused hardship on farmers and subsequent decline in the supply of their crops serving as the catalyst for the demand of irrigation equipment.
High crop prices, like corn for example (see chart below), and waning drought brought in additional players upping the supply of crops and lessening the economic need for the irrigation equipment. What you are seeing is a return to normalcy for the company. On a bright note, the company is seeing increased demand in the international arena and in its road infrastructure business.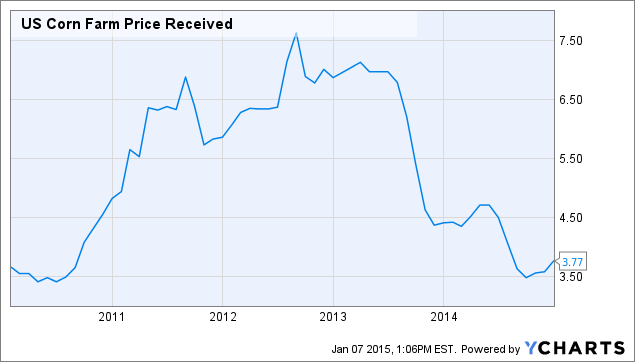 US Corn Farm Price Received data by YCharts
Acquisition related expenses in addition to revenue declines served as catalysts for the decline in net income. Capital expenditures increased 53% serving as the primary contributor to the decline in free cash flow.
Balance sheet remains in good shape
Lindsay's balance sheet remains in good shape. Lindsay's $139 million in cash equates to 40% of stockholder's equity. I like to see companies with a cash stash greater than 20% of stockholder's equity to get them through hard times. Lindsay possesses no long-term debt which represents a good thing. Long-term debt creates interest which chokes out profitability and eats into cash flow. This company stands ready to work through its temporary downturn in business.
Dividends
Lindsay does pay a dividend. The best way to judge dividend sustainability is to compare how much of company's free cash flow gets paid out in dividends in a full year. In the most recent quarter, Lindsay paid out dividends amounting to 160% of free cash flow, vs. 47% the same time last year, due to the free cash flow decline. However, Lindsay paid out 16% of its free cash flow in dividends during FY 2014 which means that the dividend is pretty sustainable in normal times. Currently, the company pays its shareholders $1.08 per share per year translating into a yield of 1.2% annually.
Looking ahead
Company management expects more short-term difficulty during calendar year 2015 due to lower farm tax incentives and continued suppressed commodity prices. However, over the long term, management believes that global population growth and an expanding global middle class will increase the need for agriculture irrigation equipment. Moreover, infrastructure upgrades in developed markets will also boost the need for road infrastructure.
Lindsay's rock solid balance sheet will surely get the company through difficult times. However, investors may want to wait for a cheaper valuation as it currently trades at a P/E ratio of 21 vs. 19 for the S&P 500 and 12 for the industry average, according to Morningstar. This represents a slightly rich valuation for a company going through a business downturn.