On July 12, I published an article on Jinhua, China-based electric vehicle (EV) manufacturer Kandi Technologies (NASDAQ:KNDI) which attempted to explain the likely cause of the stock being priced so low at its current $2 level. Here's the follow-up, covering fundamental advances I promised at that time. As you will see, the current price has nothing to do with the incredible fundamental advances that have been consistently and rapidly evolving particularly over the past few months. This article should be read in conjunction with the July 12 article.
Yesterday I mentioned to a friend and fellow KNDI shareholder that I have spent some 30 hours working on this KNDI update. He retorted, "Why waste your time? It's a China stock. The institutions are too busy following each other around with their CYA mentality to even look, and even normally intelligent long term retail investors have been fed so much anti-China propaganda, that logic, common sense and fundamentals are meaningless."
I responded, "I could care less about who does or doesn't read or react to this writing. I just want to have it as a permanent public record with the stock at this incredulous price."
I have been professionally involved in the market for most of 38 years watching the development of the likes of Microsoft (NASDAQ:MSFT), Apple (NASDAQ:AAPL), Amazon (NASDAQ:AMZN) and even a few US institution-accepted China stocks like Baidu (NASDAQ:BIDU) and Sohu (NASDAQ:SOHU), along with several other innovators of true "disruptive technologies" emerge as market giants, but always from afar.
Over the past four years, I have put thousands of hours of research into KNDI, its management, its products and technology, even going so far as traveling to China and spending a few days with the company. This effort and experience have convinced me that the odds are strongly in favor of KNDI -- with its stable of small, economical everyman-oriented EVs along with its patented "disruptive" Quick Express Battery Exchange (QEBX) technology embraced by the world's largest electric utility company -- leading the EV revolution in China, if not the world, in proliferation of much needed EVs. And I don't mean years from now, I mean beginning right now. The R& D and preparation over the past few years is basically finished, and roll out has now begun in the second half of this year. If I have learned anything in 38 years in the market, it is that fads pass. The current Chinaphobia is a fad in its final stages (which in the more heavily followed China survivors is already being reflected with increasing stock prices). There is no question in my mind that KNDI's stock will follow shortly and soon lead.
Off My Soapbox
Here I'll discuss the major fundamental advances made by KNDI since my March 2 write-up on the company, along withwith projections for 2011 and 2015 between KNDI and the only other US-listed public EV manufacturer where EV sales make a difference, Tesla Motors (NASDAQ:TSLA). While TSLA seems to be capably shaping up as a future leader in the higher end EV market, I will show how KNDI, primarily with its Volkswagen (OTCPK:VLKAF) "Peoples Car" approach in China, should readily dominate the two in all investment metrics, including share price, over the next few years. But to understand the rationale for my bold statement, I will cover KNDI's recent events first, then follow below with the head to head comparisons of the two companies.
On March 2, I published an article titled "Revisiting Kandi: Why I Remain Confident in This Stock" which was the eighth in a series of articles I have written on KNDI since September 2010. With so many fundamental events having transpired since my March 2 article, I don't intend to address events prior to that date other than for reference purposes. If you are not familiar with the company and/or its history, I suggest you visit the links above for more complete information.
What's Happened At KNDI Since March 2?
From my July 12 article, we know the stock price has been sliced in half since March 2, but as I will show in chronological order, the drop was not based on any substantive fundamental reason.
In a press release, KNDI said:
… [T]oday announced further developments on the previously announced letter of intent signed by Kandi and Share s.r.l corporation. Kandi has received a purchase order for 1,000 pure electric vehicles for the Italian market from Share. A delegation led by the Chairman of Share and the official representative in charge of energy and environmental protection of Rome, recently visited the Company to finalize a strategic cooperation agreement regarding the European launch of Kandi Technologies' pure electric vehicles …
The press release followed a prior announcement late January which was the letter of intent for this initial sale of 1,000 EVs to Italy. As you can see, that article expressed the delivery date to be by this years end. This marked a major milestone as KNDI's first sale on the European continent. (KNDI investor relations informed me that while initially the cars would be a modified lower priced LSEV Coco, the some larger KD5010 and 5011s would also be included.)
On March 31, KNDI released its financial results:
… Selected 2010 Financial Highlights:

Full year revenues increased 26.8% to $42.9 million (compared with guidance of $40 million) due to continued strength in ATV and Go-kart sales.

On a non-GAAP basis, which excludes certain warrants, options and convertible notes related charges (see table below), the Company reported 2010 adjusted net income of $5.0 million, up 76% from adjusted net income of $2.8 million, in the same period last year.

Operating income increased 41.5% to $3.2 million in 2010, from $2.3 million in 2009.

Working capital surplus of $18.5 million at the end of 2010, an improvement from a working capital deficit of $12.1 million at the end of 2009.

Cash and cash equivalents (including restricted cash) totaled $25.1 million at year-end, a significant increase from $5.9 million in 2009.

Net cash provided by operations was $4.4 million, compared to $(8.5) million in cash used in operations in 2009.

"We are very pleased to announce increased revenues this past year, especially from our traditional off-road products, as our legacy business returned to more normal conditions with revenues approaching record 2008 levels," said Mr. Xiaoming Hu, CEO and Chairman of the Board of Kandi Technologies. "This past year marked an exciting time for Kandi as we cultivated our previously announced strategic alliances and joint ventures with some of China's largest energy and battery companies, we received government approval and sold our first EVs in China, while developing pure EV technology and infrastructure that will ultimately change the automotive landscape in China and beyond …"
As seen here, it did beat prior revenue guidance of $40 million. At $42.9 million, this became the best year ever for the company. In spite of all these respectable numbers, the area of disappointment for those who did not fully understand the initiation of EV sales in China targeted the small number of Q4 EVs sold (29) after the initiation of sales on Nov. 27, 2010 as reason for disappointment. For this, I fault the company in not providing clear understanding of the sales process in China.
On December 1 of last year, the company announced the initiation of sales of its KD5010 pure EV, along with the opening of the first QEBX station owned by a joint venture made up of KNDI, PRC-owned State Grid (SG) and Tianneng Power (OTC:TIANF). This press release stated that the cost of the EV to a consumer is approximately $5,918 before government subsidy (throughout this article I have adjusted the conversion of RMB to USD to current levels). What KNDI did not say, and to my knowledge has never said in either press release or filing, was that this consumer EV does not have a "plug-in" option. After the battery runs down, it can only be replaced at a JV "QEBX" station or by a JV Mobil Exchange Unit. (This video, translated, tells of three QEBX stations open now, three more by this year end, 25 by 2012. At the end of this JV-produced marketing video, you can see the concept of the future automated changing stations).
Prior to my visit to the company in November, a week before sales began, I also was not aware the cars were to be sold without a plug-in option. However, I reported this in subsequent articles on the company. But unless an investor read and understood this point from my writings, or read China websites, she would have had no way of knowing there was no plug.
Now, this lack of a plug feature is actually a good thing (maybe even brilliant) for several reasons. Most importantly, it was a requirement imposed by the government-owned SG, China's largest electric utility covering over a billion people and 88% of the China land area, for creation of the above mentioned JV. With no plug, it forces the consumer to use the QEBX stations or mobile unit. SG wanted this so it could control the charging load on the electric grid by charging the days depleted batteries overnight, and so it could create an additional revenue stream by participating in the exchange revenues. While seemingly debilitating at first, once a significant number of QEBX stations are opened, this will assure a large number of EV sales by KNDI, as SG pushes consumers into the QEBX concept.
There is another reason why I personally like the no plug option. As will be discussed, the PRC and local governments are now providing large subsidies for KNDI's EVs in both Jinhua and Hangzhou (total population: 16 million). As twice mentioned already, SG is part of the government. If the government in China tells the populace that it should buy this car (and you can bet it will, since the government will have to keep its QEBX stations busy to justify the expense of building them), then many consumers will do as told. After endorsing purchases of this car without a plug, the further development of QEBX stations must be continued and rapidly expanded; if they're not, consumers who purchased the car will be left with nothing more than "driveway statuary" since there will be no other way to re-electrify their cars. A smart, patient investor should love this concept that joins KNDI, SG and consumers at the hip. But of course the short term negative that is created by this "chicken and egg" situation is slower initial sales as the QEBX network is developed.
Aside from current ignorant investor prejudice against China stocks, I believe this lack of clarity has caused significant unwarranted disappointment in the company's near term sales and therefore stock performance. It is further my belief that this lack of EV sales at such a reported low consumer sales price is likely being misinterpreted by US-minded investors unaware of the no plug situation, in one of three ways:
An assumption that "the car is junk and no one wants it."

"There must be no market for EV's at any price in China."

"The company must be scamming with their press releases."
All of course, are not the case. The real question is, "How long before real sales in the thousands of cars begin?" From the looks of recent announcements over the past few weeks, the answer appears to be, "Right now."
From an April 4 press release:
More than twenty Hangzhou municipal party committee representatives and city government officials, including the Vice Mayor of Hangzhou Shen Jian, attended the ceremony. Xiaoming Hu, CEO and Chairman of the Board of Kandi Technologies, also attended the unveiling ceremony, which not only serves as a dedicated EV commercial and distribution center in Hangzhou, but further emphasizes the city's eco-conscious philosophy.

Hangzhou remains one of China's major pilot cities for new energy vehicles and continues its ambitious EV commercialization plans to have more than 23,000 EVs on the city's streets by the end of 2012. Hangzhou's commitment to the widespread adoption of pure EV technology has allowed Kandi Technologies, and its strategic partners, a tremendous opportunity to expand their pure Electric Vehicle offerings to the city's commuters," commented Mr. Hu. "We are delighted with the expressions of interest we received from consumers at the grand opening ceremony regarding Kandi's newest EV model. This marks the first major step towards commercializing our lithium-ion EV in Hangzhou …

The new model KD5011 EV -- which has a retail price of RMB 89,800 ($13.900 US) and is approved for a national subsidy of RMB 60,000 ($9,300 US), for a net cost of just RMB 29,800 (approximately $4,600 US) - provides average consumers with a low-cost, eco-friendly alternative for urban transportation. The lithium-ion KD5011 EV improves upon existing EV technologies by allowing consumers to travel up to 230 km (150 miles) on a single charge. This exciting new product further expands the Company's current EV product portfolio and will help achieve Hangzhou's aggressive plan for EV adoption and use …
This press release kicked off initial sales of KNDI's more advanced Lithium ion powered EV, the KD5011, in Hangzhou, the primary pilot city for EVs in China. It was the introductory press release of this car in Hangzhou last December that drove the stock wildly to the upside on very heavy volume. The major significance of the KD5011 is, due to its use of the lithium battery, it is not only approved for sale throughout China, it also receives a PRC subsidy allowing the consumer to buy this $13,800 car for only $4,600.
From an April 24 press release:
… on April 14th, Vice Governor of Zhejiang Province, Guanglie Mao, toured the Company's Jinhua facilities, along with other provincial and Jinhua city government officials.

During the facility tour, Vice Governor Mao and other distinguished guests visited Kandi's EV showroom, pure EV production line, and watched a live demonstration of the Company's "Express Change" business model. Mr. Xiaoming Hu, CEO and Chairman of the Board of Kandi Technologies, personally accompanied the officials, and provided a detailed report of Kandi's current and future EV development strategy. Additionally, Mr. Hu shared Kandi's innovative solution to enhance widespread adoption of pure EVs in China.

Vice Governor Mao praised Kandi's pragmatic focus, innovative spirit and vision to become one of the leading players in the Chinese EV industry. He offered particularly high remarks to Kandi's unique strategic partnership with State Grid Corporation to accelerate pure EV development in China. Vice Governor Mao also acknowledged the importance of using Jinhua as the pilot city in Zhejiang Province for the battery express change business model. He indicated that in the near future, the provincial government will unveil additional policy support for Jinhua to meet its goal of 3,000 commercialized EVs by the end of 2012. Mr. Mao encouraged Kandi to continue its innovative focus on pure EV business development while maintaining overall quality and competitiveness within the marketplace …
In a normal stock environment, such a dignitary tour might not be so noteworthy, but during these Chinaphobic times, it should give comfort to investors that their company is so well respected by high level government officials. Later, the real significance of this meeting will be apparent.
May 4 "Hired Attack Blog against the Company."
I addressed this along with the company's responses over the ensuing several weeks at length in my July 12 piece. I called it a "Hired Attack" since the writer specifically disclaimed that neither he nor anyone in his organization had a position in the stock. But suffice it to say that in spite of there being nothing negative of importance revealed, the article was effective in driving the stock down some $.65 from the day before closing on very heavy volume and has yet to come close to recovering.
A May 16 press release:
First Quarter 2011 Financial Highlights:

Revenues increased modestly to $8.3 million from $8.2 million with continued growth in ATV and go-kart sales.

Operating income increased to $0.8 million, from breakeven operating results in the first quarter of 2010, while gross margin increased by 2.3%.

Net income totaled $5.9 million, or $0.20 per diluted share, compared to a net loss of $0.2 million, or $0.01 per diluted share in the same period last year. The non-GAAP adjusted net income (described below) grew by 9.9% as compared to first quarter 2010.

Working capital surplus of $20.2 million at quarter end, an improvement from a working capital deficit of $1.7 million at the end of the first quarter 2010.

Cash and cash equivalents (including restricted cash) totaled $34.5 million at quarter-end, which equates to $1.19 per fully diluted share, a significant increase from $25.2 million at the end of 2010.

… In the first quarter, we have showcased our EVs through the newly established showroom in Hangzhou and have started to execute our pilot 'Express Change' model in Jinhua. During the quarter, the Company spent $7.0 million of its sharply increased working capital on new fixed assets to build production capability, which will increase capacity and support EV demand …"
The first quarter has always been KNDI's weakest quarter for two primary reasons: Orders for legacy export products are pushed through in the fourth quarter for the holiday season, and the Chinese Lunar New Year takes some three weeks out of production. Particularly noteworthy is the strong cash and working capital position and no long term debt for the company, and most importantly, the $7 million capex to increase production capability.
As I have mentioned in earlier writings, one of the key points discovered in my personal visit to the company in China last November, was the comment to our group by the CEO that the company would be dramatically upscaling production capacity with a near term goal for 2011 of reaching 100,000 EV annual capacity. Based on information from a recent visitor to the Jinhua production facility, it appears the company may now be at that level. The company has a longer term goal of 300,000 units over the next three to four years. While capacity numbers have yet to be reported in writing by the company in the US, the 300,000 unit per year goal was expressed by Mr. Hu in answer to a question at the 2009 annual meeting. Additionally, searching of China websites with a Google translator uncovered this piece apparently published by KNDI in China last October: Vehicle Industry Co., Ltd. Zhejiang Condit (Kandi is Condit or Condi translated.)
… Annual output of 300,000 ultra-micro-electric vehicle project has completed feasibility studies, prototype development and other early work, the car at the end of 2008 has been put into trial production. Five years, annual output value will win more than 10 billion yuan, more than 1 billion yuan in profits and taxes, job placement staff of more than 5,000 people or more …
And from June 3: Unannounced Insider Purchase.
CEO Mr. Hu, who already owns close to 13 million shares, purchased 28,500 shares in the open market at an average price of $1.94. While this may not be a lot of stock, the purchase price of $55,000US is double Mr. Hu's annual salary from the company. One must also remember that it is not easy for a China Nationalist to move cash to the US to buy stock here in the open market.
From the June 15 press release Kandi Technologies Receives Provincial Government Approval for Subsidy on 3,000 New Energy Vehicles in Jinhua:
… reported that the company has received formal provincial government approval on the application of the new energy vehicle pilot program in Jinhua City, located in the Zhejiang Province. The formal approval, received on June 13, 2011, provides RMB 15 million ($2.3 million U.S.) per year in government subsidies to residents of Jinhua to be used for the purchase of 3,000 Kandi clean energy vehicles through 2012.

The pilot program in Jinhua uses Kandi's KD5010 electric vehicles to promote household use of electric vehicles using the "Express Change" battery model. Each Kandi car sold will be eligible to receive local government subsidies made possible through the pilot program. Kandi expects the average sale price of their KD5010 pure electric model (without battery), currently about RMB 39,800 ($6,100 U.S.), to decrease by more than 50 percent with the subsidies from provincial and city governments. The KD5010 model, tested and approved by the Chinese government, operates on a new-generation lead-acid battery.
While one could never tell by the action of the stock that day, this was a major development. While we have been hearing about the 3,000 cars to be put on the road in Jinhua by the end of 2012, several unanswered questions included:
Was the subsidy only coming from the City of Jinha? Remember, the KD5010 uses the lead acid battery, and is not eligible for the PRC subsidy. This press release seems to be the follow-up on the comment the Vice Governor of Zhejiang Province made on his April 24 visit (addressed above) when promising Provincial support soon. It is now apparent that the subsidy is now coming from both the City and Province.
Is the subsidy paid directly to the company, leaving the consumer to only have to pay out of pocket half the price or around $3000? While not clear from the press release, KNDI investors relations has now informed me with the participation of the Provincial Government, the whole subsidy of slightly more then $3000 per car would now be paid directly to the company, leaving the consumer to only have to put up the balance and then drive out (before this announcement the consumer was required to put up the full amount at purchase ($6100) and then file a request with the City for the rebate). Needless to say that $3000+ difference in out-of-pocket expense should make a big difference in now accelerating Jinhua EV sales.
Would the 3000 car subsidy until year end 2012 be for KNDI only, or would other manufacturers be able to participate? This seems to be clearly answered in the press release by this, "… ($2.3 million U.S.) per year in government subsidies to residents of Jinhua to be used for the purchase of 3,000 Kandi clean energy vehicles through 2012 …" And even more important for the near term, it appears that at least half of the cars, or around 1500 must be sold by this years end, or some of the subsidy would be lost.
Upon seeing this new support by the Zhejiang provincial government, a thought came to mind: "Would this now open up KNDI to other Zhejiang Province cities for EV sales and new QEBX networks?" The answer would come soon.
From a June 20 press release, Kandi Technologies Vehicles Receive Warm Reception at Ningbo Fairs:
… Kandi Technologies, Corp., a leading Chinese supplier of off-road vehicles and developer of pure electric vehicles, today reported the Company's vehicles received a positive reception from guests at the 13th Zhejiang Investment and Trade Fair and the 10th China International Consumer Goods Fair …

Kandi's presence at the exhibition also marked the introduction of their line of EVs in the Ningbo market …
As I already mentioned above, the answer came quickly. KNDI has now added another city. Ningbo is not a large city by China standards, but it is bigger than Dallas. What most US investors don't realize about EVs in China, particularly due to the subsidy programs, is that manufacturers can't just sell their vehicles wherever they want as in the US. Each manufacturer, along with each different vehicle, has to be approved for sale, city by city. To date regarding the National PRC subsidy, there are only five cities approved for consumer EV sales: Shanghai, Hangzhou, Changchun, Shenzhen and Hefei. Other cities and provinces are free to put in their own subsidy program, but it must be paid for by the local governments, not the PRC at this time. That is why KNDI is selling the cheaper lead acid powered KD5010 in Jinhua and I assume now Ningbo, with the more expensive and powerful KD5011 Lithium car in Hangzhou where the much higher subsidy is paid by the PRC.
On July 1, a change in director was announced, which was great news for KNDI. In the recent Chinaphobic environment, the dreaded change in director has been the death knell of a number of companies, so why is this great news for KNDI? Because it now completes an 80% upgrade of the board of directors since last October. At that time the board was made up of five Chinese directors, most of whom had been on the board from before trading in the US. Now, other than Mr. Hu, all directors are new, two are Americans (one Chinese-American) and all have exceptional credentials.
Here is the bio of this newest director, Chinese-American, Henry Yu:
On July 1, 2011, the Board of Directors of the Company approved the appointment of Henry Yu, as a director of the company. Mr. Yu age 57, served as the President of Shanghai Bosun Capital Advisors in Shanghai, China from January to June, 2011. From January 2008 to December 2010, Mr. Yu served as a senior manager of Standard Chartered Bank in China. From November, 1999 to December, 2007, Mr. Yu was a Managing Director of Global Trade Solutions of SunTrust Bank in Atlanta, Georgia. From January, 1995 to November 1999, Mr. Yu was a senior manager of Comerica Bank in Chicago, Illinois, and From May, 1990 to December, 1994, Mr. Yu was a senior manager of National City Bank in Cleveland, Ohio. From 2003 through 2007, Mr. Yu held certification in Series 7 and 62 from the Financial Industry Regulatory Authority (FINRA). Mr. Yu is the Chair of the Advisory Board of the National Association of Chinese-Americans (also Past President twice) and is serving as an Advisor to China's Federation of Overseas Chinese/Oversea Chinese Affairs from 2011-2014. Mr. Yu has been an International Advisor to Sichuan University Suzhou Institute since 2009 and a Foundation Board Trustee of Georgia Perimeter College since 2004. Mr. Yu received his Bachelor of Arts degree in economics from the University of Michigan in 1978 and his MBA in Finance from the University of Detroit in 1980.
In the current anti-China stock environment, a person with the above credentials either has to be suffering from senile psychosis or surely sees something special in KNDI that ignorant US investors do not. At age 57, my due diligence discovered that this is the first public company board of directors Yu has agreed to join. With his heavy US and China financial background, I don't think it is likely that he joined the board at this time, particularly as chairman of the audit committee, without comfort against impropriety.
Here is a link to the bios of all of the new directors. If you are in the stock, I am confident that when you read all of the bios, you will realize that your company is in exceptional hands with this new first class international board of directors.
From a July 11 press release, Kandi Technologies and State Grid Corporation Affiliate Hangzhou Electric Vehicle Service Co. Sign Strategic Cooperation Agreement:
… announced the signing of a strategic cooperation agreement with Hangzhou Electric Vehicle Service Co., Ltd., effective July 5, 2011. Hangzhou Electric Vehicle Service Co., a professional service company affiliate of State Grid Corporation, is assisting the local municipal government in launching the 20,000 pure electric vehicle pilot program for Hangzhou consumers through the end of 2012. Hangzhou Electric Vehicle Service Co. also manages the local State Grid "Express Change" battery service network.

The strategic cooperation will establish a strong relationship through which Kandi's pure electric vehicles will become a preferred vehicle of choice for Hangzhou Electric Vehicle Service Co. and will leverage and promote Kandi's unique "Express Change" business model. Under the agreement, Hangzhou Electric Vehicle Service Co. will ensure that the service network being built by State Grid will support Kandi's technical requirement and infrastructure needs, while permitting efficient and effective operation of Kandi's EVs …

Score: KNDI 2, Competitors 0
As far as public company news goes, a press release like the above has to be the Holy Grail. If the recent series of publicized events and announcements culminating with this press release could have happened a year ago, I would not have been surprised to see the stock 10 times or more the current price. Worldwide there are hundreds of companies concentrating on one day being the next Volkswagen or Ford (NYSE:F) of the mandatory next generation of non-internal combustion engine vehicles (ICEV) which in the near and intermediate future can only be EVs. This is particularly true in China, with its extensive access to hydro-electric, coal, nuclear power and rare earth minerals.
But let's face it. Just as was the case of ICEV manufacturers in the early 1900s where hundreds of upstarts were competing, only a few will survive more then a decade. I titled this section "KNDI 2, Competitors 0" because KNDI has now achieved what all of its China competitors in the EV space, including the major auto manufacturers, have only dreamed about and that is to "lock" themselves into giant State Grid; KNDI has now done it twice.
I cannot tell you how many times I have had to defend my unwavering confidence that "since first announced, KNDI's relationship with State Grid has remained rock solid." There is nothing more flattering to any company than to have a repeat order, particularly if the receiving company happens to be an upstart unknown by most of its largest competitors, and the "buyer" happens to be the largest mandatory industry participant worldwide by 10 fold. I hate to sound like a broken record, but once again. State Grid (which as you may recall is wholly-owned by the Chinese government) is the seventh largest corporation in the world. It is the dominant electric utility in China covering over 1 billion population and 88% of China's land mass. In other words, it is around three times larger then all of the electric utility companies in the US added together.
Yes, KNDI is an electric vehicle manufacturer, but that alone would not have gotten KNDI past the security guard at State Grid's headquarters. State Grid is with KNDI for one reason and one reason alone, as can be seen on State Grid's own website: KNDI owns some 10 patents, mostly developed by its CEO Hu Xiaoming but put into the company, covering a truly disruptive technology in its Quick Express Battery Exchange Program. I am not aware of the specific details of this latest agreement with SG, but the Jinhua JV carried a 40-30-30 structure with SG building and providing the stations holding 40%, KNDI providing its patented technology for 30% and Tianneng Power 30% for providing the batteries.
And of course, in addition to KNDI's revenue share from each battery exchange, KNDI also manufacturers and sells the cars for use in the program. Here is a translated link to the new "Three Parties" website for the Jinhua JV.
On to the rest of this press release. State Grid and the City of Hangzhou have been preaching all over the net for months that Hangzhou will have 20,000 EVs (some articles say 23,000) on the road by the end of 2012. As of April, the count was at 500 (at least 60 of KNDI's to the China Postal Service) as reported on several China websites. Far be it for me to second guess these government projections, but the end of 2012 is only some 17 months away, so I find it unlikely it will achieve that lofty number. From various websites, it appears that there are currently four EV makers currently approved to sell in Hangzhou: BYD, Zoyte, Haima and KNDI with its KD5011.
As shown above, after subsidy, KNDI's car will cost the consumer around $4600. The next lowest price is the Zoyte Longview at around $15000 after subsidy. In my opinion, if there is any chance that Hangzhou does hit the 20,000 mark, it will only happen if at least half of those cars are the broadly affordable KD5011 at $4600. Since KNDI now has its executive headquarters in Hangzhou which is around 60 miles form Jinhua, KNDI is currently selling cars in both cites directly, meaning with no middle man. So in theory, if over the next 17 months it only sells 10,000 cars, KNDI stands to generate a minimum of $100 million, up to a possible $138 million in Hangzhou alone (as shown above, the KD5011 has a retail price of $13,800).
In Jinhua, it will sell 3000 KD5010s at $6100 each will generate an additional $18+ million. Additional sales of say 2000 in at least Italy and the US will add another $10-12 million. Together this would bring KNDI's EV sales alone by the end of 2012 up to $128-168 million. Then add non-EV legacy ATV, UTV, Trike, etc., business for another $60 million or so. All this totals between $188-228 million in sales for KNDI between now and the end of next year and with an extremely large profit margin due to selling direct in Jinhua and Hangzhou (this is assuming KNDI only gets 10,000 of the Hangzhou 20-23,000 expected EV sales).
For this year, if one were to believe this article published on a Zhejiang government website a few months ago, interviewing KNDI's deputy general manager, KNDI could end up selling some 3,500 EVs in Hangzhou and Jinhua to include some 300 more to the China Postal Service, split maybe 1500 Jinhua, 2000 Hangzhou for some $29-36 million, 1000 cars to Italy an additional $6 million and maybe 500 in the US for $2.5 million. This would total $37.5-44.5 million in EV sales of 5000 cars. Add another $45 million for legacy products and total sales for 2011 could reach $82.5-89.5 million.
Of course the above is simply speculation, but it is speculation based on information attributable to public sources in both US and China of which I have provided links.
Kandi vs. Tesla
Based on all available public information on both companies, the odds are extremely in favor that over the next three to four years, but perhaps a lot sooner, KNDI's stock will be trading higher then TSLA's. That is not to say that Tesla will not do well in the future. I base this on its existing share price just under $28, giving it a current market cap of some $3.1 billion which is priced some 30 times Morgan Stanley's (NYSE:MS) Base 2015 earnings estimate of 1.07 GAAP, and 19 times MS 2019 GAAP earnings estimate. This MS report did not factor in the 7.5 million share dilution for its recent $220 million offering completed in May.
Now this MS estimate was put out in the above linked research note in November before the less than warm reception given to the Nissan (OTCPK:NSANY) Leaf and Chevy (NYSE:GM) Volt pure EV, so, in my opinion, it could be likely that MS's "Base Case" could now be high.
On the other hand, KNDI is currently trading less than four times my 2011 my $0.60/sh estimate and 1/3 the price of my $6.23/sh estimate for its earnings in 2015. Below I have compiled a table of select financial items to show a comparative summary of TSLA vs. KNDI. The TSLA information was obtained primarily from public sources, including SEC filings, along with the above linked Morgan Stanley publicly available research note. Due to its subsequent $220 million stock offering, I have made some upward adjustments to the MS numbers for future years. Since KNDI has no analysts following the stock at this time, I compiled current data from SEC filings, and based on other public information, mainly referenced throughout this report in this linked worksheet breaking down how I have come to KNDI's estimates for future performance.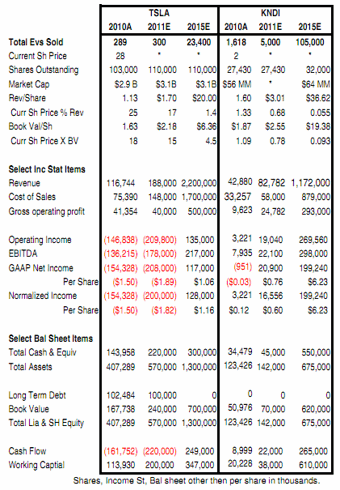 I have elected to compare the two companies not to denigrate TSLA as I am of the conclusion, particularly after doing research for this article, that TSLA seems to be doing things right in attempting to capture a lead position in their niche of medium to higher priced EVs. However, while the potential market for EVs over the next decade and beyond is immense, TSLA is still going to be effectively competing "heads up" with most of the worlds major auto manufacturers competing for market share. KNDI and its CEO/founder, on the other hand, are following the historic model of Henry Ford with his Model T and Ferdinand Porsche with his Volkswagen or "People's Car" by providing EVs for sale to the masses at prices from as low as $6,100 to as high as $14,000 and doing it with incredible government sponsorship.
Its initial market of 1.3 billion people, as you can see from the below Deloitte article, will look at KNDI's compact EVs without prejudice as a first car. (Deloitte survey: Chinese consumer market strong for electric vehicles.) Fifty percent of Chinese consumers surveyed identify themselves as "potential first movers" in purchasing or leasing an electric vehicle.
A new survey released today by Deloitte Touche Tohmatsu Limited's Global Manufacturing Industry group shows that 93 percent of Chinese consumers are interested in buying or leasing an electric vehicle. The survey coincides with the 14th Shanghai International Automobile Industry Exhibition (Auto Shanghai 2011) this week, where low-carbon, green economy, and sustainable development will be key themes.

"As China is the largest automotive market in the world, this is great news for players in the EV market," says Mr. Craig Giffi, DTTL Global Automotive Sector Leader, who is presenting at the Shanghai Automotive Summit today. "Of the world's four dominant automotive markets -- China, United States, Europe, and Japan – Chinese consumers stand out as potential first movers in the adoption of EVs. Fifty percent of Chinese consumers surveyed identify themselves as potential first movers in purchasing or leasing an electric vehicle compared with 12 percent in the United States, 16 percent in Europe, and 4 percent in Japan."
Based on KNDI's current position of at or approaching 100,000 vehicles per year annual production capacity and goal to increase capacity to some 300,000 per year by mid-decade, as shown by the aforementioned China article published by KNDI, it should not be unrealistic to assume my estimate for 2015 cars should easily be attainable. At that 100,000 annual production level, any automaker in China only doing so small a number would not be in the top 20.
TSLA's current apparent lofty share price is not totally surprising due to institutional investors need to balance a portfolio with "green" stocks and in the direct EV manufacturing space. As time passes and memories of this Chinaphobic era become distant, I am of the solid belief that KNDI will start to be recognized as the only other relatively pure play in that potentially large but under company-penetrated market sector. How soon can this happen? In my opinion, particularly in KNDI's case, when you least expect it. I say this because of KNDI's very close published relationship to the China government and several of its state-owned enterprises like State Grid, China Postal Service and China National Oil Company, just to name a few. At any moment, any of these could give a 5,000 or more EV order for meter reader, postal delivery cars etc. When this happens, at least from these low levels, the stock will double overnight.
[Click to enlarge]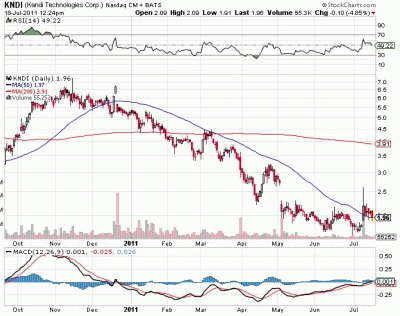 While there is risk in all stocks; at some level, reward potential should be factored in. To show the current disrespect for KNDI's stock vs. TSLA's, at its current price, KNDI common stock is trading at a 20% discount to a TSLA Dec. 2011, $32 Call Option trading at $2.50. This bringing me to two points I am certain of: That call option will go away, perhaps in the money, in five months. KNDI will not go away.
While I did visit the company in Jinhua last November, I have had no discussions with any member of management in over six months. The information and comments expressed here are mine alone with no non-public contribution from anyone associated with the company. Sources are exclusively from public sources both in the US and on China websites. Information regarding TSLA has come from published sources found on the internet which may or may not be reliable.
Disclosure: I am long KNDI.