Note: This article is about a nano-cap stock (also referred to as a "penny stock"). While all investments are risky, nano-cap stocks are among the most risky. Among nano-cap stocks, the most risky stocks are those, which are subject to promotional campaigns (such as SRNA). They are also among the most illiquid stocks, usually having a large spread between the bid and offer at any given moment. Quite often, it occurs that the illiquidity of these stocks does not allow a trader to rapidly close or open a position. SRNA is no exception to that. SRNA is a nano-cap stock which is traded on the OTC Markets and priced well below the 1$ mark. The readers of this article should be highly aware of the aforementioned facts prior to undertaking any action based on the content of this article.
Introduction
SRNA (SRNA) is a publicly traded company, which has experienced a sharp increase in trading activity during the last few days. In this article, we will outline the facts, which are, in our opinion, related to the sudden increase in the volume of this usually thinly traded, low volume stock.
The Promotion
During the last few days, we have received several promotional emails from various stock promoters touting the stock. Obviously, we do not consider the emails being sent out and the sudden rise in volume and trading activity to be a coincidence.
Emails received on SRNA: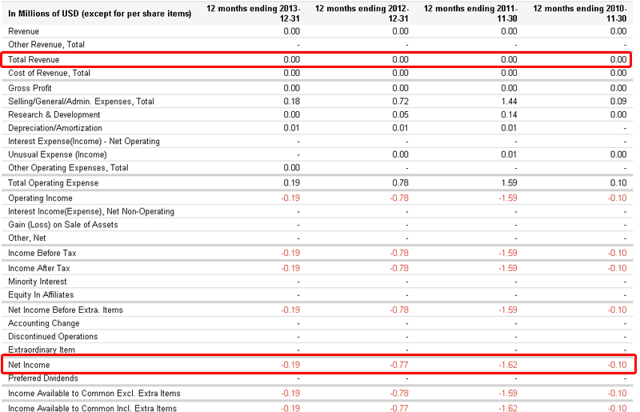 The Reality: Zero Revenue, Negative Income, Bright Future?
As often happens with aggressively promoted companies, a glimpse at the balance sheet is often enough to reveal a grim and bleak picture. It seems that Surna Inc. is of no exception to that rule.
In our opinion, it is clear that the price of SRNA has nothing in common with the stock's true value. If we take a look at SRNA's income statement, we would see that the company's revenue has remained exactly zero during the entire year of 2013, while its net income has been negative during all of it: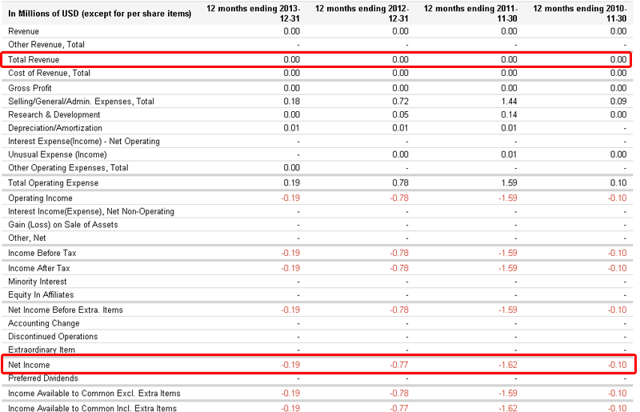 Moreover, if we check the latest 10-Q form filed on 11/14/2014, we would see that the company is actually classified as a going concern (with all the attendant circumstances):

Finally, if we take a look at the 10-Q form filed on the 19th of November 2014, we will see that during the second half of 2014, the company has been issuing shares on a massive scale to different third parties, amounting to a total of just over 4 million shares. The stated reason is, for the most part, 'consulting services':

Taking into consideration the ongoing promotion and concluding from the aforementioned facts, we firmly believe that SRNA's current line of business involves having its shares promoted and sold at over-inflated prices, rather than delivering or attempting to deliver a true product to the market. But why, you ask?
The Reason
Why would any company need to have its stock ticker advertised? That is the most important question an investor should ask himself prior to buying a promoted stock. The answer for this hides, of course, in the small print. Let us have a look at the disclaimer found in the promotional emails touting SRNA, which we've received:
and:

In simple, plain English: someone - may it be the promoter sending out the email message or a third party which had paid the promoter in cash for sending the message - is holding shares of SRNA and plans to get rid of them ("dump" them) in the open market. Therefore, our conclusion is that the promotional email's sole purpose was to have unsuspecting investors buy the stock at artificially heightened prices, while the promoters (or third party) unload their shares upon them.
Conclusion
It is based on the aforementioned facts and analysis presented in this article that we hold the opinion that SRNA shares are essentially worthless. We believe that the recent increase in the price of the stock has been a direct result of email messages being sent out by stock promoters in massive quantities and touting investors to buy the stock. This practice is well known and is done exclusively for one reason only - so the insiders can unload ("dump") their shares (which they had previously acquired almost for free) in the free market onto unsuspecting investors, while taking advantage of the stock's inflated price. In view of that, we hold the opinion that any investor who had purchased shares of the company should consider liquidating his entire position immediately. Even a small weakness in price could mean that the dump is nearing.
Our View
"We must rediscover the distinction between hope and expectation" - Ivan Illich
For longs: If you are long the stock, we believe you should consider getting out immediately. It is with full confidence we say that every upward movement in the stock's price is likely to be temporary, as it will never repeat its previous highs. We believe SRNA has a price target of around $0.01, which it is likely to reach in the upcoming weeks (or months at most).
If you have already accrued losses on the stock, it may be a good idea to sell now so as to avoid additional losses. Do not persuade yourself into thinking the stock price will come back to its previous highs. Do not have hope leaving you holding the bag as it has happened to far too many. We believe SRNA's stock price will drop 90% or more in the following weeks. It may be the right decision to minimize your losses by selling now.
"A man must be big enough to admit his mistakes, smart enough to profit from them, and strong enough to correct them" - John C. Maxwell
For shorts: Bearing the aforementioned facts in mind, we believe sophisticated investors will quickly comprehend the idea that shorting SRNA may be a lucrative opportunity, as we are convinced that the potential downside for SRNA is substantial. If you are able to locate borrows, we believe shorting SRNA may prove to be profitable, as its price may prove to be highly inflated.
Editor's Note: This article covers one or more microcap stocks. Please be aware of the risks associated with these stocks.