China's long-term growth is creating a vast middle and upper classes eager to buy brand names. Luxury consumption in China has seen double digit growth in recent years as a result of rapid economic growth and rising standards of living.
China - the World's Second Largest Luxury Market
The official 2011 report of the World Luxury Association blue book shows that from February 2010 to March 2011, total consumption of the Chinese luxury goods market has reached $10.7 billion, excluding private planes, yachts and luxury cars, more than a quarter of the global total. China now has more than a million millionaires, according to Boston Consulting Group, while spending on luxury goods by Chinese consumers is predicted to rise by 18% a year to about $27 billion by 2015 and become the largest market for luxury consumption.
High End Luxury - Louis Vuitton and Gucci
The most sought after brands in China are luxury players such as Louis Vuitton (OTCPK:MAGOF) and Gucci (OTC:GUCG), etc. LV and Gucci have had a stronghold in emerging markets for years. Both have opened dozens of shops in China.
Gucci entered China in 1997 and has already successfully set up stores in 2nd tier cities that some other brands have only begun to attack. Gucci's biggest market is the Asia-Pacific region and 21% of Gucci's 2010 sales were generated in Greater China.
Affordable Brands – Coach, Guess & Ralph Lauren
China represents the single largest geographic opportunity for Coach (NYSE:COH), outside of North America. It has 55 locations in China by the end of the third quarter of fiscal 2011. Coach China results continued to be strong with double-digit growth in comparable stores. The Coach brand gained tremendous popularity in China and it tried to avoided direct competition with luxury brands like LV and Gucci.
Guess' (NYSE:GES) revenue increased by 36.4% in Asia last year. By the end of fiscal 2011, Guess has 1,373 stores worldwide, including 357 in Asia. This store count does not include 267 concessions located primarily in South Korea and Greater China because of their smaller store size in relation to standard international store size.
Another significant luxury brand in China is Polo Ralph Lauren (NYSE:RL). However, cotton prices, though well off their March highs, are continue to squeeze this clothing retailer's margin.
Comparison between 3 Affordable Brands
Following chart from Yahoo finance compares those 3 affordable brands. With much larger gross margin, higher growth rate, stronger balance sheet and cash flow, Coach is a clear winner:
| | | | |
| --- | --- | --- | --- |
| Metrics | COH | GES | RL |
| Revenue (ttm) | 4.08B | 2.54B | 5.66B |
| P/S (ttm) | 4.7 | 1.4 | 2.2 |
| Qtrly Rev Growth (yoy) | 15% | 10% | 7% |
| Gross Margin (ttm) | 73% | 43% | 59% |
| P/E (ttm) | 23 | 13 | 23 |
| PEG (5 yr expected) | 1.5 | 0.9 | 1.8 |
| Total Debt/Cash | 4% | 4% | 33% |
| Levered Free Cash Flow | 727M | 160M | 243M |
However, Coach's high P/S and P/E ratios make it vulnerable to any growth slowdown. In addition, following graph from Google shows that Coach's profit margins are trending lower: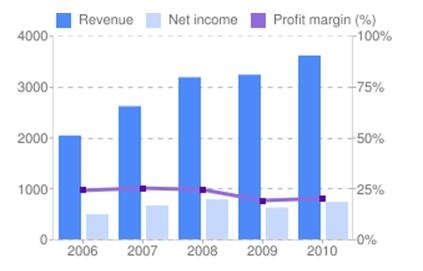 Conclusion
Rising dependence on short-term borrowing is often a telltale sign of trouble. Not all bubbles lead to crises. To produce a crisis requires leverage, according to Greg IP, author of "The Little Book of Economics."
With huge savings (instead of leverage), China's real estate bubbles is unlikely lead to a severe crisis. China's luxury market is still at the beginning stage and China will continue to enjoy some of the world's best growth in spending on fashion and luxury goods. For investors who can't tolerate the risk investing directly in Chinese stocks, the safe way to gain access to economic growth in China is with U.S. - based companies that can tap into the rising incomes and provide the brand name goods that millions of new wealthy Chinese consumers want.
Note: Data is from Yahoo Finance, EliteChoice.org and Red-Luxury.com and is valid as of July 19, 2011.
Disclosure: I have no positions in any stocks mentioned, and no plans to initiate any positions within the next 72 hours.