I sometimes wonder how famous individuals from other times would perform in today's world. Would Napoleon still be a force to be reckoned with in our technological world? Would the techniques of fictional character Sherlock Holmes still be relevant despite the CSI-types today? How profitable would Benjamin Graham, the father value investing, have been over the past 35 years?
While its not possible to know with any certainty how these individuals would adapt, we can still use the principles they laid down to see if the foundation is solid. In the case of Benjamin Graham, we can use some of the broad concepts he used and apply them to today's market. According to AAII.com, American Association of Individual Investors, his investment styles ranging from defensive (both utility and non-utility) to enterprising investor has yielded high annual results that broadly beat the market. Our focus will be to pick a few 'enterprising investor' stocks that (according to AAII.com) have averaged 20.4% annual returns since 1998.
Criteria for Enterprising Stocks:
Low price-to-earnings ratios
Current ratio 1.5 or greater
LT debt to working capital ratio not to exceed 110%
Indicated dividend and trailing dividend
Trailing EPS > 5 year average and 5 year ago EPS
Price to book equal or less than 1.2
Graham Enterprising Stocks:
(NYSE:BG) - Bungee Limited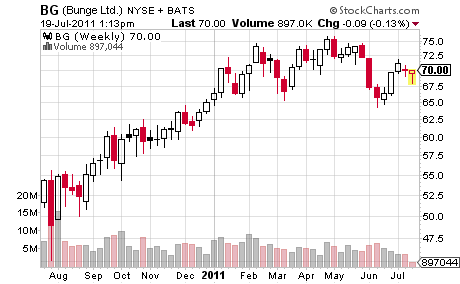 This business, which places itself in the farm-to-consumer food chain, has a low trailing P/E of 4.4, but a more realistic portrayal with the forward P/E of 10.7. This company comes in with high value as the net asset value is $81.75 and the share price is around $70. Even when you discount goodwill and intangibles of $8 per share, this definitely fits Graham's criteria. Here is where times have changed. In Graham's time, dividends were more common and generally carried higher yields. With a 1.4% indicated yield I am not convinced that he would be a buyer, although he did make allowances for the enterprising investor. With a payout ratio of 6% it can afford to boost this a little. Free cash flow has also been a bit tight on average over the past many quarters. While this isn't a perfect fit, I think that Graham may have put this on his watch-list for a closer review. It shows good potential and it has experienced a good run over the past year. While Graham may not have been a proponent of momentum (he liked holding onto his stocks for a very long time), I'd prefer to wait for this to finish its consolidation before jumping aboard.
(NASDAQ:LPHI) - Life Partners Holding Inc.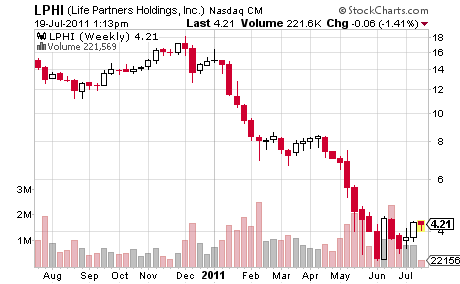 Life Partners facilitates the sale of life insurance policies from policy-holders to bidders at a discount. The concept is that you get a portion of your own insurance to spend now and the investor get a premium when the policy is exercised, such as when you die. Earnings are to be released after time of writing (written day of earnings announcement). It seems pretty fantastic to have a payout ratio of 65% and dividend yield near 20%. However, the falling price from $18 to $4, and some issues surrounding this stock such as late reports and auditors quitting would no doubt turn off man who was searching for that stock you could hold for life without the need extra death insurance. My personal opinion is that this is highly unsuitable if you want to mimic the father of value investing.
In Search of Graham-like Alternatives
Where does this leave us then? Well, I am sure that Graham would have adapted his view to changing economics and loosened the standard for aggressive investors to include many non-dividend paying stocks. We will tighten some of the other standards to include year-over-year increasing earnings, a lower threshold on the debt ratio, and a higher current ratio. Here are a few more stocks, though not specifically following Graham's rigid standards, that are worth a second look.
(NASDAQ:GURE) - Gulf Resources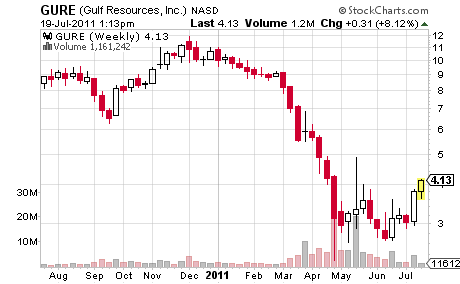 What a wild ride this stock has been from up to almost $12, down to well below $3, and now trading above $4 per share. Book value is over $6 and the P/E ratio is at 2.48 with the forward P/E around 2. After a couple of confidence boosting moves such as a reaffirmation of the corporate structure and the announcement of the Chairman, and his family, to retain shares for at least 3 more years, this could make a good 'beaten up but not down and out' Graham-like pick if he cared to venture over into the Chinese market at this time.
(NASDAQ:SORL) - Sorl Auto Parts This is another China stock with a trailing P/E at 4.34 and a forward P/E of 3.85. With a book value two and a half dollars higher than share price and a PEG ratio of 0.30, he may have looked at this stock. Then again, with the recent problems in accounting overseas, he may have stuck closer to home in ledgers he was familiar with.
Being Benjamin
There is no way to know whether Graham would be adding these stocks to his aggressive portfolio for enterprising investors despite the low price-to-earnings ratios and low book value. Perhaps the risk would simply be too high for his liking. Then again, when Mr. Market comes knocking on your door with a deal too good to pass up, you just might 'forget' to ask how he acquired the goods.
Disclosure: I have no positions in any stocks mentioned, and no plans to initiate any positions within the next 72 hours.