I. Company Overview
General Mills, Inc. (NYSE:GIS) is a global manufacturer and marketer of consumer foods sold through retail stores. The Company is also a supplier of food products to the foodservice and commercial baking industries. General Mills manufactures its products in 15 countries and markets them in more than 100 countries. The Company's joint ventures manufacture and market products in more than 130 countries and republics worldwide. The Company's businesses are organized into three operating segments: U.S. Retail, International, and Bakeries and Foodservice. The Company sells ready-to-eat cereals through its Cereal Partners Worldwide [CPW] joint venture. The Company's primary customers include grocery stores, mass merchandisers, membership stores, natural food chains, drug, dollar and discount chains, commercial and noncommercial foodservice distributors and operators, restaurants and convenience stores. In July 2011, it acquired 51% controlling interest in Yoplait S.A.S.
II. Captialization
Similar to other companies I've discussed, General Mills has a attractive capital structure utilizing a moderate level of debt given it's lines of operations. The Company is currently levered at 2.1x EBITDA (1.9x net of cash) and has an enterprise value of 9.5x EBITDA. The moderate level of debt should not create much pressure in the servicing debt and allows for leveraged equity returns, as the weighted cost of the debt is fairly low around 5%.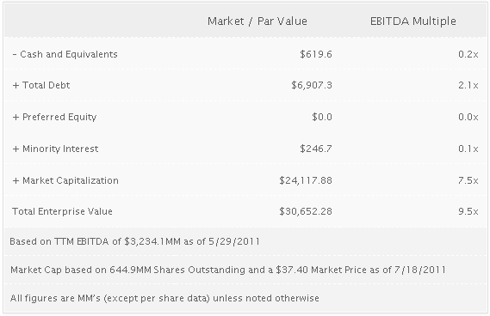 III. Historical Operating Results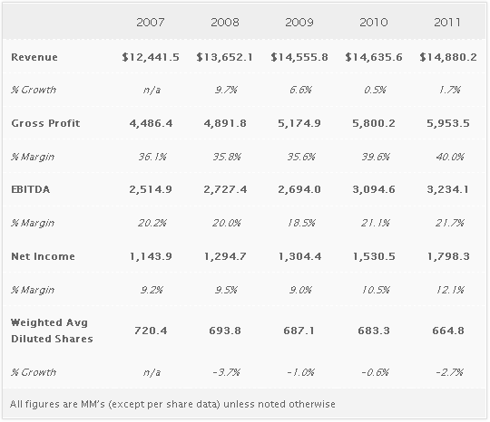 General Mills' top line performance has grown every year (including through the great recession in 2009 - FY2010 for GIS) and has also been accompanied with expanding gross margins (from 36.1% to 40.0%). The Company's profitability has also expanded, with EBITDA increasing over 28% since 2007 to $3.2B. The stable company level profitability/performance also gives comfort that there will not be any issues in servicing the Company's moderate debt load (especially given the recent economic environment).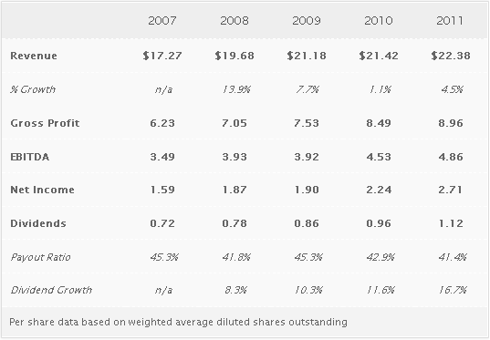 General Mills has been pursuing a moderate level of stock buybacks to reduce the number of shares outstanding from 720MM to 665MM in the past five years (over an 8% reduction). The Company performance on a per share basis has the compounding effect of improved company performance and reduced shares outstanding, resulting in an EBITDA per share growth from $3.49 to $4.86 (a 39% increase as compared to a 28% increase at the company level). The Company's dividends per share have been growing fairly briskly as well expanding from $0.72 per share in 2007 to $1.12 in 2011 (56% expansion) with a modest decrease in the payout ratio from 45.3% to 41.4%.
IV. Projections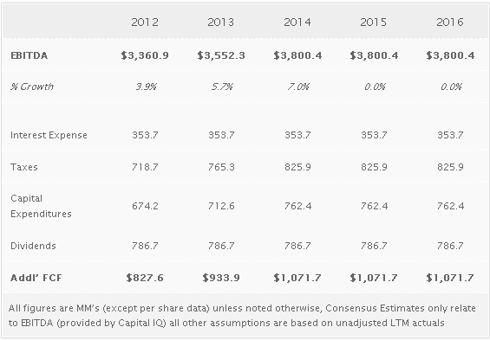 The consensus estimates for General Mills are moderate and very achievable (in my opinion), projecting the growth rate between 3.9% to 7.0% through 2014 at the EBITDA line (Consensus Estimates only available through 2014). When you factor in inflation and growth in the population, there is little real growth that needs to take place to achieve these numbers. Under the consensus case, the Company is projected to have significant additional free cash flow available to reinvest in the business, repurchase shares (always assumed for ease in modeling) or increase their dividend.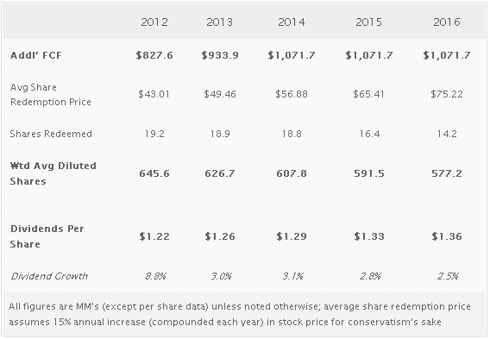 The share redemptions are assumed to be at a 15% annually compounded price. I believe that this is structured very conservatively. If the weighted average redemption price exceeded this threshold, the investor would have ample opportunity and time to re-evaluate their position and consider selling off their position for a gain from the current price. The Company's share redemptions would allow for an increase of approximately 3% annually in the dividend by the share redemptions alone. Additionally, the Company's payout ratio would decline as the dollar amount of dividends paid would not be increasing while the Company earnings (using EBITDA as a proxy) would be increasing.
If the Company performs in-line with the consensus estimates and pays dividends / redeems shares as outlined above, the Company would achieve the IRR / Cash on Cash returns below based on the outlined Terminal EBITDA Multiples. Note that the returns are hampered by the flat EBITDA projections in 2015 and 2016, if you were to assume even a moderate growth rate (4%) the IRR for the no change in the enterprise value (far right value) would increase two points to 11.7%

V. Conclusion
BUY: General Mills is rated a buy due to: (i) a solid current yield of 3.3%, (ii) a low payout ratio under 50% of earnings, (iii) a history of double digit dividend growth, and (iv) a high IRR assuming a moderate and achievable consensus case with no expansion in the valuation multiple. General Mills would be a good addition to any dividend growth portfolio.
Disclosure: I have no positions in any stocks mentioned, and no plans to initiate any positions within the next 72 hours.