With big names like Apple (NASDAQ:AAPL), Google (NASDAQ:GOOG), and IBM all reporting blowout numbers recently, it seems like earnings season has been extremely positive so far. But while the most widely followed companies have done well, the average one-day change of all stocks that have reported is actually negative at -0.30%. It would be nice to see this performance number turn positive as earnings season progresses.
Below we highlight the stocks that have done the best and worst in response to their earnings reports since the second quarter reporting period started last Monday. For stocks that report in the morning, we use that day's change, and for stocks that report in the evening, we use the next day's change.
As shown, Universal Forest (NASDAQ:UFPI) has had the best response to earnings so far this season with a one-day gain of 21.02%. Google (GOOG) ranks second with a one-day gain of 12.98%, followed by AngioDynamics (NASDAQ:ANGO) (10.21%), Piper Jaffray (NYSE:PJC) (9.62%), Cintas (NASDAQ:CTAS) (9.07%), Harley Davidson (NYSE:HOG) (8.94%), and Check Point Software (NASDAQ:CHKP) (8.11%). Other notables on the winners list include ISRG, PII, IBM, and AAPL.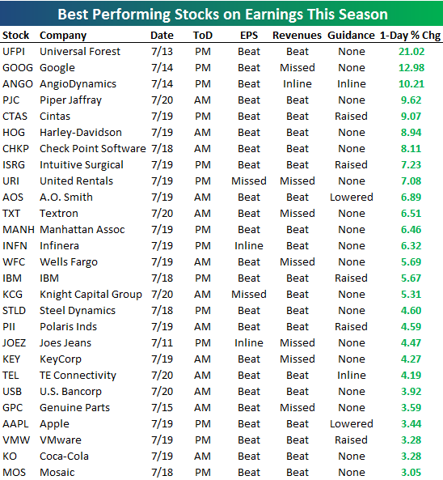 With one-day declines of 23%, Riverbed Technology (NASDAQ:RVBD) and MGIC Investment (NYSE:MTG) top the list of the biggest losers so far this earnings season. Ouch.