The U.S. dollar accelerated higher on Wednesday after a strong employment figure, as well as positive comments from the Federal Reserve minutes. PowerShares DB US Dollar Index Bullish (NYSEARCA:UUP) is up nearly 15% since July and continues to move higher, as is seen in the chart below.
Wednesday morning, the employment change figure came in stronger than expected, and created the hope that nonfarm payrolls on Friday would similarly outperform. The ADP Employment Change figure for December was reported at 241,000 jobs added, above the previous month's revised reading of 227,000, as well as exceeding estimates for 226,000. The employment change figure has now trended higher for a majority of 2014, as is seen in the chart below. Analysts see the momentum of labor market strength in 2014 carrying over into the new year, aiding consumers.
"Companies are consistently adding jobs. The U.S. job market continues to chug along. Consumer spending will accelerate [in 2015]," Thomas Costerg, economist at Standard Chartered Bank, told Bloomberg.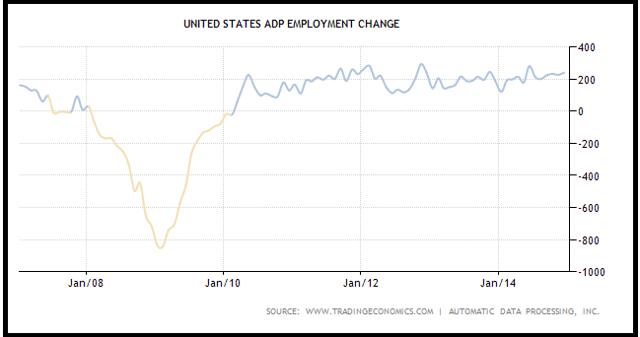 Data provided by Trading Economics
Meanwhile, later in the day, the Fed minutes showed that policymakers were intent on raising interest rates at some point in the near future. After heavily slashing interest rates during the financial crisis, the Fed has now left its benchmark at its zero-bound for nearly five years. That, however, may change soon.
Policymakers seemed relatively unconcerned about low inflation or a global slowdown in the minutes from the Fed's last meeting on December 16-17.
"Many participants pointed to relatively high levels of consumer confidence as signaling near-term strength in discretionary consumer spending, and most participants judged that the recent significant decline in energy prices would provide a boost.

Industry contacts pointed to generally solid business conditions, with businesses in many parts of the country expressing some optimism about prospects for further improvement in 2015. Manufacturing activity was also strong," according to a Reuters report on the Fed minutes release.
Although Fed Chairman Janet Yellen emphasized that policymakers would be "patient" in the decision over when to raise interest rates, the general consensus looks to be that rates will be increased in the next few months. A lot of the headline problems, such as low oil prices and a global slowdown, were viewed as transitory, and not a big material issue for the U.S. economy. As U.S. policy looks primed to tighten in 2015, expect the dollar to continue to trend higher.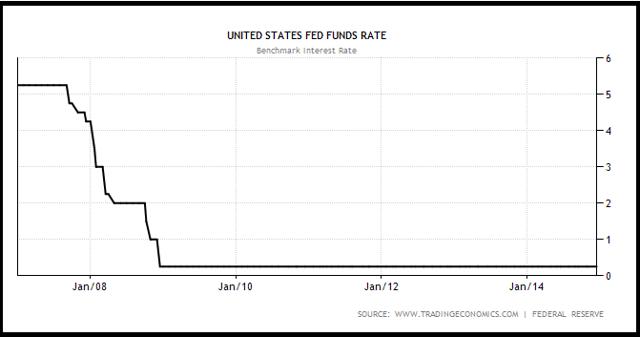 Data provided by Trading Economics
Disclosure: The author has no positions in any stocks mentioned, and no plans to initiate any positions within the next 72 hours.
The author wrote this article themselves, and it expresses their own opinions. The author is not receiving compensation for it (other than from Seeking Alpha). The author has no business relationship with any company whose stock is mentioned in this article.