#1 – Understand the Importance of Dividends
In today's market, relying on capital appreciation in order to achieve investment goals is increasingly difficult. It is exceedingly important for all types of investors to bolster their portfolios by adding stocks that pay dividends in order to position their investments to deliver reliable gains. If executed properly, investing for income can help investors build positions over time and add to their capital through Dividend Reinvestment Plans (DRIPs) or provide them with a steady inflow of cash throughout the year. In addition, dividends can provide investors with steady, stable gains during times of global and economic uncertainty that has the ability to wreak havoc on the market.
#2 – Invest, Don't Speculate
"The Intelligent Investor", written by professional investor and economist Benjamin Graham, has influenced some of the world's most successful and famous investors, including Warren Buffett, who calls it "by far the best book on investing ever written". In the book, Graham advocates a conservative approach to investing centered upon the idea that
An investment operation is one which, upon thorough analysis promises safety of principle and an adequate return. Operations not meeting these requirements are speculative.
When researching companies and securities prior to making an investment decision, it is imperative to avoid searching for stocks that you are counting on to significantly outperform the market. This type of aggressive speculation involves assuming unnecessarily high levels of risk and often results in a substantial loss of capital.
#3 – Be Conservative
Investing doesn't have to be feast or famine. If you take the emotion out of investing and refuse to buy into any get rich quick schemes or ideologies, then you have a great chance to build wealth through educated and conservative investing.
While small-cap and mid-cap stocks are often targeted by aggressive investors seeking a high return from capital appreciation, large-cap and blue chip stocks are typically safer investments and are preferred by investors eyeing dividend income. One of the most important aspects when investing for income is identifying companies that have large enough cash reserves and revenue streams to allow them to consistently pay out dividends and reward their investors by increasing their yields. While researching securities focus on large-cap stocks and blue chips.
Criteria & Considerations to Explore Prior to Investing:
Financials & Dividend History:
Avoid only looking at companies currently paying high yields. Try to find companies with respectable yields in addition to a history of increasing dividend yields and not missing payments. Stocks that meet this criteria typically prove to be safer, more reliable investments.
You may want to examine financial statements and look at figures such as the companies cash reserves and debt on the balance sheet, or sales, expenses, and net income on the income statement. One specific financial ratio that may be of use to investors as they research stocks is the payout ratio, which is calculated by taking Dividends per Share and dividing them by Earnings per Share. High dividend yields in the present to do not always guarantee high or increased dividend yields in the future. The payout ratio allows investors to contemplate the likelihood of a company increasing its yield to investors in the years to come.
Products & Services
Invest in companies that produce products or provide services that appeal to, or are needed by, a wide variety of consumers.
Stay away from companies that provide trendy products or services that have not proven their ability to retain strong demand. Consider whether or not you believe that a company's products and services will maintain their appeal and demand amongst their target demographic over the course of the next several decades. Tastes and preferences among consumers fluctuate frequently, and competitors are likely to enter the market and attempt to gain market share if demand and profits persist.
Business Model & Staying Power
Steer clear of companies whose products or services may become irrelevant down the road due to technological advances. Consumer staples and energy are two industries that provide some of the best investment opportunities; however, there are worthy investments to be had outside of these two industries as well.
Remember that you are not just buying stock, you're investing in a company's potential to generate future earnings. Identify companies that you want to own for decades to come.
Below I will examine a variety of blue chip stocks that have proven to be dividend champions, boasting high yields that have increased on a regular basis, proven business models, strong financials, and unwavering demand. Also, look at the chart provided that lists several other stocks of interest that meet the criteria of the conservative income investment strategy outlined above.
Coca-Cola (NYSE:KO)
Coca-Cola is the giant of the beverage industry with a market cap of $154.59 billion. Coke stock currently has an annualized dividend yield of 2.78%. Although this yield is not stunning, Coca-Cola has increased its yield by an average of 8.68% each year over the past five years and you don't have to worry about them missing a payment any given quarter.
As far as brand names go, Coca-Cola is one of the most recognizable brands in the world. Coke's business is going strong; on July 19th they announced that second quarter profits for 2011 rose 18% due to recent acquisitions and strong international sales. If you're looking for a blue chip stock with a solid yield that you can expect to grow steadily in the years to come, Coca-Cola is a great choice.
Coca-Cola pays dividends to its investors quarterly in March, June, September, and November.
Procter & Gamble (NYSE:PG)
Procter & Gamble's 50 brands produce just about every household item you can imagine, including laundry detergent, dog food, paper towels, shampoo, razors, bleach, batteries, diapers, toothpaste, air freshener, over the counter medications, etc. P&G stock currently yields an annualized 3.24% and has shown a commitment to growing its yield, averaging an increase of 11.11% annually of the past five years. P&G produces the kind of consumer staples that most income investors look for and offers a very respectable yield for such a safe investment.
Procter & Gamble pays dividends to its investors quarterly in January, April, July, and October.
AT&T (NYSE:T)
AT&T is far and away the largest company in the telecom industry with a market cap of over $179 billion. Cellular devices are revolutionizing the way people interact and demand for AT&T's products and services will continue to grow as standards of living and infrastructure improve in emerging markets. AT&T currently yields a robust 5.67% to investors annually and has continued to grow its yield by an average of 5.28% each of the previous five years.
AT&T pays dividends to its investors quarterly in January, April, July, and October.
Kimberly-Clark (NYSE:KMB)
Kimberly-Clark produces household and personal care items, including recognizable brands such Kleenex, Huggies, and Scott. The Dallas based company boasts a 4.17% annualized yield and has increased its yield by an impressive average of 7.39% over each of the past five years. Kimberly-Clark, like Procter & Gamble, produces consumer staples that provide for a safe and stable investment to go along with reliable dividend income.
Kimberly-Clark pays dividends to its investors quarterly in January, April, July, and October.
ConocoPhillips (NYSE:COP)
Although smaller than rivals such as Exxon Mobil (NYSE:XOM), Chevron (NYSE:CVX), BP, and Shell (NYSE:RDS.A), ConocoPhillips is still in the upper echelon of oil and gas companies with a market cap of over $108 billion. Naturally, oil companies make more money when oil prices are high and less when prices dips but ConocoPhillips is a diverse and large enough company to withstand the constant fluctuations that occur within the energy sector.
Currently, ConocoPhillips stock yields 3.45% annually and has boosted yields by an impressive average of 12.89% annually over the past five years. The company is currently expanding its drilling in shale fields in the United States and if their bet pans out then you can expect ConocoPhillips to increase their yields even further.
ConocoPhillips pays dividends to its investors quarterly in March, June, September, and December.
McDonald's (NYSE:MCD)
McDonald's is considered one of the "Dogs of the Dow", meaning it is one of the ten highest yielding stocks in the DJIA. The fast-food company currently offers investors an annualized yield of 2.86% but has increased its yield by a hefty average of 29.50% annually of the last five years. McDonald's is well established in the United States and is booming overseas with continued growth in developed countries and expansion into emerging markets. Expect McDonald's growth to serve as a catalyst for the company to continue increasing its yield to investors.
McDonald's pays dividends to investors quarterly in March, June, September, and December.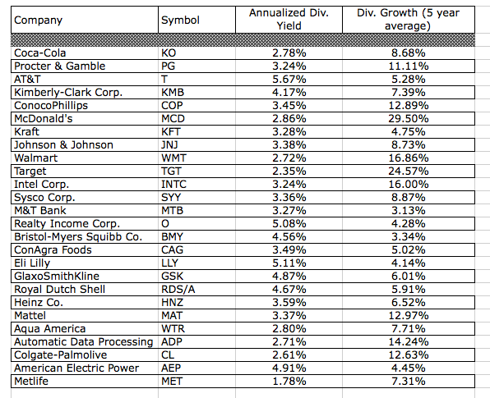 Disclosure: I have no positions in any stocks mentioned, and no plans to initiate any positions within the next 72 hours.