It is definitely not my nature to go looking for stocks in the 'damaged goods' aisle. Momentum is a proven phenomenon where if a stock vastly outperforms or under performs the market over the past 3 - 12 months, it often does so again for the succeeding year. Over longer periods of time, however, these momentum based gains often reverse.
Some investors flock to winning stocks for a small market excess gain, while contrarian investors try to determine when too much overreaction has taken place and the trend is about to reverse. While these stocks often carry large gains, there are fewer short-term winning trades with contrarian investing on average.
That being said, periodically I like to sift through the bargain bin to see if something was overlooked and is worth a high-risk speculative buy. Today is such a day.
(Click charts to enlarge)
(NASDAQ:HTCH) - Hutchinson Technology Incorporated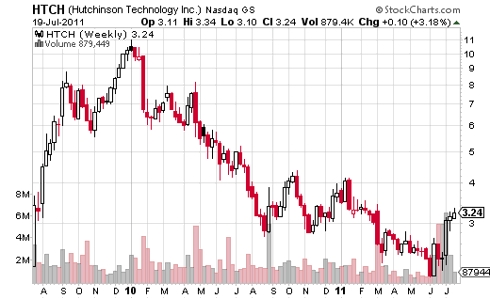 This company is involved in disk drive components and BioMeasurement technologies. The earnings losses since 2008 have been extreme with annual losses ranging from $2.52 - $7.27 per share. With a current share price of only $3.24 you can see the difficulty. Book value has continued to erode from over $23 per share in 2007, down to $9.63 today.
One bright spot is that book value is more than 3 times the current share price with no goodwill or intangibles included in that figure. The company has come out estimating losses for this quarter in the range of 43 - 51 cents per share including some one-time items, and this will likely put losses a bit steeper than analysts estimated. But the market is all about looking ahead - right? In light of that, while there is still a wide range of earnings estimates for 2012, which go from negative 36 to positive 42 cents per share, the consensus has popped over the past couple of months from a loss of 32 cents per share to a gain of 5 cents per share.
While this is speculation only...once it becomes more obvious that shares are nearing profitability, it is possible that prices could revert closer to book value or net asset value. The 7-year average on the book value is one, and this includes almost 4 years of punishing losses. The industry average price-to-book ratio is 1.7, with competitors Seagate (NASDAQ:STX) having a P/B ratio of 2.9 and Western Digital (NYSE:WDC) 1.65. Even if the company lost another $1 per share of net worth, this gives a theoretical share price of $14.67 based on industry averages of price to book, or even $8.63 for a one-year target if share prices and book value once again become equal.
Now before you run out and tell your friends to load up on this stock, let me be clear that this company has not proved the ability to profitably turn the situation around, nor have investors unconditionally jumped on board. There is no proof that investors will value this stock as formerly or similar to its peers - $14.67 could merely be a nice dream. But there is an early indication of investors propping this stock up with big volume as a confirmation. So going out on a limb - I do think this is one stock that you could add if contrarian investing is your style - even if we are a month or two late on the early gains.
(NYSE:PPC) - Pilgrim's Pride Corporation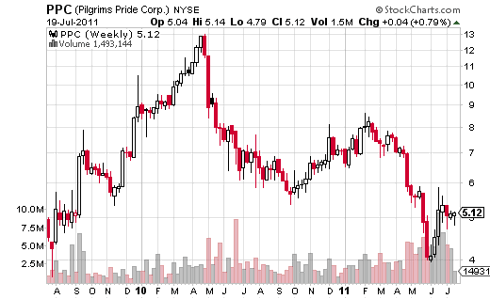 This meat product company is into fresh and frozen chicken. After filing for bankruptcy in 2008, and some major restructuring, is this a good bottom buy? Some money managers, such as Hackett, think so. They cite better operating leverage, saving costs by manually de-boning the chickens, and the potential for a bounce-back in commodity prices. Under the guiding hand of JBS this could be a big turnaround story.
What do the numbers say? The price-to-book value has fallen over the past 7 years, but this is really a severe reaction to the large-scale erosion of book value since 2007. While the share price is only 15% higher than net asset value, this is no indication that the stock will get impetus to rise. Although there have been some downward revisions in earnings estimates over the past couple of months, decent profitability is expected next year, which is indicated by a forward P/E of 10.54. The competition, Sanderson Farms (NASDAQ:SAFM) has a forward P/E of 16 and a price trading 74% higher than book value. Once PPC comes into favor there could be a rise in relative valuation. Analysts are ambivalent about a strong buy and a hold rating now.
While there are some heavy hitters behind this stock and potential exists for reversal of the long-term trend, I would prefer more compelling evidence in the form of actual earnings. As the share pool size is three times larger than it was a couple years ago I doubt we'll see the $40 range anytime soon. Even $10 is quite lofty right now but when quarterly earnings get closer to profitability and you begin to see improving estimates rolling in, the timing may be right.
Sifting Through the Fire Sales
Getting neck deep in the discount aisle is no quick task. It involves looking more deeply than the surface discussion we had here. You need to look at all the scuffs and try to see the potential underneath, and then guess when it will come back into favor after a long bout of losing momentum. Still, as this brief exercise has shown, there can be a couple gems that just need a little time and polishing to shine once more.
Disclosure: I have no positions in any stocks mentioned, and no plans to initiate any positions within the next 72 hours.