While the recent June non-farm payroll report offered yet another reminder of the fragile and sluggish nature of the current recovery, we continue to believe that equities offer better prospects than fixed income. We believe that a combination of high margins, low inflation and some top-line growth will continue to support stocks.
Within equities, we continue to believe that mega caps, and particularly US ones, represent an opportunity as we highlighted in our latest Market Update piece. For the most part, the largest companies are cheaper, more profitable and more diversified than their smaller counterparts. In fact, US and global mega-cap companies remain one of the few unambiguously cheap asset classes, with these stocks trading at roughly a 15% discount to the broader market.
Based on trailing earnings, the iShares S&P 100 ETF (NYSEARCA:OEF) trades at about a 7% discount to the S&P 500 Index. The discount is even larger compared to an all-cap index. Currently the S&P 100 ETF is trading for under 14x trailing earnings versus 16.5 for the Russell 3000 Index, a 15% discount.
Not only are mega caps cheaper than the broader market, they are also more profitable. Return-on-common-equity (ROE) for S&P 100 Index companies is running at better than 25%; for the broader market the metric is less than 22%. While it is true that larger companies are typically more profitable, the current ROE spread is large even by historical standards.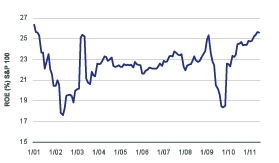 Finally, as we have argued previously, we continue to believe that the recovery in the United States will be sluggish compared to other parts of the world as evidenced yet again in June's abysmal non-farm payroll report. While the recovery is self-sustaining, it is likely to continue to be hampered by a long-term consumer deleveraging and ongoing fiscal issues. As a result, companies with sales exposure outside the United States are likely to fare better. This is yet another reason why we favor mega caps.
Source: Bloomberg
Disclaimer: The iShares Funds are not sponsored, endorsed, issued, sold or promoted Standard & Poor's. This company does not make any representation regarding the advisability of investing in the Funds. Neither SEI, nor BlackRock Institutional Trust Company, N.A., nor any of their affiliates, are affiliated with the company listed above.