When you are looking for some leveraged gains without turning to derivatives or ETFs that use derivatives, including a few micro-cap stocks in your portfolio can often deliver the extra oomph you are seeking. But caution is warranted, as if you don't manage these little rockets when the market turns, you also might find yourself heading for cover when they fall just as fast.

As an example, one micro-cap simulation that I ran on my fundamental back-testing software showed an annualized return of 25% over the past 5 years. However, if you look to the maximum draw-down of 52.93% during the 2008 / 2009 market crash, you quickly realize that you are definitely adding on risk for your reward. As well, only little better than half of the stocks were converted into profitable trades. This means that you have to be judicious and rid yourself of lackluster performers.

Below is a two year performance chart of a screen capturing a certain cross-section of screened micro-cap stocks. The red is the micro-cap and the blue is the S&P 500 index.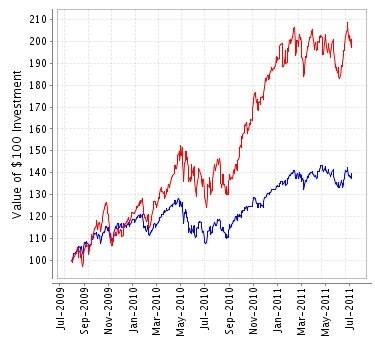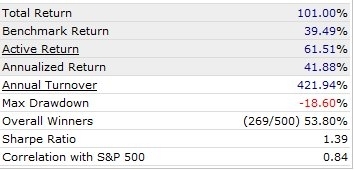 Based on the above screen, three picks come up on my micro-cap radar that are worth looking at. Oddly enough, they all turned out to be dividend earners -- which is not added into the profits with back-testing software. This means that the above result could be higher.

FRD - Friedman Industries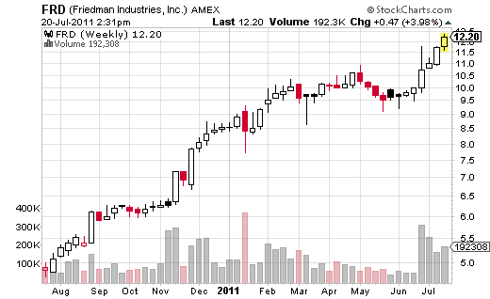 This iron and steel industry based company has doubled in price from $6 to $12 over the past year. The market cap is only 83.5 million. With a forward price-to-earnings ratio of 8.32. Sales per share was over $30 in 2009, but this fell to $9.57 in 2010 and it has bounced back to $19.37. There is not the same abundance of information in these type of micro-cap stocks since analysts often provide little coverage. However, last month one analyst issued a 'strong buy' rating and there is guidance for 2012 and 2013 - which is attractive.
Much of the price action is no doubt coming from the company's quarterly earnings going from negative as of December 2009 into 5 solid quarters in a row of positive earnings. The last year of high earnings growth was sure to attract investors, as this stock now looks to clear the 2006/2007 high of $12. Also, with a quarterly dividend of 13 cents, there is a healthy 4.4% annual yield.

KCAP - Kohlberg Capital Corporation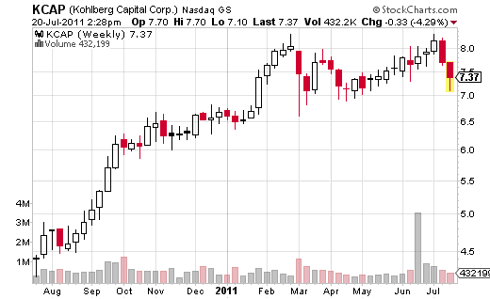 This private equity and venture capital firm was also picked up on my screener, and it has a micro-market cap of 169.43 million. The 5 year expected growth rate looks promising at 15% with a PEG ratio showing some possible undervaluation at 0.74. The earnings for 2012 have been nudged up 7% from 60 days ago. But what makes this micro-cap so attractive is the 9.4% dividend yield. While the last couple of weeks have played heavy on the price, which included a ex-dividend date on July 6th, it has been a decent price performer over the past year or two. The mix of growth and income could be a welcome addition to the smaller cap area of your portfolio.

WTBA - West Bancorp Inc.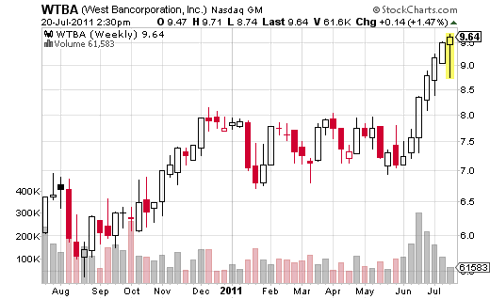 This tiny bank holding company has a 167.76 market cap with a small 2.2% forward annual dividend. After the punishing year of 2009 that saw a 97 cent loss in annual earnings, the company sprang back to life in 2010 with a net 64 cents per share in profits. The past two quarters have brought in a combined 40 cents per share and the banks seems well on its way to pre-crash earnings.
The dividend yields are only about half of what they used to be, but with a current payout ratio of 7% there is a lot of room to have this boosted. What I like about this micro-cap is found by looking ahead to the upward revised earnings for 2012. Three months ago the expected earnings were 67 cents, which was subsequently raised to 83 cents, and the most recent revision from seven days ago places the expected earnings at 93 cents per share. That is a 34% upwards revision in next year's earnings for what was guessed three months ago.

Small Stock Wrap-up
Micro-caps will definitely not be for everyone, but if you like adding a few very small stocks that have large upside potential for price appreciation plus the added benefit of dividend payouts, these three stocks might be just what you were looking for.

Disclosure: I have no positions in any stocks mentioned, and no plans to initiate any positions within the next 72 hours.