AMR's Results Good News For the Shorts
AMR Corp (NASDAQ:AMR), the parent of American Airlines, reported dismal second-quarter results Tuesday, as the rapid escalation in fuel prices pushed it into a deep loss during the period. Though revenue rose 8% from the same period a year ago the company reported a net loss of $286 million, or $0.85 per share, which compares to a net loss of $0.03 per share last year. Due largely to its fuel-inefficient fleet, the carrier paid nearly 31% more in fuel costs from last year's quarter, amounting to an incremental $500 million-plus headwind. American's mainline load factor fell 0.3 percentage points from the year ago period, suggesting that demand is not keeping up with capacity additions. We maintain our bearish stance on AMR and the airline group, in general.
The company also announced a landmark deal with Boeing (NYSE:BA) and Airbus (OTCPK:EADSY) to begin replacing its aging fleet of narrowbodies, which still consist of a plethora of 20-year-old MD-80s. The first of the 460 narrowbodies it ordered will be delivered beginning in 2013 and should offer some improvement in maintenance and fuel expenses. AMR believes it will have the youngest and most fuel-efficient fleet among its US airline peers by the 2016-2017 timeframe. We're not sure, however, that the carrier is strong enough to survive that long.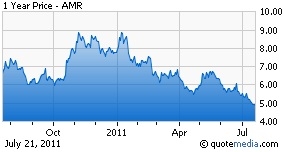 Although its liquidity position is adequate, the purchase of these aircraft will represent a substantial drain on free cash flow in coming years, even with the lucrative financing packages offered by Boeing and Airbus. We think such an ominous cash flow outlook is the key reason behind the carrier's decision to spin off its regional carrier, Eagle, to shareholders of AMR. We believe that such a move, however, will only hurt AMR in the long-run, as Eagle will then serve the benefits of its existing shareholders. In doing so, it will dictate better terms for itself under capacity purchase agreements than it would have under the AMR umbrella, thereby putting additional pressure on the parent's results.
We don't think the diversification of AMR's regional fleet by potentially picking up other carriers to fly regional routes in its network—like Republic (RJET) or SkyWest (NASDAQ:SKYW) will result in any immediate positive. We also view this as a red flag, as it would appear that there is no available buyer of Eagle to provide the parent with a cash infusion to finance its massive fleet renewal program. It would appear that a sum-of-the parts analysis is no longer valid in estimating AMR's intrinsic value, which would suggest to us, that the carrier's stock has further room to fall.
All things considered, our thesis remains the same: First, AMR is still flying an inefficient fleet, and it will take years and billions of dollars to right this ship. Second, the firm has a massive underfunded pension plan that represents a hit to equity holders and comparatively bloats its cost structure relative to other majors that have shed pension obligations under Chapter 11. Third, its hedges are inefficient against a fuel spike in coming periods. And finally, its debt load is absolutely massive and growing. As of the end of the second quarter, the firm's total debt less unrestricted cash was $11.9 billion compared to $11 billion at the end of the second quarter.
Disclosure: I have no positions in any stocks mentioned, and no plans to initiate any positions within the next 72 hours.