Investors looking for assets in emerging markets have to search a little harder these days. Brazil is raising taxes on foreign investors, China is seeing its weakest growth in two years, and debt problems in Europe are driving funds to safe havens.
Enter MILA, the Mercado Integrado Latinoamericano, and the exchanges of Chile, Colombia, and Peru. MILA is the culmination of a four-year process to integrate the equity trading across the exchanges of those respective countries. The goal of the integration is to create economies of scale and scope for equities trading on the exchanges and firms operating within the region. Trading officially began in May of this year and has already attracted interest from some of the larger regional exchanges.
A report out this month by Efficient Alpha examines the countries' economies, correlations across their indices, and possible capital market effects of the integration. The integration will create the largest exchange in Latin America by number of issuers and the second-largest by market capitalization after Brazil's Bovespa.
Integration of stocks traded on the exchan
ges will create diversification not available previously by investors in the three countries. The three main indices for the countries; Colombia (IGBC), Chile (IPSA), and Peru (IGBVL) are each dominated by one or two sectors. Colombia's index is largely dominated by energy services like Ecopetrol (EC), which is 37.1% of the index, while Bancolombia (CIB) holds an 11.9% weighting. The top three stocks in the Peruvian index hold 21.9% of the weighting and are all mining companies. The sector weights in the integrated exchange will range from 2.4% to 23.7% with the largest holdings in basic materials and banking.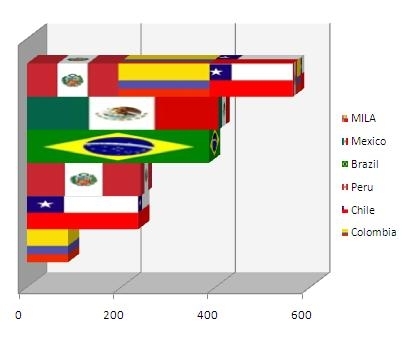 Many are comparing the MILA to the creation of Euronext in 2000. Research on efficiency gains from the Euronext formation by Marco Pagano (2005) shows that a reduction in volatility and increased liquidity helped Euronext reduce costs of trading by an average of between 15% and 31% for the participating exchanges and a reduction in bid-ask spreads of between 23% and 48%. Investors in equities listed on the Euronext saw increased liquidity, higher prices, and a lower equity risk premium.
Investors do have some opportunity to invest in American Depository Receipts of Buenaventura (BVN) and Telefonica de Peru for Peruvian shares and Ecoptrol or Bancolombia for Colombian shares, but greater opportunities exist in equities only offered in the three markets. Foreign investors have access to shares through brokers listed on the exchanges. Trading will be managed through brokers listed on each exchange with shares held in custody in the local markets and local currency. MILA will run on a FIX-based message routing network allowing information exchange between the exchanges, managers, and participating brokers.
Disclosure: I have no positions in any stocks mentioned, and no plans to initiate any positions within the next 72 hours.