If investors learned anything from the 2008 meltdown it was that a building boom fueled by easy credit can end purely. Four years after the end of the housing boom the U.S. economy is still reeling from over building and poorly underwritten mortgages. Housing reports out this week indicate 30 percent of all existing home sales are foreclosures. Inventories remain at nine months and home prices are again stagnating as a large portion of home owners remain underwater.
The global growth engine that is China has experienced its own boom fueled by cheap and loose credit. We think market participants should be cautious as a slowdown in China could have far reaching implications given the significant demand for commodities.

Jeremy Grantham recently published a must-read article outlining the long-term demand drivers for natural resources. In the article he publishes statistics related to China's share of world commodity consumption (pdf).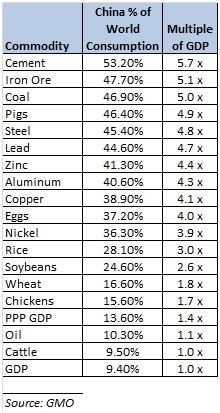 The Chinese have fueled an infrastructure boom due to the significant social good it creates in the short term. As millions leave the farms and come to the city looking for work, infrastructure demand has employed a significant percentage of the population. Approximately 40 percent of China GDP is invested in infrastructure (fixed investment). While significant expenditures are needed to foster continued urbanization. By the end of 2010, 50% of China's total population will reside in urban areas, up from 26% in 1990.
To fuel the infrastructure demand the Chinese set up 8,000 investment firms to allow cities to borrow to circumvent regulations. Fitch estimates that bad loans might reach 30 percent at Chinese banks. Growth by any means necessary seemed to have been the party line.
As inflation rises, officials are trying to cool the economy as rising prices in emerging economies can have significant political and social ramifications. A slowdown in growth could begin to expose bad underwriting just as a slowdown in home price growth in the U.S. exposed flaws in mortgage underwriting. Anytime a credit boom is outside the purview of regulations, investors need to be wary.
From the table above, China is consuming an alarming portion of major construction and energy-related materials (cement, iron ore, coal, steel, lead, copper). If China experiences a slowdown or a hard landing, there will be ripple effects to many sectors of the global (commodity-producing countries like Canada, Australia, Brazil) as well as the U.S. economy. We remain cautious on many commodity producers and many companies that have benefited from the global demand for construction, infrastructure and commodities. Investors worried about significant levels of volatility might want to pare their exposure to certain companies (see table below) levered to China growth and consumption or alternatively hedge themselves against a fall in prices from these securities.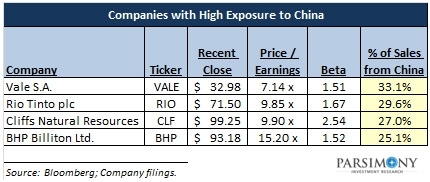 We have found that many companies do not specifically break out their exposure to China (most lump China in the Asia/Pacific bucket). That said, we would also be cautious of the following industrial and materials stocks with large and growing Asia/Pacific exposure: Freeport-McMoRan (NYSE:FCX), Terex Corp. (NYSE:TEX), and Caterpillar Inc. (NYSE:CAT).

Disclosure: I have no positions in any stocks mentioned, and no plans to initiate any positions within the next 72 hours.