Railway companies are considered conservative investments. In the United States and Canada, rail is primarily used to transport materials, machinery and other heavy goods. Rail is considered an economical method of transporting and a business that will grow in need over time.
There are two large-cap Canadian rail companies that are traded in the United States. These Canadian companies have less exposure to the value of the U.S. dollar, and may actually improve in situations where the dollar loses value. A weaker U.S. dollar should mean a stronger Canadian dollar and an improved share-yield when calculated in U.S. dollars.
Below are the current yields and 2011-to-date performances for the two large-cap Canadian railroads that are publicly traded in the U.S., along with their five-year dividend payout performance. These two railroads largely transport basic materials to the United States or to west coast ports where the materials take boats to China. These companies, like Canadian oil and gas companies, could be a way to invest in demand for Canadian raw materials that provides some income.
1.
Canadian National Railway Company (NYSE:CNI)
Current Yield: 1.7%

2011-to-date Performance: 19.44%
[Click all to enlarge]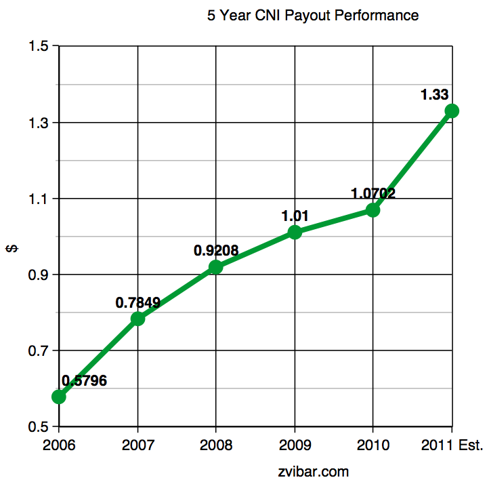 2.
Canadian Pacific Railway Limited (NYSE:CP)
Current Yield: 2.0%

2011-to-date Performance: -3.24%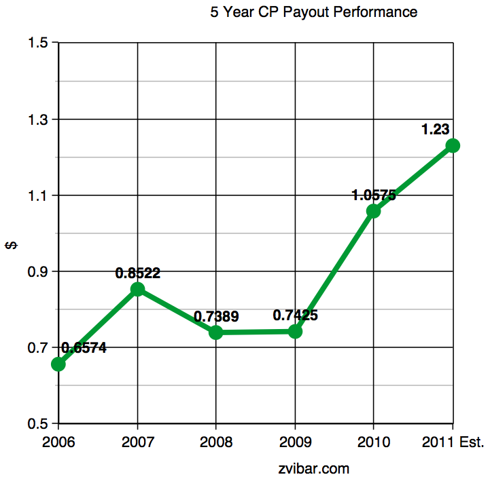 A few years ago, Warren Buffet's Berkshire Hathaway (NYSE:
BRK.B
) purchased Burlington Northern Santa Fe Railroad, a large-cap American rail company in which Berkshire was already invested. After acquiring it, only a handful of large-cap rails remain publicly traded.
Other than the two Canadian names above, the three American large-cap rails are CSX Corp. (NYSE:
CSX
), Norfolk Southern Corp. (NYSE:
NSC
), and Union Pacific Corporation (NYSE:
UNP
). Others may eventually grow to become large-caps. These three U.S. large-cap railroads all have a present yield between 1.9% and 2.2%, and have all performed reasonably well since the financial crises, as demand has grown and distribution networks continue to choose rail for protection from high gas prices. Nonetheless, these two Canadian railroads are worthy of watching and comparing.
Disclosure: I have no positions in any stocks mentioned, and no plans to initiate any positions within the next 72 hours.