Overview
Gardner Denver, Inc. (NYSE:GDI) designs, manufactures, and markets engineered industrial machinery worldwide. With its strong management and leadership, five-point growth strategy, and emphasis on customers and operational efficiency, Gardner Denver has the right people, plans, and processes to lead it to continued growth and prosperity. Its product line is well diversified and continues to expand both in depth and breadth, through new product development and acquisitions. Gardner Denver's growth plans align very well with the industry trends of globalization, consolidation, and innovation. In addition, the firm is benefitting from increased horizontal drilling in the U.S. and infrastructure growth in developing countries.
The company also continues to diversify into new industries, finding new applications for its technologies and products. Most importantly, implementation of the "Gardner Denver Way", based on the Toyota Production System, has led to significant operational improvements and a strong focus on the customer. The integration of customer input into the development process has led to higher product quality and customer satisfaction. Thus far, Gardner Denver has executed its strategy very well. Sales and operating margins have increased, and the firm has goals to raise them even further. The following sections discuss macro and company-level trends that will benefit Gardner Denver.
Macro Trends
Infrastructure and Energy: Standard & Poor's expects industrial machinery firms with exposure to infrastructure construction and the energy sector to experience aggressive expansion in 2011. As developing countries, such as India and China, continue to grow, they will build more infrastructure and have increased needs for energy and water systems. Gardner Denver has a presence in Asia, which provides an opportunity for growth. In addition, Gardner Denver is among the leaders in well servicing pumps used in hydraulic fracturing, which is becoming increasingly important in horizontal well development. As seen in the chart below, nearly all growth in U.S. drilling in 2010 came from horizontal rigs. This process also leads to more replacement demand, as the process requires higher pressure and more pump usage, which reduces pump lifespan.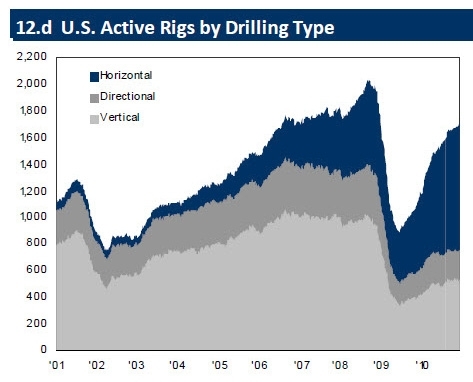 Globalization: The growth in developing countries yields advantages to firms with a global footprint. By having factories and offices in local countries, industrial machinery firms can reduce labor, manufacturing, and transportation costs, and provide one-stop shopping to its customers. The rapid growth is resulting in some new entrants to the industry, but these startup firms are small and the industry is already fragmented. Gardner Denver has offices in 36 countries and growing its international business is a corporate goal.
Lean Manufacturing: Reducing costs and improving operating efficiency have become important goals for industrial machinery firms. With the high level of competition and low pricing power for commoditized products, cost containment provides an advantage to achieve higher margins. In 2008, Gardner Denver developed a new corporate philosophy, the "Gardner Denver Way", based on the Toyota Production System, which focuses employees on the customer and empowers them to quickly respond to customer needs with creative solutions. Continuous improvement is an element of this philosophy, and recent quarterly results showed a 510 basis point increase in operating margins to 16.3%.

[1]

The long-term corporate goal is an average operating margin of 18%; 14% for the Industrial Products Group and 22% Engineering Products Group (revenues are almost equal for each division).
Innovation and New Product Development: Research and development of new, innovative products leads to more productive machinery and provides manufacturers with a competitive advantage over peers. Most industrial machinery innovations tend to be sustaining, as opposed to disruptive, such as new features for or more efficient models of an existing product. The push to develop new technologies results in shorter product life cycles and the need to continuously invest in R&D. Gardner Denver has consistently funded R&D, spending around $36M in 2010 and similar amounts the previous two years. The firm pursues new product development, product performance improvements, and new applications of existing products and technology. As observed in the chart below, Gardner Denver supplies products to many different industries. Current trends in Gardner Denver's products include: oil-free and oil-less air compressors; increased product efficiency; reduction of noise levels; and smaller and lighter products for mobile applications.

[2]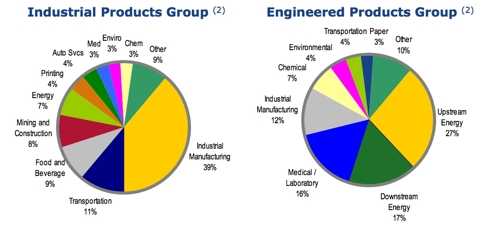 Consolidation / Acquisitions: The pace for consolidation through acquisitions is expected to increase in 2011, based on higher levels of confidence in the financial markets and higher cash levels on the balance sheet. Consolidation remains a long-term trend, according to Standard & Poor's, as firms seek to round out their product offering and gain access to new sales territories. Gardner Denver has acquired 23 smaller firms since 1994. While it is possible for a larger firm to attempt to acquire Gardner Denver, it is probably more likely that Gardner Denver will continue to be the acquirer. Either way, this is a positive for shareholders. Gardner Denver has a proven track record of successfully integrating new product lines into its family, and finding synergies between product technologies.
Political Environment: The industrial machinery industry benefitted from the Republican Party gaining more control in Congress. A tax rate increase, scheduled for January 2011, was halted, and provisions for immediate depreciation of equipment purchased through September 2011 were extended into 2012 though at a 50% rate. These tax laws will have a positive impact, as they encourage businesses to purchase industrial machinery, and Gardner Denver will benefit from the lower tax rate. In addition, inaction from Congress on energy policy assisted Gardner Denver, as the proposed measures would have increased costs and regulation on the energy industry, a major customer.
Business Analysis
In early 2008, Gardner Denver hired a new CEO, Mr. Barry Pennypacker, to lead the company through a change in strategic direction. While Gardner Denver has worked with suppliers for years to implement LEAN manufacturing practices, it had grown mainly through acquisitions. With the firm's larger size and global presence, it sought to renew its focus on operational excellence and organic growth. Mr. Pennypacker, who has experience with the Toyota Production System philosophy, changed out 70% of the top 100 managers and instilled the LEAN philosophy at all levels of the organization.[3]
He led the LEAN workshops himself, which may account for the rapid change in corporate culture. The Gardner Denver Way relies on the "Voice of the Customers" to drive innovations in products and services. Employees are empowered to quickly address customer needs and to creatively find operational efficiencies. LEAN principles, including Toyota's single-piece flow, are used to drive positive change and process improvements. The firm has committed to emphasizing not just results, but the process through which they were achieved. While just three years into this cultural change, Gardner Denver has already achieved success in the form of innovation awards for new products, and improving operating margins in both business divisions.
Corporate Strategies
Organic Growth: Gardner Denver plans to invest in higher-growth markets, such as energy, medical, and life sciences, and to increase its global presence in fast-growing regions, such as Asia. This strategy aligns very well with projected industry trends and is already showing positive results with strong order rates. The Industrial Products Group increased orders by 20 percent in 2010, with demand increasing by double-digits in every major world region.

[4]

The Engineered Products Group's orders went up by 49% and its year-end order backlog increased 69 percent in 2010.

[5]

In 1Q2011, Gardner Denver had core revenue growth of 24% with strength across most of its business and in all regions. Orders were up 36% in the Engineered Products Group, and its core backlog increased by 65% for the second straight quarter, which is a major driver for this division.

[6]
Aftermarket Growth: Gardner Denver's focus on aftermarket growth is also yielding positive results with aftermarket revenues making up 31% of total revenues in 2010, up from 29% in 2009.

[7]

The firm places more emphasis on extended warranties and preventive maintenance contracts; some new products have warranties built into the sales contract. Gardner Denver is also expanding its service capabilities by locating new service centers closer to its customers.
Innovative Products: The Gardner Denver Way defines a customer-driven organization, which incorporates the "Voice of the Customer" into product design and development. This differentiates Gardner Denver from its competition and strengthens its product innovation. For example, its new Hoffman Revolution centrifugal blower received excellent feedback from customers and received a "Breakthrough Product of the Year" award from Processing magazine. In addition, revenues produced by Gardner Denver's Engineered Products Group, which concentrates on specialized customer needs, has grown significantly in the last two years.
Selective Acquisitions: As previously noted, Gardner Denver has a history of acquiring smaller firms, and it continues to make strategic acquisitions with a focus on portfolios of products that serve high-growth industries. Gardner Denver has a strong balance sheet with little debt

[8]

and solid cash generation, positioning the firm to successfully pursue available opportunities. In 2010, Gardner Denver acquired ILMVAC, a leading European manufacturer of vacuum pumps and systems for the life sciences market. This acquisition strengthened Gardner Denver's global position in the lab and life sciences market segment, and extended the reach of its Welch vacuum pump brand beyond North America.

[9]

A new division CEO, Mr. Christopher Celtruda, was hired for the Industrial Products Group, which Mr. Pennypacker had been leading himself since he became CEO of Gardner Denver. This should free Mr. Pennypacker up to focus more on corporate strategy, growth, and potential acquisitions.
Margin Expansion: Gardner Denver's final growth strategy is to expand its margins through streamlining its global operations, increased productivity, and lower-cost sourcing. Since 2008, the firm has closed eight plants and reduced its workforce by 2,300 employees, while increasing production capacity and throughput.

[10]

Each product division has margin goals. The Industrial Products Group's goal is to achieve a 14% operating margin by 2014, while the Engineered Product Group, which already has operating margins of 20% (2010) has a goal to add 50 basis points each year through 2014 (22% goal). The Industrial Product Group's new CEO, Mr. Christopher Celtruda, has expertise in operations improvements. As observed in the below figure, the Industrial Products Group's operating margins lagged its peers from 2006-2010. Competitors Atlas Copco and Ingersoll-Rand maintain healthy aftermarket positions, and have economies of scale over Gardner Denver. However, as Gardner Denver's Industrial Products Group continues to grow in size, to optimize internal processes, and to emphasize its aftermarket service contracts, its operating margins should increase and approach that of its peers. The firm is already moving in the right direction. In 1Q2011, the Industrial Products Group had its eighth consecutive rise in operating margins to 11.3% (vs. 8.3% in the year ago period) and the Engineering Products Group had operating margins of 22.9%, exceeding its target goal.

[11]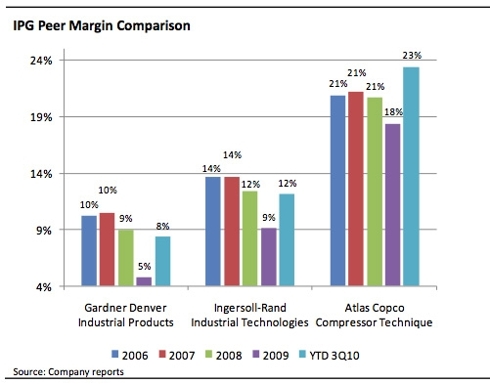 Outlook
Gardner Denver appears to be very well positioned to continue its path of growth. The company has specific growth strategies in place that take advantage of current industry trends and an internal operational strategy, the Gardner Denver Way, that focuses its efforts on its customers and efficiencies. More importantly, Gardner Denver has demonstrated its ability to execute these strategies and it is already seeing positive results. Through new product innovations, continued expansion into developing countries, and increased sales of aftermarket warranties and service contracts, Gardner Denver is experiencing growth from multiple channels, and trends suggest that this will continue. In addition, with its strong balance sheet and history of successful acquisitions, Gardner Denver stands ready to acquire smaller firms to add to its product offering and geographic exposure. Perhaps most importantly, its operational and growth strategies are positively impacting its bottom line, as evidenced by recent financial statements.
Valuation
Based on a DCF analysis, I came up with a valuation of $125 for Gardner Denver, assuming an after-tax EBITDA margin of 16.2%, which is 10% below the firm's goal of 18%. A sensitivity analysis on the margin and revenue growth rates, which are the firm's primary drivers, yielded a range of $83 (12.8% growth, 13% EBITDA) to $167 (17.6% growth, 19.4% EBITDA). With the current market price around $85, the downside risk for Gardner Denver appears limited.
Relative to peers, Gardner Denver has the lowest Price/FCF, PEG, and Debt-to-Equity ratios, and the highest Q/Q sales growth. Its other metrics are in-line with peers and above industry averages (see table below).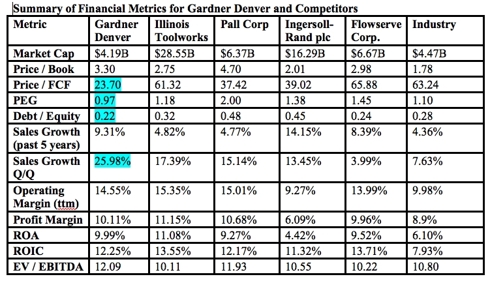 Recommendation
With its long history of serving the industrial machinery market, strong leadership, five-point growth strategy, and Gardner Denver Way of conducting business, Gardner Denver has the name recognition, people, plans, and processes to continue growing. Its product line is well diversified and continues to expand both in depth and breadth, and the integration of customer input into the development process has led to higher quality and satisfaction. The firm's growth plans align very well with the industry trends of globalization, consolidation, and innovation.
Though somewhat dependent on the energy sector, current trends suggest that horizontal drilling will continue to increase, and Gardner Denver continues to expand into new markets, such as wastewater treatment and pharmaceuticals. Most importantly, implementation of the Gardner Denver Way and the associated "14 by 14" operational goals are improving the firm's bottom line and internal processes. As costs are a major driver of valuation, the focus on operational improvements, particularly to get the Industrial Products Group's margins in line with competitors, is critical. Thus far, Gardner Denver has executed its strategy very well, and with continued success, the firm and shareholders will be rewarded.
Endnotes
[1] Gardner Denver. (February 28, 2011). 2010 Annual Report (.pdf). Gardner Denver, Inc., p. 9.
[2] Marketwire. (April 20, 2011). Gardner Denver, Inc. Delivers Record First Quarter 2011 Financial Results. Yahoo Finance.
[3] MKM Partners. (January 6, 2011). Gardner Denver, Inc. Thomson Reuters., p. 8.
[4] Marketwire. (April 20, 2011). Gardner Denver, Inc. Delivers Record First Quarter 2011 Financial Results. Yahoo Finance.
[5] Gardner Denver. (February 28, 2011). 2010 Annual Report (.pdf). Gardner Denver, Inc., p. 6.
[6] Janney Capital Markets. (April 25, 2011). Crush You Like a Jellybean. Thomson Reuters.
[7] Gardner Denver. (February 28, 2011). 2010 Annual Report (.pdf). Gardner Denver, Inc. p. 7.
[8] Note: On May 3, 2011, Gardner Denver redeemed $125M of its 8% Senior Notes, reducing long-term debt by about 50% and giving it a long-term debt-to-equity ratio of around 0.11. (Marketwire, May 3, 2011).
[9] Gardner Denver. (February 28, 2011). 2010 Annual Report (.pdf). Gardner Denver, Inc., p. 17.
[10] Ibid., p. 8.
[11] Marketwire. (April 20, 2011). Gardner Denver, Inc. Delivers Record First Quarter 2011 Financial Results. Yahoo Finance.
Disclosure: I am long GDI and have no intention of selling my position within the next 72 hours. I do not have positions in any of the peer firms mentioned, nor do I plan to initiate any positions within 72 hours.