About a half year ago, I posted results of my inquiry into the current state and prospects of major Russian telecoms with a focus on those quoted on NYSE. Obviously, one article is not enough to describe all the material aspects of the businesses analyzed, therefore, follow-up analysis and additional inquiries are necessary.
What I want to outline in this article is recent trends in Mobile Telesystems (NYSE:MBT) (also known as MTS) and Vimpel Telecom (VIP), their revenue and customer base, their M&A activity, and how those aspects affect my understanding of the businesses' value.
Revenue and customer base trends: While relative market share among Russia's four largest mobile telecom operators have remained essentially unchanged over the last six months, the portion of the market that those four companies account for has decreased by about 1.5 percentage points. The trend indicates that competition in the industry is indeed increasing (perhaps even faster than I have anticipated) and the largest threat to the incumbent industry leaders comes from second-tier operators (most prominently, government-owned Rostelecom).
Chart 1. Relative market share and total market share of the four largest Russian telecom companies*
Click to enlarge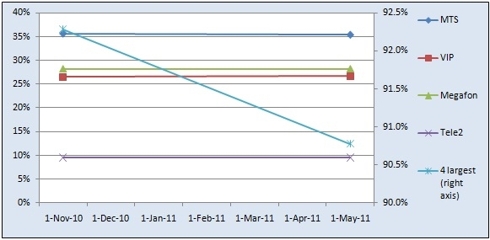 In the timeframe of six months, relative market share metrics are unlikely to experience significant fluctuations and therefore are not particularly helpful in assessing the success of companies' expansion strategies. Net customer addition metrics seem to serve this goal better. The metric indicates that expansion strategies applied by the analyzed companies (with M&A effects excluded) have seen mixed success depending on geographical segment and time. Unfortunately, lack of consistent trends for the given timeframe precludes us from making definitive conclusions regarding this aspect.
Chart 2. Net customer additions, Russia*
Chart 3. Net customer additions, Moscow*
Click to enlarge
Chart 4. Net customer addition, Ukraine*
Click to enlarge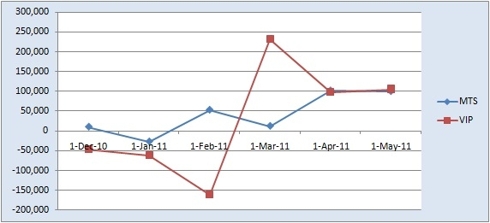 A probe into customer base trends in the residential broadband internet segment shows that VIP has been slightly more successful in attracting new customers, while MTS (Comstar) has experienced both slower growth and higher volatility in its growth rate.
Chart 5. Net customer addition, Russia, residential broadband internet*
Over the reviewed period, both companies have experienced a decline in operating margin as well as OIBDA margin, which indicates either rapidly escalating price competition or the companies' inability to match increased costs with price rises. Stable ARPU suggest the later, i.e. operating expenses surged while competitive forces did not allow the companies to factor this increase in their pricing policies.
Chart 6. OIBDA margin and operating income margin
Chart 7. Average revenue per user, mobile business, Russia
Click to enlarge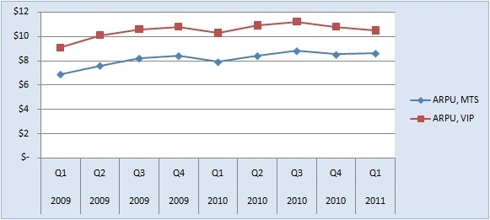 Most of the increase in operating expenses can be attributed to the growth in cost of goods and services. In the case of MTS, this increase was particularly pronounced as COGS has grown by more than 5 percentage points.
Chart 8. Operating expenses
In its annual report, MTS cites expansion of handset retail operations (to which lower operating income margin and higher COGS margin are incidental) as the main COGS driver in the fourth quarter of 2010. However, factor analysis of the data that MTS present in its financial reports shows that revenue structure change accounts for less than a half of the total COGS growth. The rest is equally attributable to growth in COGS margins of both segments of MTS business – handset retail and telecom service.
Chart 9. Factor analysis of COGS growth
Click to enlarge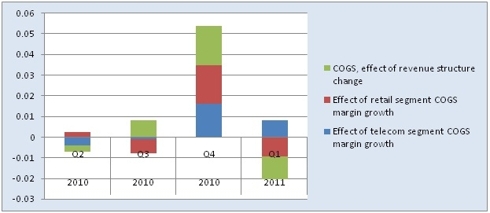 When we take out the effect that handset retail segment had on the company's COGS margin (thereby making MTS margins more comparable to those of VIP, since the later company does not engage in this line of business), MTS turns out to be more cost-efficient.
Chart 10. MTS adjusted COGS margin vs. VIP COGS margin
Click to enlarge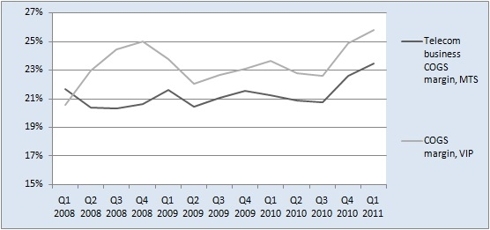 Chart 11. MTS adjusted operating margin vs. VIP operating margin
Click to enlarge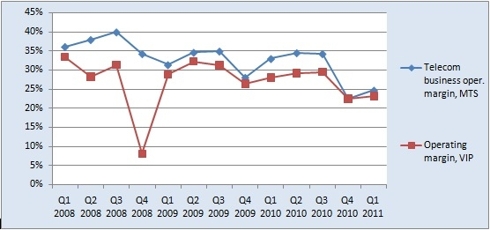 The nature of the remaining variation in COGS margins is still unclear. Neither MTS nor VIP comment or present any data on this matter, leaving us to speculate that it might be linked to increased share of VAS services in total revenue.
We have already briefly touched on the matter of escalating competition, but the discussion of this aspect would remain incomplete, unless we cover churn rate in our analysis. Over the last two years, both companies have experienced meaningful increases in their customer turnover. This increase points to deteriorating customer loyalty and increasing elasticity of demand. The later implies growing price competition within the analyzed industry.
Chart 12. Churn rate, Russia
Click to enlarge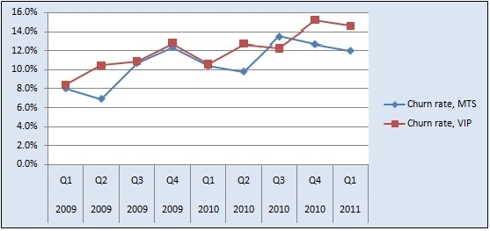 Increasing elasticity of demand, in turn, is likely to entail heightening of price competition, begging the question of whether the companies are ready for it. As seen on the chart 7, ARPU levels differ significantly between the companies. Considering the fact that there is essentially no difference in operating income margins (when adjusted for non-telecom segments), MTS appears to be better prepared for price competition since it manages to sell the service at a lower price without depressing income margins below the industry standard. In fact, MTS even manages to provide more for less as the average number of minutes of service use exceeds that reported by VIP.
Chart 13. Average minutes of use (voice service) and average price per minute, Russia
Both businesses we focus on have recently engaged in major M&A transactions of which two transactions stand out for their scale:
MTS acquired Comstar, a leading residential broadband internet provider in Russia.

VIP has acquired Kyivstar, largest mobile operator and major MTS competitor in Ukraine.
Below are listed major terms of the deals (or at least my best understanding thereof) and concerns related to them:
MTS merger with Comstar:
Terms:
In 2009 MTS acquired 51% stake in Comstar for $1.32bln.

Additional 20% stake was acquired by the end of 2010.

Another 99mln. shares were acquired through shares exchange (at ratio of 0.825 MTS shares for 1 Comstar share).
Concerns:
MTS and Comstar are related parties, that is, both companies are controlled by the Sistema holding company. In essence, Sistema has sold a company to itself, thereby possibly leaving minority stakeholders of both companies disadvantaged. Whether it is indeed disadvantaged depends on how adequate the price paid for Comstar was (obviously, the lower the price, the more MTS minority shareholders benefit). It's necessary to note that since Sistema's initial stakes in Comstar and MTS are almost equal (roughly 51%), the net effect of the merger for the holding company (aside from synergies) is negligible no matter the price paid by MTS, so there seems to be no motivation for Sistema to set the acquisition price unreasonably high or low.

MTS did not disclose detailed information regarding the terms, making it impossible to calculate exact cost of the transaction.

According to my calculations the average effective price per Comstar share purchased by MTS was somewhere around $6.8. Now, let's find out whether the price makes sense. Comstar's EPS for 2009 was -$0.62 due to investment write-downs. Even adjusted for the write-downs the company was earning only a modest $0.21 per share. Thus, the company was acquired at 12-months trailing P/E ratio of 33 (adjusted for write-downs). Three-year average EPS was even lower than the $0.21 the company earned before write-downs in 2009, which means that the most recent adjusted EPS probably does not underestimate Comstar's current earnings ability. Using a simple DCF model, we can calculate that in order to justify the price tag Comstar's net income will need to grow at a constant rate of approximately 18% per year (assuming 15% discount rate). Even with the synergies that MTS expects to extract from the merger I still cannot see how this pace of growth can be achieved. In view of the above I conclude that, if any, MTS minority stakeholders derive only little benefit from the transaction.

The price paid in excess of Comstar carrying value was recorded as a decrease in MTS equity (~$1.32bln), although common practice is to recognize an increase in goodwill. As a result, after the merger MTS is likely to report inflated ROE, thereby making historical comparison harder to perform.
Acquisition of Kyivstar by VIP:
Terms:
In April 2010 VIP received 100% ownership interest in Kyivstar in exchange for 300mln of its newly issued shares, which at the time equaled a price consideration of $5.6bln.
Concerns:
Kyivstar operates exclusively in the Ukraine, which is a highly unstable and competitive market.

I

n 2009 Kyivstar's annual earnings amounted to $450mln, implying 12.5 P/E ratio for the price paid by VIP. Average annual earnings for years 2007-2009 equaled approximately $650mln (P/E ratio of 8.6). The later ratio seems to be sufficiently low to justify the price taking into account the amount of risk associated with the acquired business. Still, we should keep in mind that by using the later P/E ratio to assess whether the price is adequate we make a questionable assumption that three-year average net income represents Kyivstar's prospects better than the most recent data does.

At the time of the acquisition, Kyivstar had only less than $1.5bln of tangible assets on its books. The rest of the $5.6bln consideration was allocated to miscellaneous intangibles (including $0.8bln allocated to "Customer relationships") and goodwill ($3.4bln). Obviously, intrinsic values can and most of the time do considerably exceed the book values of tangible assets, but it's necessary to understand that the more intangibles and goodwill the given company keeps on its books the more likely it is to recognize assets write-down in future.
Implications for Companies' Valuation
Let's summarize our findings:
MTS

Positives:
Although reported operating income margin and COGS margin are worse than those of VIP, margins of MTS' telecom business are on par or better than those of its major competitor. It's reasonable to assume that, should it continue to underperform, sooner or later MTS will discontinue its handset retail business, opening an opportunity for growth in reported operating margin.

Average price charged by MTS per minute of use of its voice services is significantly lower than that charged by VIP. Should competition and elasticity of demand increase further, MTS will be more likely to attract new customers than its competitors.
Negatives:
Competition in the industry is steadily increasing as companies fail to build customer loyalty. As a result, current operating income margins seem ever less likely to stay in their current corridor of 25%-35%.
In the last two quarters the company's telecom segment was facing a meaningful increase in COGS margin and a corresponding decrease in operating income margin. It is unclear whether that increase was non-recurring in its nature or not. In our calculations, we assume that margins are not to return to the 25-35% range any time soon.

The c

ompany's handset retail business exerts ever-greater pressure on the overall operating income margin. The company has not indicated any intentions to discontinue operations in this segment and therefore we have to assume that at least in the short run the company's margins will remain depressed because of it.
Adequacy of the terms under which MTS have acquired Comstar appears questionable. Even if Sistema did not intend to arrange the deal in a way that would leave minority shareholders disadvantaged, the deal, nevertheless, serves as a remainder of the risk inherent in Sistema's virtually unlimited control of the company.
VIP
Positives:
Although unstable, the company's operating margin remains above that of MTS

.

Acquisition of Kyivstar was completely transparent and the terms appear reasonable.
Negatives:
VIP also experienced the affects of growing competition and is no more likely to preserve its operating margin than MTS.

Just as with MTS, the company's COGS margin has increased considerably in the last two quarters, leading to a decrease in operating income margin. Here too we assume that most recent margins have better predictive value and should be used in our calculations

.

The company seems to be ill prepared for increasing competition than its competitors (lower customer loyalty as measured by churn rate, higher average price per minute, higher operating cost per minute).
Conclusions
Typically, most of the business' intrinsic value is embodied in the present value of cash flows that a company is expected to receive only 10 or more years from now. For this reason, even when we adjust valuation inputs for the high-growth stage to account for a faster decrease in operating margins and slower revenue growth, estimated intrinsic values do not change as much as one might expect. In fact, my valuation model (which incorporates DCF calculations based on FCFF and FCFE) still points to 50% or higher upside potential for both stocks. The reason why we haven't seen that potential realized over the last six months is, most probably, U.S. investors' elevated risk aversion and lack of a proper trigger.
Even with 50%-plus upside potential it would be presumptuous of me to assume, that Russian telecoms are the most undervalued companies right now. Still, for a long-term investor who is seeking global diversification they, in my opinion, provide a reasonable balance between risk, diversification merits and upside potential, and for that reason both still deserve "Buy" (but not "Strong buy") recommendations. Unfortunately, it doesn't seem appropriate for me to give a recommendation to those investing with a horizon of less than one year, since the analysis presented in this article did not touch on numerous other factors that affect stock prices in such timeframes.
Data courtesy of acm-consulting.com.
Disclosure: I am long MBT.