Last week, phone hacking scandals ravaged News Corp (NASDAQ:NWSA) and threw the stock price down over ten percent. Everyone wants to trade it, but most people will likely fail. It's like trying to catch a falling knife, most people tend to get cut up. So here are my thoughts.
First, a brief look at the technicals. The chart is really not giving us any help, but momentum signals are slightly bullish. There is a stochastic buy signal and a momentum divergence which both tell us that the sell-offs are becoming weaker. In addition, the stock recently broke above its 200 day moving average.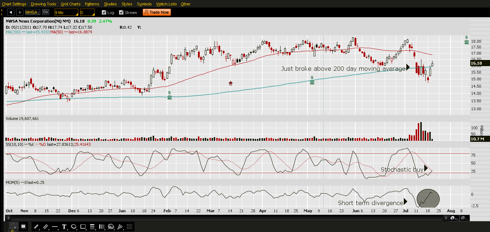 However, I would not recommend an outright buy, because there is a chance that this is just a dead cat bounce, and NWSA has much more room to decline. For those not knowing what a dead cat bounce is, it's when there is a slight bounce in a stock following a large event decline (like a scandal), but then the stock continues to plummet. According to studies by Tom Bulkowski, after an event decline of over 20%, the price continues lower after a bounce 81% of the time. Note that the initial decline was under 20%.
Finally, fundamentals are still bullish. Thankfully, News Corp is an extremely diversified company with assets across the globe. Would the closing of one newspaper merit a 15% decline in the value of the company? I think not. I would maybe understand a 5% decline, but the rest is hype over Murdoch's possible resignation.
So, I am an extremely cautious bull right now. The only opportunity that I see is in the option market. Options are trading at a historically high implied volatility, which means that they are selling for a huge premium. When options are selling at a very high historical volatility, that means that we want to be option sellers, not buyers. Therefore, the optimal strategy for a cautious bull like myself seems to be a covered call.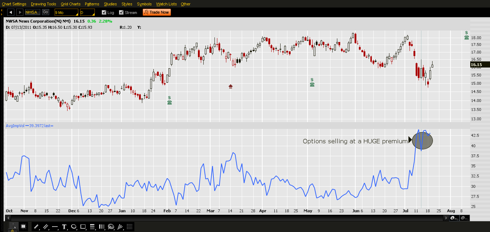 Looking at the option chain, volatility is decreasing as we move out in time (which is unusual), so we won't sell an option that is too far out from the present. I was specifically looking at the September and October 15 calls. $15.00 was around the area of the last bottom, so it is likely to provide support once again, and the premium on the options is decent. If you buy the covered call on the 15 options, your breakeven will be slightly below $13.50, which protects you from another 15% decline from its current price. In addition, if the stock moves up, you'll keep the premium, which would be about a 10% gain per contract.

For the extremely nervous investor, one may buy the stock, sell the call, and then use some of the premium from the call to but an out of the money put. This way, if News Corp does fall apart, your loss will be limited.
For the more aggressive investor, another strategy that looks attractive right now is buying a calendar spread between the September and August 15 calls at 0.10 per spread. That places your maximum risk at only 0.10 per spread and your maximum gain over 500%.
Disclosure: I have no positions in any stocks mentioned, and no plans to initiate any positions within the next 72 hours.