It has been six months since crude oil prices started a straight-line, uninterrupted decline. All the key price benchmarks have now dropped to or below $50 per barrel level:
OPEC Reference Basket: $45.74 per barrel (1/8/2015 price);
Brent: $50.11 per barrel (1/9/2015 settlement);
WTI: $48.79 per barrel (1/9/2015 settlement).
Given the magnitude and longevity of the economic signal, should one anticipate that supply contraction is now imminent and a bounce in the price of oil may be around the corner?
While admitting that trying to predict the direction of oil price is a futile task, a different oil price scenario appears to be more probable from a structural standpoint.
A case can be made that in the absence of a policy-driven production cut by Saudi Arabia (and its closest OPEC allies), the oversupply pressure on the oil price may sustain itself for at least several more months. Moreover, such pressure may increase in the near term, before the inflection point in the supply and demand balance is reached, perhaps by mid-2015. It may take several more months thereafter for the accumulated excess volumes to be absorbed, clearing the path for a meaningful oil price recovery.
North American shales represent one of the most flexible supply categories that will likely lead the economically-driven production slowdown. As such, the flattening of the U.S. oil production trajectory may serve as an indicator of the likely turn in the oil price cycle.
I would dare to estimate that, barring a further significant decline in the price of oil, U.S. oil production will continue to grow at a high pace for another several months, before flattening during the summer.
Rig Data Shows Drilling Activity Just Starting To Roll Over
The key reason for the continued U.S. production growth in the first half of 2015 is that no tangible reduction in drilling activity has occurred yet.
Given that the most important shale oil plays - including the Bakken, Eagle Ford, Niobrara and portions of Permian - are already in pad development mode, the spud-to-sales times in those plays can be three months or longer (a six-well pad in the Bakken, for example, may take over four months to be placed on production after the first well is spud). In other words, April production volumes will likely reflect January rig activity levels that remain high. In addition, in some cases, operators have significant backlogs of wells waiting on completion that may contribute to new production for another few months, even after drilling rigs have been released.
The following graph from Helmerich & Payne's (NYSE:HP) presentation shows that drilling activity in U.S. oil shales started to roll over less than a month ago (the recent decline depicted by the blue line on the graph below). The oil-focused rig count is still above 90% of the peak achieved during last summer.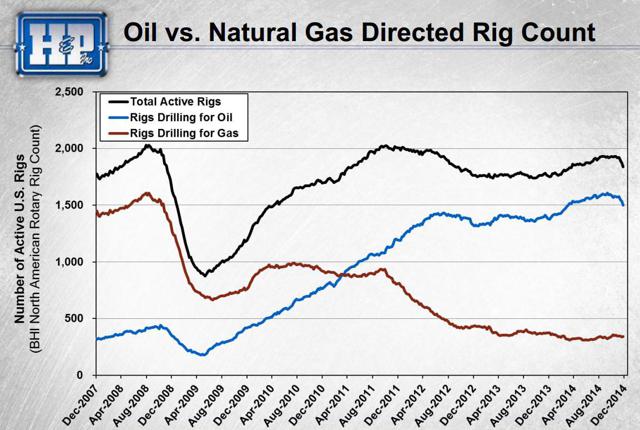 (Source: Helmerich & Payne, January 2015)
Of note, the greatest declines have occurred in the least productive mechanical and SCR rig categories. Those rigs typically work without long-term contracts and often drill less prolific wells.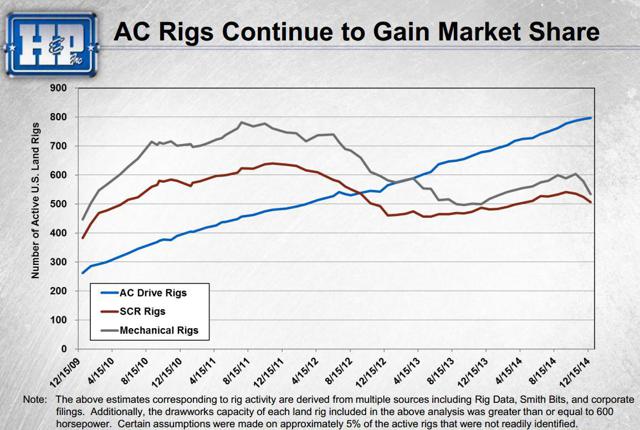 (Source: Helmerich & Payne, January 2015)
The point can be illustrated by Helmerich & Payne's fleet utilization. As one can see from the graph below, the number of the company's active rigs declined by only 11 units in the past two months, from 298 to 287. This represents a decline of less than 4%. The company's idle and available AC drive FlexRig count in the U.S. now stands at 26 rigs.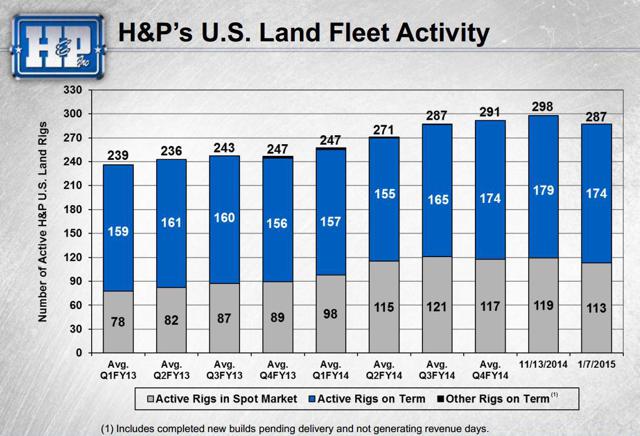 (Source: Helmerich & Payne, January 2015)
Let's make no mistake, the U.S. onshore drilling for oil is going to take a steep nosedive. However, the implementation of spending cuts by operators will not be instantaneous and may take several months to run its course.
Helmerich & Payne expects to see another 40 to 50 FlexRigs become idle during the next 30 days and additional rigs to become idle beyond 30 days (H&P has already received early termination notices related to four long-term rig contracts). This suggests that the total reduction in the contractor's active U.S. FlexRig count as of early February will be less than 20% from the recent peak level.
Assuming that Helmerich & Payne's rig fleet can be used as a proxy for drilling activity in the most prolific shale oil plays, the real slowdown in production growth from U.S. unconventional oil plays may not occur until the April-June 2015 timeframe. For the second half of 2015, even relatively recent U.S. oil production forecasts would probably require revisions to reflect the change in the macro environment and across-the-board spending cuts. In the first half of 2015, on the other hand, U.S. oil production momentum is likely to carry on. Growth rate early in 2015 will likely be comparable to Q4 2014, i.e. at relatively high, ~0.3 MMbbl/d per quarter.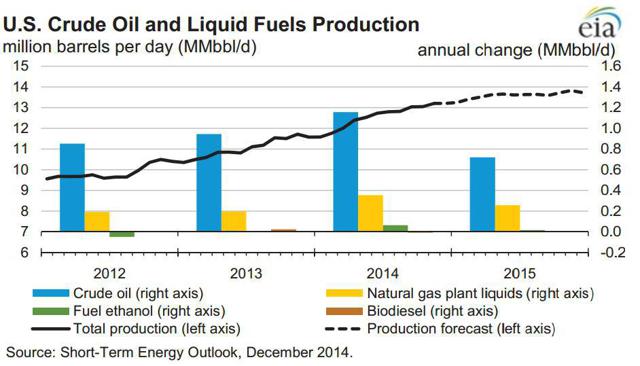 (Source: EIA.)
Why Are Producers Not Reacting Quicker?
While the current oil price correction is already six months old, the economic signal to operators to reduce drilling activity emerged only recently. For the vast majority of producing areas (in terms of volume contribution), drilling remained economic until six weeks ago, when OPEC announced on Thanksgiving Day that no production cut would follow. Prior to that time, the incentive to U.S. shale producers to make major, urgent reductions to the pace of drilling was not there.
To illustrate this point, the following slides from a presentation by North Dakota Department of Mineral Resources may be helpful. Lynn Helms, DMR's Director, estimates that breakeven wellhead price for new drilling in the Bakken's most prolific areas - in Dunn, McKenzie, Williams and Mountrail Counties - is in the $29-$41 per barrel range. It is important to note that these core areas currently account for the majority of drilling activity and the majority of the existing production in North Dakota. Out of 166 rigs currently active in the Bakken, 148 are drilling in those four counties. Factoring in the local basis differential, currently at ~$16 per barrel, these estimates would correspond to ~$45-$57 per barrel Nymex WTI price.
The "shut-in" price for existing production in the Bakken is estimated at ~$15 per barrel at wellhead, or ~$31 WTI Nymex price per barrel.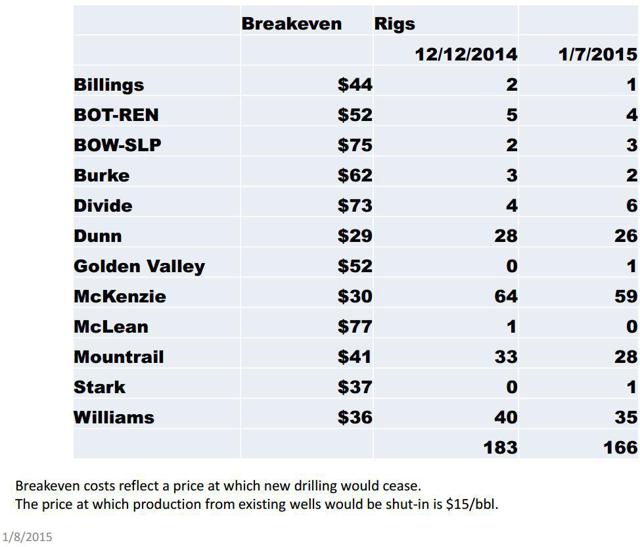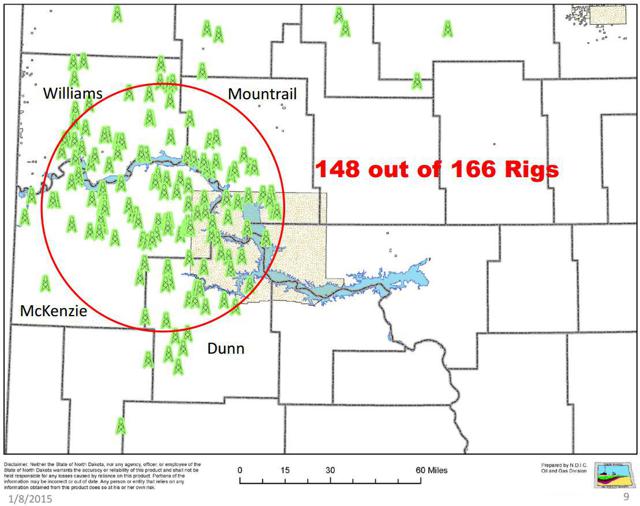 (Source: North Dakota DMR)
Perhaps the most relevant estimate provided in the presentation is the price that would be required to sustain North Dakota's oil production at the current 1.2 MMbo/d level. That price appears to be in the $60 per barrel range. However, the presentation suggests that even at $55 per barrel, the 1.2 MMbo/d production would likely be sustained over the next two years, before a slow decline sets in.
Assuming that the basis differential contracts to a more normal $8-$10 per barrel level, the WTI price that would be needed for sustained production is in the $65-$70 per barrel range.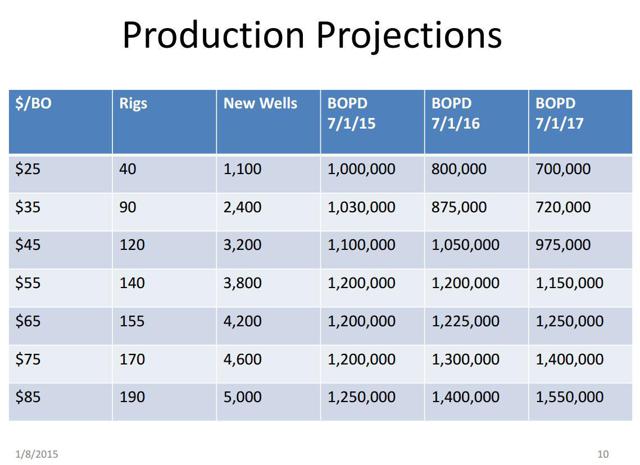 (Source: North Dakota DMR)
While it is difficult to verify what cost structure and well productivity assumptions stand behind the calculations, the estimates appear consistent with what leading operators in the Bakken - including Continental Resources (NYSE:CLR), Whiting Petroleum (NYSE:WLL) and EOG Resources (NYSE:EOG) - have indicated in the past month.
Due to the wide basis differential, the Bakken is in fact not the lowest-cost producing oil shale in the U.S. The Eagle Ford in its core areas often offers stronger economics at the same WTI price. For example, EOG's breakeven price in the Eagle Ford (as measured by a 20% minimum rate of return) is below $50 per barrel of WTI for prolific areas, based on my estimate.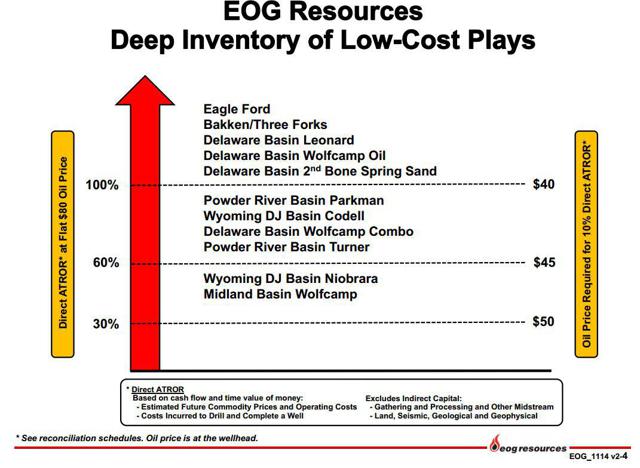 (Source: EOG Resources, November 2015)
The fact that leading shale operators see above-threshold returns in their core plays at relatively low commodity prices (as low as $40-$50 per WTI barrel) is one of the reasons why the industry did not respond with a slowdown in drilling activity and continued to move at full speed until December.
The other reason is of course the natural lag between the price signal and the industry's response. Operators need time to establish confidence that the price drop is real; to formulate and get approved new operating plans; and to implement drilling activity reductions within natural operational constraints.
The "Oil Glut" May Begin To Develop
The continued high production growth rate and the widening contango in the front part of the futures (which creates an incentive to store) spell bad news for crude oil inventories.
While U.S. commercial crude oil stocks are below the December 2013 peak level (the graph below), the lack of sufficient seasonal drawdown in the past few weeks raises a concern that crude oversupply may be intensifying. Gasoline inventories are also at high levels by historical standards, whereas distillate inventories are low.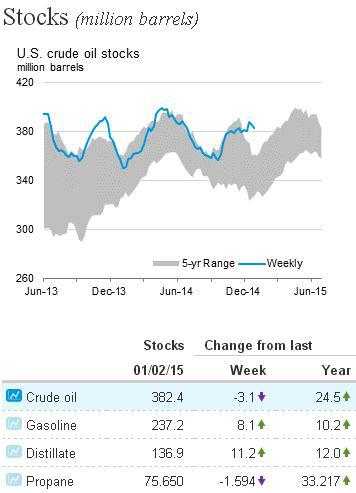 (Source: EIA.)
Implications For The Oil Price
Barring a significant further drop in the price of oil, the supply response is not going to be instantaneous. The industry may need several more months to respond with necessary adjustments. In the meantime, the oversupply situation may persist, becoming increasingly manifest in inventory statistics.
Although the "oil glut" scenario should not be taken for granted, it cannot be ruled out either. If inventory build continues at an above-average pace, the contango in the front end of the futures curve would likely widen further (and possibly much further), depressing producer price realizations in the short term. The sub-economic prices should at some point lead to voluntary production curtailments. Production curtailments are the most effective mechanism of quick supply and demand rebalancing.
One should not rule out that curtailments may at some point come from Saudi Arabia (and would likely be driven by the Kingdom's confidence that sufficient capacity destruction and new mega-project postponement have been assured).
The scenario where curtailments occur woudl likely lead to a V-shape oil price trajectory.
Does this logic prescribe that further decline in the price of oil is unavoidable? Not necessarily, in my opinion. The oil price decline to date has already been very deep and triggered adjustments on the supply side. Furthermore, low oil and fuel prices will likely stimulate consumption, which should help rebalance the market. Having said that, the oil price slump may extend over several months. This scenario would likely correspond to a U-shape price pattern.
Examples of ETFs for which oil price fundamentals may be relevant:
Disclaimer: Opinions expressed herein by the author are not an investment recommendation and are not meant to be relied upon in investment decisions. The author is not acting in an investment advisor capacity. This is not an investment research report. The author's opinions expressed herein address only select aspects of potential investment in securities of the companies mentioned and cannot be a substitute for comprehensive investment analysis. Any analysis presented herein is illustrative in nature, limited in scope, based on an incomplete set of information, and has limitations to its accuracy. The author recommends that potential and existing investors conduct thorough investment research of their own, including detailed review of the companies' SEC filings, and consult a qualified investment advisor. The information upon which this material is based was obtained from sources believed to be reliable, but has not been independently verified. Therefore, the author cannot guarantee its accuracy. Any opinions or estimates constitute the author's best judgment as of the date of publication, and are subject to change without notice.
Disclosure: The author has no positions in any stocks mentioned, and no plans to initiate any positions within the next 72 hours.
The author wrote this article themselves, and it expresses their own opinions. The author is not receiving compensation for it (other than from Seeking Alpha). The author has no business relationship with any company whose stock is mentioned in this article.