Overview
Annaly Capital Management, Inc. (NYSE:NLY), owns and manages a portfolio of mortgage-backed securities ("MBS"). The Company's principal business objective is to generate income for distribution to its stockholders from the spread between the interest income on its mortgage-backed securities and costs of borrowing to finance our acquisition of mortgage-backed securities, and from dividends the Company receive from its subsidiaries.

All of the investment securities Annaly owns are issued and guaranteed by U.S. Government Agencies and carry an actual or implied AAA rating. The Company structures its portfolio using the Annaly MBS Barbell Strategy, according to which a combination of adjustable-, floating-, and fixed-rate mortgage-backed securities is designed to perform through a wide range of interest rate environments. Annaly employ leverage to enhance our returns.

Who Owns Annaly Stock?
Investors often overlook the ownership structure of the stocks they own. We believe that it is important to know who is co-investing alongside of you. Following ownership trends is a useful analysis tool.
Relative to other common stocks, Annaly has a large public investor base. Approximately 60% of shares outstanding are owned by the public. Clearly, individual investors are attracted to Annaly due to its significant dividend yield.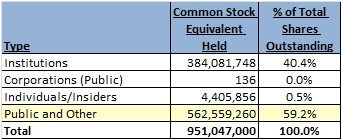 The table below outlines other commonly owned equities. Even though Annaly and other mortgage REITs have issued new equity in recent months, there may be additional appetite from institutional investors.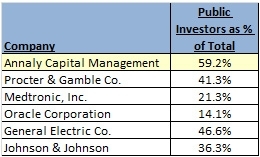 Investors have been very focused on the effect that rising interest rates will have on these mortgage REITs. We have remained bullish on NLY in particular due to the tenure of the team. In addition, the management team owns a significant amount of equity. The table below () outlines management ownership.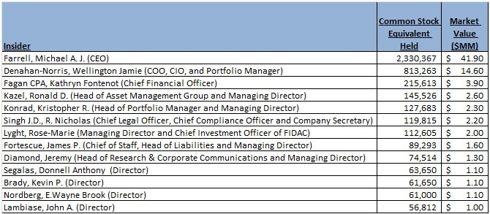 As shown in the table below, Annaly also has strong institutional ownership.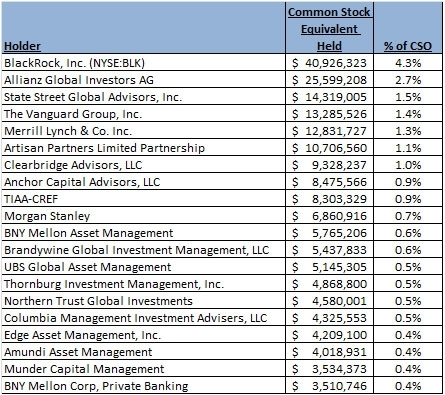 In general, we think interests rates will remain low for the foreseeable future (next 12-24 months). As such, we believe mREITs offer investors an extremely compelling risk/reward profile. However, we caution investors to watch interest rates and prepayment rates very closely if invested in the space. In addition, investors should watch trends in ownership to see if management and/or institutions are buying or selling.
Disclosure: NLY and MFA Financial (NYSE:MFA) remain our two main REIT holdings due to their strong management teams and proven ability to manage their portfolios in any interest rate environment. However, we also have a small position in American Capital Agency Corp. (NASDAQ:AGNC). We continue to believe that the best strategy for investing in this space is to own a portfolio of mortgage REITs to diversify your risk. That said, we are also following Capstead Mortgage (NYSE:CMO), Chimera Investment Corp. (NYSE:CIM), Invesco Mortgage Capital (NYSE:IVR) and Hatteras Financial (NYSE:HTS) very closely. In short, I am long NLY, MFA, AGNC.