By Brian Nelson, CFA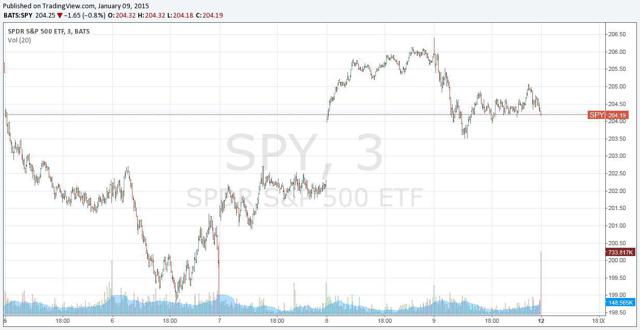 The first full week of 2015 was a wild one! Monday and Tuesday brought some hefty losses to the indices, but the middle of the week helped recover most of the ground, only to give some of it back Friday. When all was said and done, however, the S&P 500 still closed comfortably above 2040, a huge leap from just 5-6 years ago. We're still enjoying the good times, with economic data still coming in relatively sanguine. Like a frog in water, the markets are just waiting for the next shoe to drop, and the Federal Reserve is doing all that it can to assure investors that the Yellen-put is there to prop up the markets should anything adverse happen.
But the next shoe is already here. I have to admit that the drop in WTI (NYMEX) crude oil has been quite frightening, revealing the degree of the fragility of the energy markets, which remain dominated by OPEC decisions. Member nations of OPEC know that they can survive longer than the publicly-traded companies located in the shale-rich regions of North Dakota-firms such as Continental Resources (NYSE:CLR) and EOG Resources (NYSE:EOG)-and would much rather engage in a race-to-the-bottom pricing war to drive production declines at US-based rivals than cut production themselves. US oil production is near 30-years highs thanks to shale oil in Dakota and Texas. Why should OPEC cut, member nations argue. OPEC has also learned from past episodes when their production cuts only resulted in their own lost market share, not necessarily the type of price response they had been hoping for. Investors need to accept that there is "no chance of (an) OPEC cut," and that's after oil dips below $50. Defending market share is the name of this new game, not supporting prices, and it appears the energy markets aren't ready to play.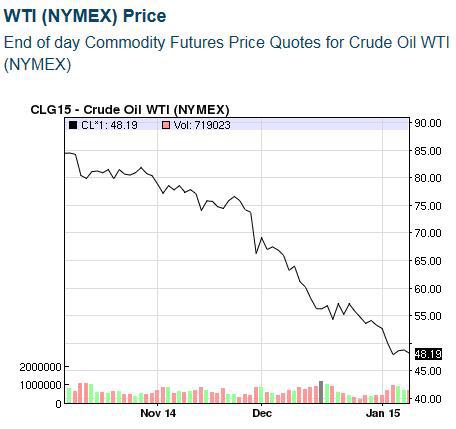 Image Source: Nasdaq
To us at Valuentum, the facts that the oil and gas markets are highly volatile and a range of probable outcomes for crude oil and natural gas prices is simply common sense are not news. To the end user, crude oil is an undifferentiated commodity, whose refined product pricing is driven simply by supply and demand. With OPEC showing no signs of letting up and the US-based shale plays and West Texas Eagle Ford participants enjoying new discoveries of "black gold," the energy markets will be stuck between a "rock and a hard place" for some time. But supply isn't the only thing working against the energy markets. Concerns over emerging market demand are real. From our perspective, we haven't seen anything yet. If the high-$40s mark for a barrel of crude oil is frightening to you, that level only takes us back to 2009 levels. For those that have been in the business as long as I have, I remember there was a time (actually, not too long ago) when we used to think that $50 crude oil was impossible to the upside. Trust me, we can still go lower, and I wouldn't think anything of it, even if it is a bit scary.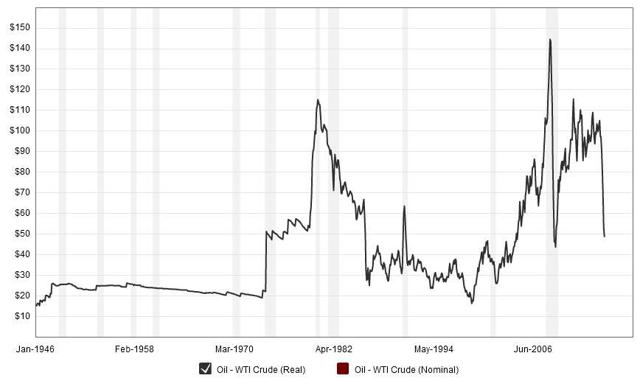 Image Source: Macrotrends
So how are we playing the oil and gas markets these days (as if it is a new question to ask)? Well, the answer is rather simple: the same way that we've been doing it since we founded Valuentum. First, we know that crude oil is but an undifferentiated commodity whose price is dictated by an overseas cartel, and as such, we'd only allocate capital commensurate with this particular risk profile. Said differently, we've only been and are still only modestly exposed to the energy markets. Much to the dismay of some members, for example, we removed ConocoPhillips (NYSE:COP) from the Dividend Growth portfolio in the low-$60s in May 2013 and reinvested those proceeds that July 2013 in Apple (NASDAQ:AAPL) at a split-adjusted price of about $63 per share. Apple is now over $110 per share, while ConocoPhillips is pretty much at the same price. We removed Phillips 66 (NYSE:PSX) at $81.43 per share from the Dividend Growth portfolio more recently, and its shares are now trading under $68 each. Too bad the perma-energy bulls never will understand that we have a birds-eye view of the markets and are not limited to investments in energy-linked entities. They're not reading this anyway.
But to the question: where are we exposed? Only Chevron (NYSE:CVX), Energy Transfer Partners (NYSE:ETP) and Kinder Morgan (NYSE:KMI) are included in the Dividend Growth portfolio, and we have zilch, zero, nada in the Best Ideas portfolio, albeit we do include General Electric (NYSE:GE), which recently doubled-down on energy with its Alstom purchase. We've said this many a time already, but we like Chevron because it has the least amount of net debt among the majors, and we like Kinder Morgan and Energy Transfer Partners the best because their business models are tied more to midstream volumes than oil prices themselves. As for stocks that could experience continued abnormal pain should crude oil prices continue to fall, I've compiled the following list of some less-secure energy-related equities, sorted by least-attractive net debt to market capitalization. Those at the top of this list are not for the faint of heart, and many could experience severe price declines if the market factors in a meaningful probability of default as maturities near. Bankruptcy is a real possibility for some.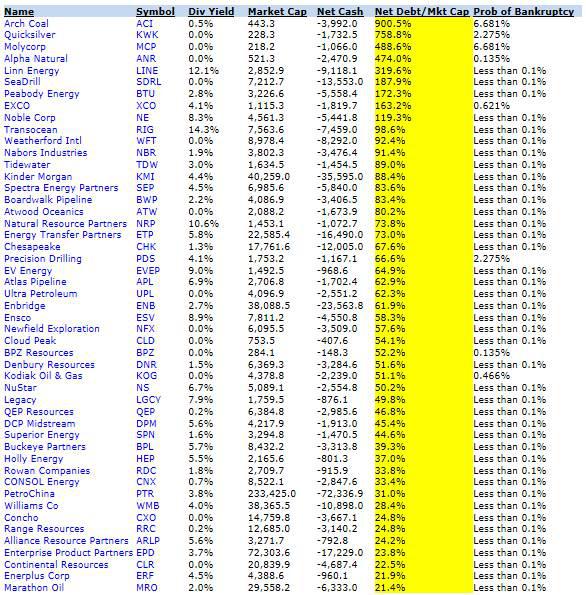 Image Source: www.valuentum.com
The news across most consumer-oriented markets wasn't really rosy this week either. The outlooks for The Container Store (NYSE:TCS), Ruby Tuesday (NYSE:RT), Five Below (NASDAQ:FIVE), Bed Bath & Beyond (NASDAQ:BBBY), and hhgregg (NYSE:HGG) left much to be desired. The Container Store noted traffic challenges during the third quarter, Ruby Tuesday expects slow sales expansion, Five Below just didn't deliver this holiday season, Bed Bath & Beyond's revenue came in a little light during its most recent reporting period, and hhgregg indicated tablet sales were weak. Wet Seal (NASDAQ:WTSL) may declare bankruptcy next week, and McDonald's (NYSE:MCD) continues to struggle to right the ship, with a string of food safety issues in Japan hitting headlines.
Interesting how all of this "negative" data runs counter to some of the "positive" information that has simultaneously hit the wires. For example, according to Black Box Intelligence, restaurant same-store sales in the fourth quarter are expected to expand at the fastest pace in six years. We think this may bode well for niche players such as Chipotle (NYSE:CMG) and Buffalo Wild Wings (BWLD), which are already growing comps at an aggressive pace, but not necessarily for the mature players in the restaurant space. Similarly, according to ShopperTrak, holiday sales leapt 4.6% versus expectations of nearly a percentage point lower than that, the fastest pace in nearly 10 years. It makes sense that lower prices at the pump helped consumers spend more money buying gifts and eating out this holiday season.
As for wheeling and dealing this week, news hit the wires that Dick's Sporting Goods (NYSE:DKS) may be looking to go private, though many have thrown cold water on the likelihood of such a transaction. Kohl's (NYSE:KSS) was named as a going-private candidate by Prime Retailer. Kohl's is consistently free cash flow positive, and its balance sheet can take on more debt, particularly given its valuable real estate portfolio. Starboard is staying on Yahoo's (YHOO) case regarding a potential deal with AOL (NYSE:AOL), which itself was "falsely" rumored to be in conversations with Verizon (NYSE:VZ) regarding selling itself. There was even speculation that Twitter (NYSE:TWTR) might acquire Yahoo's core business. We don't think Marissa Mayer will give up the reins so easily, however. We think Yahoo and a split eBay or PayPal may make the most sense as the transaction will be significantly value-creative on account of consolidated eBay's (NASDAQ:EBAY) undervaluation.
As it relates to news for portfolio holdings, Gilead (NASDAQ:GILD) landed an exclusive deal with CVS Health (NYSE:CVS) to counter AbbVie's (NYSE:ABBV) slick contract with Express Scripts (NASDAQ:ESRX) in the HCV market. We think investors are overreacting to the news flow in HCV, as the real thesis on Gilead centers more on the punitive valuation the market is assigning it, not so much on its upside potential from a base case, which itself is not yet factored in. Apple put up a strong week thanks to news of its App store performing well, but we weren't too excited about Coach's (COH) foray into scooping up luxury designer footwear brand Stuart Weitzman. Our thesis on Coach centered on the strength of its balance sheet, and it seems like it will mostly use balance-sheet cash to finance the $574 million transaction. Something might have gone terribly wrong in Coach's calendar fourth-quarter to use its reserves so quickly. I don't like it, though we can't disagree with the view that shares are at bargain-basement prices.
Looking forward to a strong close to January, but that may not happen.
Disclosure: The author has no positions in any stocks mentioned, and no plans to initiate any positions within the next 72 hours.
The author wrote this article themselves, and it expresses their own opinions. The author is not receiving compensation for it (other than from Seeking Alpha). The author has no business relationship with any company whose stock is mentioned in this article.
Additional disclosure: Some of the firms mentioned in this article may be included in Valuentum's newsletter portfolios.
Editor's Note: This article covers one or more stocks trading at less than $1 per share and/or with less than a $100 million market cap. Please be aware of the risks associated with these stocks.