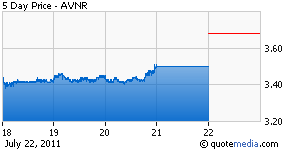 On May 26th I wrote an article which brought into question the timing and veracity of a letter that Congress had just sent to Avanir Pharmaceuticals (NASDAQ:AVNR). The Congressional letter, riddled with factual errors and fundamental misconceptions, seemed to suggest that Avanir was charging too much for its flagship product and pipeline in a pill, Nuedexta.
In a special hearing on Thursday dubbed "A Prescription for Savings: Reducing Costs to Medicare", members of the U.S. Senate Special Committee on Aging made no mention of Nuedexta and representatives of Avanir were noticeably absent from the proceedings. Rather, in a 12-page report, the committee made clear that it was satisfied with the information Avanir had provided and that it did not intend to pursue the matter any further.
From the report:
The letter of inquiry to Avanir Pharmaceuticals concerned the pricing decision on their drug Nuedexta after media outlets reported that a combination of the drug's two active ingredients was available from compounding pharmacists for roughly $0.66 per day before FDA approved the drug, compared to $16 per day for Nuedexta. We found that the company invested heavily in the development of Nuedexta. It provided documents detailing expenditures of $239 million in overhead and research, and nearly all of its resources from 2009 to 2010 on developing the best proportion of ingredients and for testing.

Before Nuedexta, there was no approved treatment for PBA, which causes uncontrollable emotional outbursts in patients with MS and ALS; doctors previously treated PBA with powerful psychotropics used off-label. While some compounding pharmacist groups claim that the drug was indeed compounded13, it appears that these instances were infrequent and could not have been the same safe and effective dosage that Avanir discovered. Avanir has suggested to staff that compounders started making the medication, which is comprised of two common and inexpensive ingredients, for former participants of Avanir's clinical trials after the trials ended. The company stated to staff in briefings that FDA treated the drug as a new entity.

The price of Nuedexta is slightly lower than the average (Wholesale Acquisition Cost of $16 per day, or $8 per tablet) of what consulting companies advised in 2010 (range between $6 and $43 per day, or between $3 and $21.50 per tablet). Notably, the company has told staff in briefings that the price was determined using a market-based approach, not based on expenditures, and that the company had lost money every year for 20 years prior to the approval.

Avanir Pharmaceuticals also has a co-pay assistance program. The drug entered the market in February 2011, and as of the end of June 2011, 343 patients have used this program.


(Click image to go to website)
Anyone who has been keeping up with the above Avanir Investor Site might have surmised days ago that the inquiry was no longer an overhang for the company, as the website's creator did some brilliant investigative work by contacting the committee's chief of investigations, Jack Mitchell, and hearing directly from the horse's mouth that Avanir was no longer a focus of the committee's investigation.
Shares of Avanir received a 5% boost on the news, closing the day at $3.68. I would say that this news couldn't have come at a better time, as IMS recently reported record WTRx data on Nuedexta for the shortened 4th of July week and the drug appears be gaining traction, momentum, and awareness heading into Avanir's FY Q3 conference call, which is expected to be held in early to mid August. Many expect the company to handily beat analysts' estimates, which have been lowered due to the weaker than anticipated initial drug launch.
While Avanir still has some formulary issues and a couple of Paragraph IV filings to sort out, I remain confident that the company will resolve these issues in time. It is nice to see that one of Avanir's largest share holders, Ingalls & Snyder, LLC, recently increased its holdings by 9.51% as it added 1,140,819 shares to an already impressive stake. With the U.S. government now out of its hair, a positive earnings call followed up by a clear break above the current sales trendline in the near future may put an end to the market's complete discounting of the increasing off-label prescribing/use of Nuedexta, its potential EU sales, and its likelihood to obtain a follow on indication for pain.
Considering its long-term potential, Avanir remains an overwhelmingly undervalued enterprise and I plan to continue to add on any future weakness.
Disclosure: I am long AVNR.