"Stocks with steady growth records are worth 30, 40 and more times earnings"
SAP: Remain a seller
Aviva: More secure yield, uncertainty regarding FTSE Oil dividends
QE typically meant higher yields, not lower (cont)
Johnson Matthey/Umicore
Defence spending (cont)
Trader watch: Oil storage, Unibail, Akzo, Deflation
---
1. "Stocks with steady growth records are worth 30, 40 and more times earnings"
"Stocks for the Long Run" by Jeremy Siegel.
We agree, and as the scarcities of growth, yield and consistency remain ever present this year, we expect those vanishingly rare companies that express these characteristics will continue to attract a premium rating, especially over lower-quality/cyclical companies, although that's not to say cyclicals may not do well in the short term. We suspect they do (see yesterday's note and point on QE below). As such, this is the 6th annual iteration of our High Quality Growth Basket or HQGB (April update). As discussed at its inauguration, the predictability of the future cash flows of exceptional companies accords them a strategic flexibility that enables them to advance their business in a way not available to the average, bank reliant company. As Jeremy Siegel's masterly analysis of the original Nifty Fifty shows (and oft quoted by Nick Train), that collection of "one decision" stocks - peaked in December 1972. It was a disparate group, comprising some consumer staples, but also technology companies, retail and industrials. And at the peak, the shares commanded expensive valuations by traditional measures. The average P/E ratio for the group was 42x, with a dividend yield of 1.1%, respectively double and half that of the S&P 500 in 1972. Our own HQGB is on 18x, only a 60% premium with a dividend yield at a 30% discount (but growing much faster). Given we believe this cycle will be more drawn out and growth remains anaemic/yields very low, these divergences should become even more extreme, especially if the ECB undertakes QE. They will….
2. SAP: Remain a seller
With respect to the discussion above, it is dangerous to become complacent about the perceived defensive quality of a company. Only the most exceptional sustain very long steady growth records, and as we have seen with Elekta (OTCPK:EKTAY), Swatch (OTCPK:SWGAY) and recently SAP (NYSE:SAP), those that fall out of the basket often do so with disastrous results, especially for those holders with a rose-tinted view of history. SAP provides the perfect example of the Incumbent's Dilemma. It can't innovate fast enough to keep pace with new (Cloud) entrants leaving it to buy desperately, and we believe expensively; Concur the latest case in point (we hear two founders have resigned in the past few weeks, clearly not all is well?). With few big things left to buy, they need to innovate - but with an unproven track record of this (incumbents normally struggle to innovate faster than new entrants), this should place further pressure on the multiple. Remember, one incumbent to have already suffer is IBM (NYSE:IBM). It trades on 9x vs. SAP on 15x. We remain a seller.
Within European Tech, we still prefer Cap Gemini (OTCPK:CAPMF) (note good numbers from Infosys (NASDAQ:INFY) this AM).
3. Aviva: More secure yield, uncertainty regarding FTSE Oil dividends
We liked the Friends Life acquisition Aviva (NYSE:AV) announced, the market does not, stock is -10% post deal. Our view is the announced synergy targets will be beaten, revenue synergies will come on top, and the Friends team (all staying) will do a great job on Aviva's back-book. Strategy aside, there is little doubt the Aviva dividend is very secure now, which is a change.
With a starting dividend yield of 3.6%, future growth driven mostly by self-help and fixed income yields (gilts) falling 300bps since the Friends deal was announced, the Aviva yield should be getting re-rated. Then add in the uncertainty around how well the FTSE oil dividend (25% of the total FTSE dividend) can grow given Brent has halved and you have another reason the market should be looking for new sources of dividend growth. The stock is -10% since the deal was announced.
This is an opportunity. Buy.
4. QE typically meant higher yields, not lower (cont)
Further to our discussion, Merrill's also expect the actual announcement of QE could see global government bond yields rise: "fixed income markets have heavily discounted ECB QE (stock of negatively yielding Euro debt now stands at a staggering €1.2 trillion); in 3 months following Fed QE announcements, 30-year Treasury yield rose on average 50bps".
Should yields rise it could play into the hands of Cyclicals vs Defensives which have been outperforming since October last year, have seasonals on their side (Q1 favors Value) and would be consistent with the markets tendency these past few years to purge sector positioning. Pain is often felt not in what you own, BUT IN WHAT YOU DON'T.
Such is why we remain intrigued by our call in RETAIL.
We would stay long Next, and buy more TESCO (NASDAQ:TESO).
5. Johnson Matthey/Umicore
Riccardo adds Johnson Matthey (OTCPK:JMPLY) to his buy list today. It's been a good performer lately and momentum is clearly building. Its closest competitor is Umicore (OTCPK:UMICF) which shares a number of its drivers, and yet has materially lagged. What's more is Umicore is well geared to the lithium-battery supply chain, a market we expect to see enormous growth over the coming years as the EV becomes more ubiquitous. As an aside, gasoline demand is reaching decade highs in the US.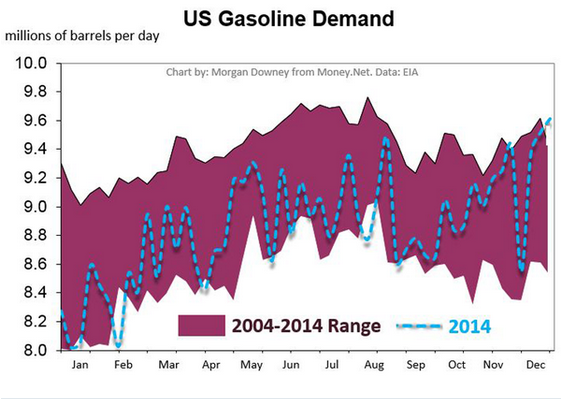 6. Defence spending (cont)
Riccardo is adding Safran (OTCPK:SAFRY, OTCPK:SAFRF) (HQGB) and Zodiac (OTCPK:ZODFY) to his lists. Thales (OTCPK:THLEF) is a strong candidate and Meggitt (OTCPK:MEGGF) is also a HQGB stock. Refer our comments from yesterday:
"NATO needs to spend money in the Baltics. Positive Defence spending

George Soros believes Russia's financial meltdown represented a strategic as well as an economic threat to Europe, with Moscow's policy likely to become even more aggressively nationalist as the economy deteriorated. To this end note Vladimir Putin was named Russia's man of the year for fifteenth year in a row, collecting 68% of public votes in a contest he has dominated since coming to power in 1999. That and he's capped the price of vodka (the opium for the masses, in Russia at least). The rhetoric used by the Russian propaganda machine frames the West in neo-Nazism (and yet, the last person looking to protect ethic-minorities in foreign countries was Hitler himself). The concern for the West is should he replicate his policy from the Ukraine in other Baltic states (where many ethnic Russians live and yet don't have rights of citizenship) it could expose a lack of spending by Nato post the fall of the Cold War (and recent global recession). Should these threats grow, one assumes the likely response from the West, especially those countries in NATO, will be to support defence spending in the region, something Obama has already committed to. In the past 6 months, the Baltic's have spent $300 [million] on military equipment. We suspect more will follow".
7. Trader watch: Oil storage, Unibail, Akzo, Deflation
i) Oil storage
Oil supply is growing, demand is falling and you can't stick it back in the ground. Storage tanks are full and so tankers are now being leased to store it, and parked in the North Sea. Good article here.
See Frontline (NYSE:FRO), Euronav (EONVF), Vopak (OTCPK:VOPKF)… and DNORD (OTC:DPBSF) (which hasn't run, yet).
ii) Unibail (OTCPK:UNRDY):
Perfect play on financial repression. 4.5% divvie and growing and added to Riccardo's buy list today. He is also reiterating his buy on Persimmon (OTCPK:PSMMY), Derwent London, Yara (OTCPK:YRAIF), and Ericsson (NASDAQ:ERIC). He has a new buy on Akzo Nobel (OTCQX:AKZOY) and stays short Wood Group (OTCPK:WDGJF). We don't take issue with any of these.
iii) Fed 5-Year Inflation rate continues to collapse, now 1.8%
This is wholly inconsistent with policy tightening?
Disclaimer: Aviate Global LLP is authorised and regulated by the Financial Conduct Authority (FCA reference 465131). Aviate Global LLP is not covered by the Financial Services Compensation Scheme (FSCS).
The material contained within this presentation is NOT INTENDED FOR RETAIL CLIENTS i.e. those who are not:
a) Per Se Professional Clients or an Eligible Counterparty as defined in the European Parliament and Council Directive on Markets in Financial Instruments (MIFID);
b) 'Professional Investors' as defined in the Securities and Futures Ordinance (Chapter 571 of the Laws of Hong Kong) and its subsidiary rules;
c) Persons other than "major institutional investors" as defined in SEC Rule 15a-6 in the United States)
Aviate Global only trades on instruction from clients. Aviate Global does not hold proprietary positions and nor does it manage portfolios.
IMPORTANT INFORMATION FOR UNITED STATES PERSONS
This document / report / presentation has not been prepared, reviewed or approved by Aviate Global (US) LLP, Aviate Global LLP's affiliated U.S.-registered broker-dealer and a member of FINRA. This report is intended to be distributed by Aviate Global LLP in the United States solely to "major U.S. institutional investors" as defined by Rule 15a-6 of the Securities Exchange Act of 1934, as amended. For the avoidance of doubt, this report is not intended for individual or non-institutional investors and should not be distributed to any such individual or entity. Interested "major U.S. institutional investors" should contact Aviate Global, (US) LLP, our U.S. registered broker-dealer affiliate, or another U.S.-registered broker-dealer, to effect transactions in the securities that are the subject of this report. Aviate Global (US) LLP also is registered as an Introducing Broker with the National Futures Association (NFA ID 0439324). Aviate Global (US) LLP does not deal with or for U.S. persons that do not meet the definition of an Eligible Contract Participant (as defined in the U.S. Commodity Exchange Act).
Editor's Note: This article discusses one or more securities that do not trade on a major U.S. exchange. Please be aware of the risks associated with these stocks.