Investing without leveraging social media is like fighting with both hands tied behind your back. Maybe you can headbutt someone to death, but why make it so hard on yourself? A few months ago, I penned an article called, "Where Social, Mobile and the Cloud Meet." I talked about how important it's becoming for companies to extract and react to information in real time. If I tweet that I am going to buy an iPad (NASDAQ:AAPL) today, it is useless for Best Buy (NYSE:BBY) to send me a discount coupon a week later. Ideally it would present an offer the same day. TIBCO's (NASDAQ:TIBX) CEO, Vivek Ranadive, says it well:
In the 20th century content was king. In the 21th century, context will be king. We have so much data now, but the useful life of the data keeps coming down. And the amount of time that we have to do something about it is coming down even faster.
Shortly after my article was posted, Rob, a buddy of mine at a social media site for investors suggested that I check out a business intelligence company called MicroStrategy (NASDAQ:MSTR). He had used its software while working at Intel (NASDAQ:INTC). After some research, I decided to buy the stock.
That scenario is one of the most obvious ways to use social media in investing. It is really no different than getting a stock tip from a friend except for the fact that five years ago I would have never known Rob. Our paths would never had crossed. Social media brought us together and through many conversations he has become a trusted source.
That being said, StockTwits is much more than people sharing stock tips. Real-time news and timely references to research material are far more valuable in my opinion. On Thursday, @robertlendvai shared that he was listening to Micro Strategy's CEO Michael Saylor's talk on Global Tech Trends. As an investor in MSTR, I immediately clicked on the link and began listening to the presentation. It's a one-hour talk. Usually 10-15 minutes is my limit, but Saylor's presentation is so fascinating that I had to watch it in its entirety. Trust me, after the first five minutes you will be hooked.
Saylor discusses the four megatrends that are evolving in technology: Social, mobile, cloud and a consequence of those big data.
[Click to enlarge]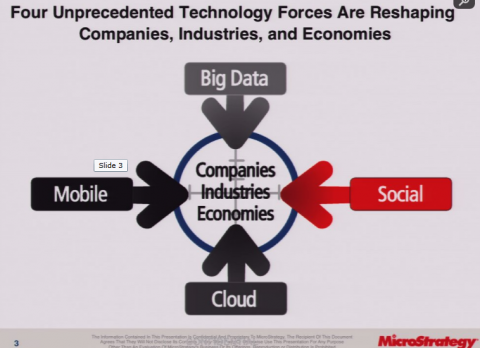 In one of his many stories, Saylor explains the power of the social graph. Saylor says it is quite humbling to Google (NASDAQ:GOOG) yourself. Typing in his name returns hundreds of Michael Saylors. He states that our names unto themselves are not unique. However, our relationships with people are unique.
Since this presentation was from earlier this year, I was curious as to Saylor's thoughts on Google's latest social media project, Google Plus. I knew that he was Facebook user and decided to check out his wall. As expected, he had shared his thoughts on Google Plus and many other interesting topics. I read all of his wall entries and walked away with new insights into tech.
In three days, I expanded my knowledge of today's megatrends; without social media it would have taken months to attain the same level of understanding. I said all of this to say that if you aren't utilizing social media, you are making this investing game far more difficult than it needs to be.
Disclosure: Long: MicroStrategy, TIBCO. Short: Google. Positions may be changed at any time.