The one Bakken stock that has failed to trade at a premium is U.S. Energy (NASDAQ:USEG). While all other Bakken stocks trade at a 3 to 10 times premium of invested Bakken capital, U.S. Energy actually trades at a discount to invested Bakken capital. That could be poised to change over the next few months.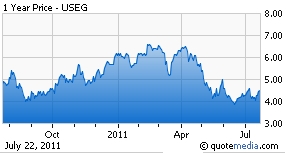 For starters, U.S. Energy participated in 5 successful Bakken wells in the second quarter. Four wells were with Brigham Exploration (BEXP) and one well was with Murex Energy. U.S. Energy is scheduled to complete 4 Bakken wells over the next 4 months with Zavanna LLC. U.S. Energy is participating in a drilling program with Zavanna that plans to drill one well per month over the next 12 months. U.S. Energy has 5,500 net acres held by production with Brigham Exploration and 6,200 net acres witn Zavanna. Additionally, U.S. Energy has over 13,000 net Bakken acres in North Eastern Montana that do not have proven production. Overall, U.S. Energy has 25,200 net Bakken acres under lease.
U.S. Energy has other oil and gas assets besides its Bakken production and acreage. The most significant asset is 3,550 net acres in the Eagle Ford Shale oil window in a joint venture with Crimson Exploration (NASDAQ:CXPO). The first test well was recently drilled and is flowing to sales. The results of the well are expected to be released in August. Recently, Marathon Oil (NYSE:MRO) paid $21,000 per acre for leases in the oil window of the Eagle Ford Shale. U.S. Energy also has 6 producing wells in the Gulf Coast Region in partnership with Petroquest, Yuma Exploration, and Houston Energy. These wells are primarily natural gas wells with some liquids. Finally, U.S. Energy has 2,400 net acres in a partnership with Cirque Resources in Kern County California. The wildcat well is scheduled to be drilled in September.
In addition to its oil and gas assets, U.S. Energy has a 216 unit apartment complex in Wyoming. The apartments are now listed for sale and are considered a discontinued asset. U.S. Energy has a geothermal investment that they plan to monetize in the future. Significantly, U. S. Energy has a 100% interest in a molybdenum mine in Colorado at Mt. Emmons. The company is seeking a partner or outright sales of the mine, which is still in the permitting stage. The Mt. Emmons mine is estimated to contain 800 million pounds of molybdenum in one of the most concentrated deposits in the world. There is virtually no value assigned to this world class asset in the marketcap of U.S. Energy.
U.S. Energy is poised to turn profitable when second quarter earnings are released. They are well positioned to build on those earnings in the third quarter due to the late quarter completion of a Bakken well with Brigham and the Eagle Ford Shale well with Crimson. Plus, U.S. Energy should add at least two additional Bakken wells with Zavanna in the third quarter. The oil hedges for 2011 were written down to $109 per barrel at the end of the first quarter. There will be a sharp reversal in the second quarter, contributing to bottom line earnings.
Published analysts' price targets for U.S. Energy range from $7.25 to $8.50. These estimates could move higher when the well results for the company's first Eagle Ford Shale well is released in August. The targets could also see upside pending the results of the Stevens Sand well in California in September. U.S. Energy is only one third owned by institutions. Significantly, management owns less than 10% of U.S. Energy, making the company vulnerable to a hostile takeover. Based on the recent drilling success in the Bakken and the Eagle Ford, U.S. Energy is poised to move higher with or without a hostile takeover.
Disclosure: I have no positions in any stocks mentioned, and no plans to initiate any positions within the next 72 hours.