Retirement investing is a long-term process. Amerivest-guided portfolios are provided by its investment advisory service. The service provides managed portfolios or model portfolios for a customer to manage her own portfolios. In this article, we construct a Amerivest Guided Portfolios Based ETF Plan that uses ETFs that represent the Amerivest model portfolio's asset classes. We then discuss how model portfolios constructed using these ETFs perform compared with benchmarks. Please note the ETFs in this plan are not the same as the ETFs used in Amerivest model portfolios. This plan uses the asset classes in a guided portfolio such as the Amerivest balanced portfolio:
Target Allocation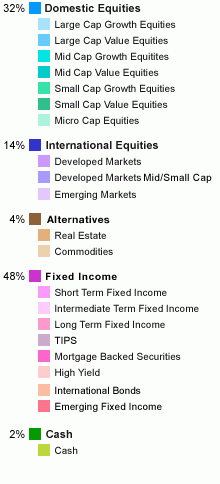 One can see that the above asset classes cover the following six major asset classes: US equity, commodity, foreign equity, REITs, emerging market equity, and fixed income. We then chose the following ETFs to represent the asset classes in the above portfolio.
| Asset Class | Ticker | Name |
| --- | --- | --- |
| LARGE GROWTH | VUG | Vanguard Growth ETF |
| LARGE VALUE | VTV | Vanguard Value ETF |
| Mid-Cap Growth | VOT | Vanguard Mid-Cap Growth ETF |
| MID-CAP VALUE | VOE | Vanguard Mid-Cap Value ETF |
| Small Growth | VBK | Vanguard Small Cap Growth ETF |
| SMALL VALUE | VBR | Vanguard Small Cap Value ETF |
| SMALL BLEND | IWC | iShares Russell Microcap Index |
| Foreign Large Blend | VEU | Vanguard FTSE All-World ex-US ETF |
| FOREIGN SMALL/MID GROWTH | GWX | SPDR S&P International Small Cap |
| DIVERSIFIED EMERGING MKTS | VWO | Vanguard Emerging Markets Stock ETF |
| REAL ESTATE | VNQ | Vanguard REIT Index ETF |
| COMMODITIES BROAD BASKET | DBC | PowerShares DB Commodity Index Tracking |
| Short-Term Bond | BSV | Vanguard Short-Term Bond ETF |
| Intermediate-Term Bond | BIV | Vanguard Intermediate-Term Bond ETF |
| Long-Term Bond | BLV | Vanguard Long-Term Bond Index ETF |
| Inflation-Protected Bond | TIP | iShares Barclays TIPS Bond |
| Intermediate-Term Bond | MBB | iShares Barclays MBS Bond |
| High Yield Bond | JNK | SPDR Barclays Capital High Yield Bond |
| WORLD BOND | BWX | SPDR Barclays Capital Intl Treasury Bond |
| Emerging Markets Bond | EMB | iShares JPMorgan USD Emerg Markets Bond |
As of July 21, this plan investment choice is rated as average based on our plan rating methodology that measures the effectiveness of a plan's available investment funds. It has the following detailed ratings:
Diversification -- Rated as great (94%)
Fund Quality -- Rated as below average (26%)
Portfolio Building -- Rated as below average (23%)
Overall Rating -- Average (45%)
The asset classes are well chosen; on the U.S. equity side, it has growth and value styles to cover each capitalization. On the fixed income side, it has short, intermediate and long bonds to cover interest rate exposure while having high yield bonds to cover low end credit bonds that possibly can provide higher capital appreciation (with increased risk) and international and emerging market bonds.
The high diversification rating of these ETFs can be seen in the following performance comparison (VFINX: Vanguard 500 Index (proxy to S&P 500 total return), VBINX: Vanguard Balanced Index (60 U.S. stock/40 fixed income)):
Portfolio Performance Comparison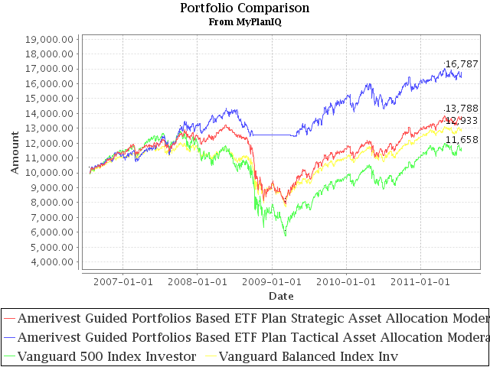 Both strategic and tactical asset allocation portfolios out performed the two benchmarks by a meaningful margin. For more detailed performance comparison, refer
here
.
To summarize, Amerivest guided portfolios provide wide diversification coverage that can be used by investors to construct their own portfolios for their retirement plans (such as 401K) or brokerage IRA/taxable accounts.