Summer travelers often see Cracker Barrel (NASDAQ:CBRL) restaurants as they drive to vacation destinations. Most of those driving by or stopping to eat and shop, probably never thought about the investment possibilities it offers.
CBRL has been an interesting business case study. The outstanding shares peaked back in 1998 at 62.48 million and have been aggressively retired on a sustained basis ever since. As of the last quarterly report the total outstanding had dropped to 22.98 million with only 19.49 million shares actually floating.
Management has essentially been executing a slow-motion LBO over those last eleven years. Rather than 'steal' the company from its shareholders at a less than fair price they've simply continued shrinking the share base by repurchasing shares from willing sellers.
The 62.3% reduction in shares outstanding has contributed to excellent long-term results. Here are the per share FY numbers (excluding non-recurring items) as reported by Value Line. FYs end on the Friday closest to July 31, of the same year.
FY

2001

2002

2003

2004

2005

2006

2007

2008

2009

2010

2011*

Sales

35.69

41.11

45.92

48.82

55.07

85.46

99.33

106.81

104.18

105.77

106.30

C/F

2.52

3.07

3.57

3.70

4.16

6.10

5.61

5.51

5.51

6.43

6.60

EPS

1.30

1.64

2.09

2.31

2.45

2.50

2.52

2.79

2.89

3.62

3.87

Div.

0.02

0.02

0.02

0.44

0.48

0.52

0.56

0.72

0.80

0.80

0.88

* FY 2011 ends July 30- 2011 data includes Q4 estimates
Especially noteworthy are the healthy increases in both earnings and dividends over the past decade. Management is very shareholder friendly. They should be as holders of 5.9% of the shares (Oct. 2010 proxy). To keep expense down CBRL recently announced the layoffs of 60 staff and management from the headquarters, which figures to save about $10 million per year once accomplished.
(Click chart to enlarge)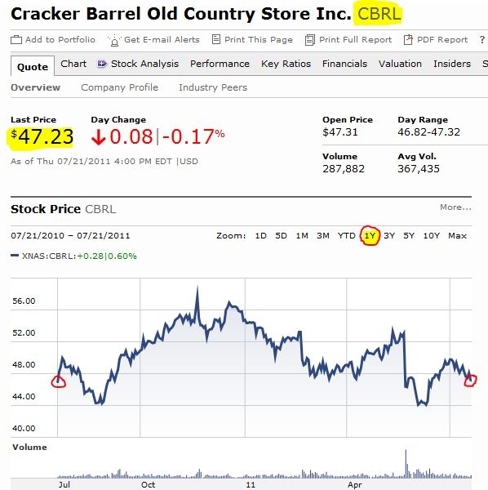 Zacks sees FY 2011 and 2012 EPS of $3.87 and $4.31 putting CBRL at about 12.2x this year's and 11x next year's expectations based on Thursday's closing price of $47.23.
Dividends have been raised in 7 of the past 8 years and now provide a current yield of 1.86%. That's better than almost all CD and money market rates now available.
Despite all the fine long-term performance CBRL shares have gone nowhere over the past year, making them look quite attractive for new investment dollars. Prior to the 2008-09 recession CBRL typically commanded P/Es of about 15 – 16x. A rebound to even 14 times the forward 12-months estimate could take CBRL up to $60.
Is that reasonable to expect? CBRL peaked at $57.79 in 2010, and has touched $55.50 YTD in 2011. They hit a high of $50.70 in early 2007 on EPS of just $2.52. S & P seems to be in agreement …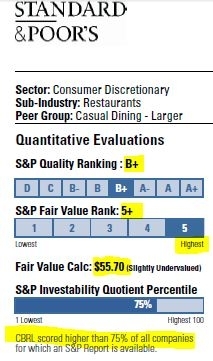 I'm a buyer of shares and a seller of March 2012 put options.
CBRL at $47.23 /sh.

Premium

"If Put' Price

Margin of Safety*

Sell March $45 puts at

$3.60

$41.40

12.3%

Sell March $50 puts at

$6.40

$43.60

7.6%

* margin of safety = % the 'if put' price is below $47.23
Disclosure: I am long CBRL, short CBRL options