In this article I will share my hunt for a quality P&C insurer to add to my portfolio. We begin by using a stock screener and somewhat broad criteria to find a selection of companies that are worth our time. Afterwards, we use the combined ratio to eliminate companies that have not shown a consistent ability to profit from underwritten business. Lastly, we plot the remaining candidates in a table and compare key metrics to find the ones worthy of deeper analysis.
Screening
In a search for great property & casualty insurance companies, I used the following criteria in the FinViz screener to narrow the field of potential candidates:
Must be in property & casualty in the USA
Market cap is minimum $300M
Positive dividend yield
Average volume of 200K
ROE minimum 10%
D/E under 0.7
Positive sales growth over the last 5 years
I wanted to include only companies that pay a dividend, as insurance companies in general are not known for rapid stock price appreciation. Furthermore, I set the ROE to be at least 10%, as I wanted to eliminate companies that could not earn their keep as stewards of their owner's capital.
The searched yielded 12 results for further scrutiny:
(NYSE:TRV), (NYSE:ALL), (NYSE:CB), (NYSE:PGR), (NYSE:WRB), (NYSE:AFG), (NYSE:HCC-OLD), (NASDAQ:AFSI), (NYSE:ORI), (NYSEMKT:UVE), (NASDAQ:UIHC) and (NASDAQ:FNHC).
A Word About The Combined Ratio
The combined ratio is an important indicator of management's ability to run a healthy insurance company. The ratio compares losses and operating expenses to premiums earned, which makes it an excellent way to determine if the company is able to make an underwriting profit, that is, if premiums exceed incurred claims and expenses. If this is not the case, the company will lose money whenever they underwrite a contract thereby failing their primary task as an insurer.
Basically, the combined ratio needs to be below 100 for the insurer to make a profit from underwriting.
Sometimes insurance companies accept unprofitable underwriting as this means more money to invest in assets such as bonds and stock. If the company is successful in its investment efforts, the bottom line is likely to show profitability although the company is failing at its core activity.
Therefore, we want to invest in companies that have consistent underwriting profits, as investment profit are highly likely to be inconsistent and often comes with considerable risk.
Reducing The List Of Potential Candidates
To reduce the list of potential investment candidates, I plotted the last 6 years of combined ratios in the table shown below. The ratios were extracted from annual reports, and are on a GAAP basis (unless noted otherwise). FOR UVE and UIHC, I had to calculate the combined ratio myself, which is why they are marked with a "*".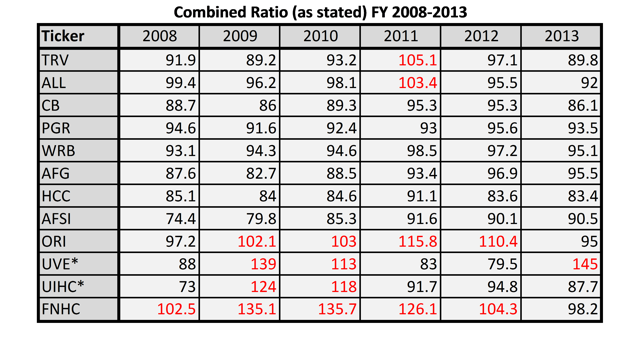 Source: Author's table. Annual reports from 2008-2013.
Based on our criterion of consistent underwriting profits, we must eliminate ORI, UVE, UIHC and FNHC from the list. UIHC could, however, be worth a closer look as the company has managed a combined ratio below 100 for the last 3 years and seems to be on track for more consistency in underwriting profits.
Although TRV and ALL had a combined ratio above 100 in 2011, I think they should be included as potential candidates because 2011 had an unusual number of natural disasters that affected the two companies significantly.
That leaves us with 8 insurers to choose from. It's time to get picky.
Selecting The Most Promising Companies
If one had the time and wished to put in the effort, it would be best to research all of the remaining candidates. However, like money, time is a scarce resource and one has to invest it where returns appear most promising.
The table below should help narrow the field for candidates to research further. The three best companies in each column are highlighted with green.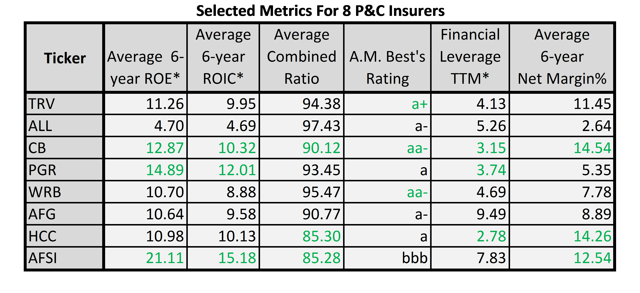 Source: Author's table. (*) Morningstar.
Based on the table, CB is an obvious candidate for further research. The company has one of the lowest combined ratios, high ROE & ROIC, "superior" credit rating with positive outlook, low leverage and a the highest net margin among the 8 companies.
Aside from CB, other candidates depend on one's risk tolerance as well as investment philosophy. AFSI seems like another candidate worthy of further research. While the company has high ROE & ROIC, a low combined ratio and high avg. net margin, it also has a "Good" credit rating as well as the second highest leverage of the 8 candidates. Personally, I would select one of the other candidates that have better credit rating and lower leverage as the coming interest rate hike could adversely affect companies that have a weak balance sheet. Therefore, AFG should be eliminated as well due its high leverage.
After selecting CB and eliminating AFSI and AFG, one has 5 candidates to choose from.
In my opinion, ALL should be left out as the company has a poor net margin, a high combined ratio as well as unimpressive ROE & ROIC. WRB metrics are average and not impressive as such. The company has the second highest combined ratio and the third lowest net margin, but has managed an acceptable ROE & ROIC. WRB does not look like a promising candidate and should be eliminated.
Along with CB, the remaining three companies are worthy of further research. HCC has acceptable ROE & ROIC, a very low combined ratio, an "Excellent" credit rating, low leverage and the second highest net margin.
TRV should be included as the company has acceptable ROE & ROIC, an acceptable combined ratio, an "Excellent" credit rating, is not highly leveraged and has the fourth highest net margin. When researching TRV further, one should keep in mind that the combined ratio has been somewhat skewed by the unusual number of disasters in 2011.
PGR is also worthy of further research. One should investigate why the net margin is so low, compared to the other insurers, and also determine what the company intends to do to increase margins.
Conclusion
By using 7 broad criteria to screen for potential investment candidates, we were able to narrow the field to 12 P&C insurers. When adding the criterion that the companies must consistently have a combined ratio below 100 (underwriting profit) , the field was narrowed to 8 candidates. Of the remaining candidates, 4 were worthy of deeper research: CB, TRV, HCC and PGR.
I am likely to analyze these companies further and will share my findings if you wish to see them (please comment if this is the case).
Disclosure: The author has no positions in any stocks mentioned, and no plans to initiate any positions within the next 72 hours.
The author wrote this article themselves, and it expresses their own opinions. The author is not receiving compensation for it (other than from Seeking Alpha). The author has no business relationship with any company whose stock is mentioned in this article.