Last week I wrote an article titled, "Exxon Mobil: Is This Stock The Best Way To Play A Rise In Oil Prices?" and I noted that I thought that the USO ETF might be a good play at some point -- but not yet. In that article I wrote that:
Volatility equals opportunity in my book and I believe that an excellent opportunity is going to show itself. As mentioned above, I plan on writing another article focused on why oil has fallen as it has and when I think it will reverse itself.
Yesterday I wrote an article titled, "The Ingredients For An Imminent Bear Market Are In Place" and part of that thesis was that the crash in oil prices would hurt the US economy in 2015.
Now it is time to complete the trifecta and write about what has happened to oil and what I think needs to happen for the price to reverse itself and head higher.
What the Mainstream is Telling You
"Beside the point...always a dangerous place to tarry." - Iain M. Banks
It often seems that the mainstream media makes a point of being beside the point. When a big and long-developing story comes out that media has a habit of saying the same things over and over -- sometimes in slightly different ways, sometimes not so much.
There's plenty that the mainstream has been missing about the oil story -- namely, a huge factor (the main factor in my opinion) of why oil prices have dropped so far so fast. More on that factor below.
First, a recap of the typical mainstream reporting of this story.
From nypost.com:
So they [Saudis] are willing to start an oil price war by flooding the market with gobs of excess crude just to wash away the entrepreneurial upstart Americans.
From ibtimes.com:
"As long as [Saudi Arabia] decides not to cut production, the price will stay pretty low," said Thomas Lippman, an expert on Saudi Arabian affairs at the Council on Foreign Relations.
From CNBC:
Saudi Arabia and its Gulf OPEC allies show no sign of cutting output to boost oil prices even as demand slows in the face of anemic economic growth.
Much of the mainstream reporting is focused on whether or not Saudi Arabia will cut production. Many even seem to blame the country for "flooding the market" or "creating an oil glut". Nothing could be farther from the truth as the substantial increase in world oil production over the last few years has been mostly due to US increases.
Below is a normalized chart that shows the comparative increase in production between the US and Saudi Arabia: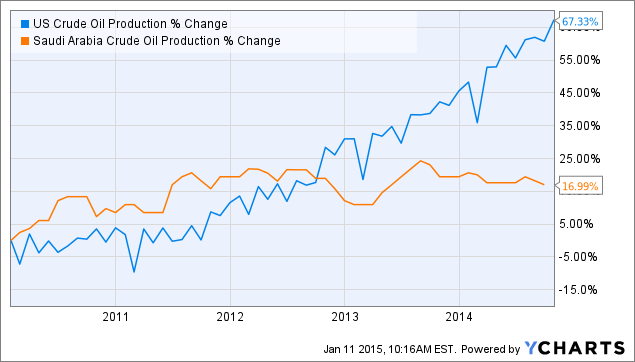 US Crude Oil Production data by YCharts
Furthermore, the mainstream overwhelmingly assumes that there is a correlation between Saudi oil production and oil prices. There is certainly no correlation for the drop that has occurred over the past 6-7 months. Saudi production has been essentially flat for nearly four years.
The following chart shows the lack of correlation for the recent past: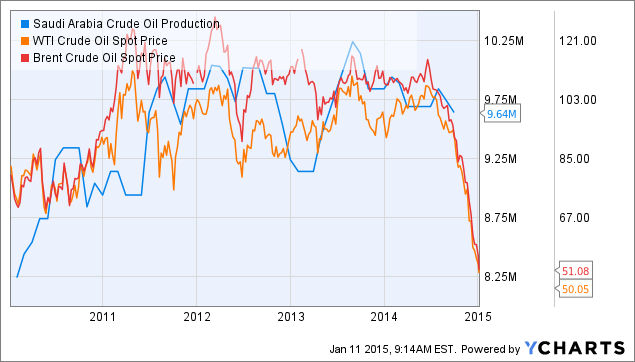 Saudi Arabia Crude Oil Production data by YCharts
Going farther back into the past, we should remember that previous supply cuts by Saudi Arabia did not work as intended.
From reuters.com:
The kingdom slashed its own output from more than 10 million barrels per day in 1980 to less than 2.5 million bpd in 1985-86.

Prices fell into a years-long slump, leading to 16 years of Saudi budget deficits that left the country deeply in debt.

Finally, in 1985, Riyadh shifted gears, revving up output and cutting prices in a move that triggered a final slump in markets but ultimately paved the way for a gradual recovery.
And according to thestreet.com, more recent examples:
The Saudi ministers are well aware that unilateral production adjustments have historically had little effect in the short-term on oil prices, as was shown in 2005 and 2010.
Thus it is clear that Saudi Arabia will be highly reluctant to cut production and it is silly to attribute the crash in prices to Saudi production in the first place. Saudi Aramco, the state-owned oil company, is responsible for the price crash as I will soon show -- but the reason for that responsibility is not any change in production.
Saudi Arabia Has The Big Hand For Pricing Power
Saudi Arabia has the most pricing power over oil of any entity in the world -- they have the "big hand".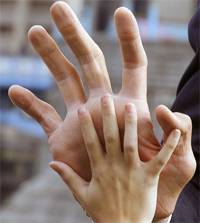 Not only does the country export more oil than any other country in the world, but all of those exports are controlled by one state-owned company: Aramco. That is not unique (Iran, for example, controls that country's oil via a state-owned company as well), but being the largest gives Aramco a pricing advantage over any other state-owned oil company and a far larger amount of pricing power than fragmented companies in, say, the US or Canada.
Below is a chart showing the amount of oil exports by country: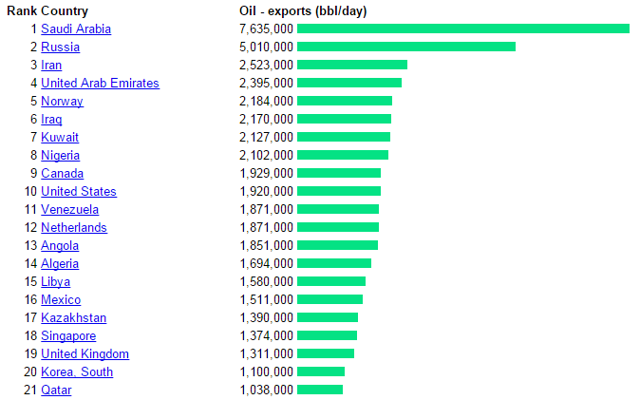 (Source: indexmundi.com)
OK, so we know that being the largest exporter and being the "supplier of last resort" gives Aramco tremendous pricing power. But once again, the mainstream media lets us down by not looking deep enough into what that means.
When it comes to Aramco wielding its pricing hammer, virtually all of the journalism that I have seen reports a cut in Aramco pricing as "defending market share" (true but not the whole story) and the reporter goes on to note that WTI and Brent fell by such-and-such an amount on the day due to the Aramco cut. All true, but missing a key fact.
Differential Pricing + Deep Discounts = Sustained Downtrend in Benchmark Prices
And now we get to the crux of my thesis. Aramco's discount pricing affects benchmark oil prices in a continuous manner. That means that Aramco discounts are constantly "attempting" to push oil prices lower. Every day that physical oil gets delivered by Aramco there is additional pressure on the benchmark prices. As far as I can tell, this is completely unreported in the mainstream (and extremely rare elsewhere) and it is critical to understand if one wishes to make sense of the recent oil crash and attempt to predict a bottom.
First a little primer on Aramco's differential pricing is in order as many readers may not be up to speed on it.
Aramco sells to its long-term customers at an official selling price, or OSP. That price is set monthly and is based on destination and crude quality. The OSPs are set up as follows to various destinations:
US: OSP is based on the Argus Sour Crude Index (ASCI).
Europe: OSP based on the Brent Weighted Average (BWAVE).
Asia: OSP is based on the average of Dubai and Oman crude prices.
All of the OSPs are priced using what is called "differential pricing". That is, Aramco does not set a firm price, but one that changes with the above benchmarks. The OSP is either a premium or a discount to the benchmark prices. For example, in May 2014, the OSP to Northwestern Europe for Arab Light was a discount of $2.35 per barrel. The same OSP for February 2015 is now a discount of $4.65 per barrel.
Because the Saudi price moves down automatically when a benchmark price declines, and because Aramco has such strong pricing power and is the "supplier of last resort", when Aramco prices at a high discount a cycle is created by which lower Saudi prices begets a lower benchmark, which begets a lower Saudi price, which begets a lower benchmark, etc.
Warren Mosler wrote a fine piece that explained how this works:
The Saudis are the 'supplier of last resort'/swing producer. Every day the world buys all the crude the other producers sell to the highest bidder and then go to the Saudis for the last 9-10 million barrels that are getting consumed. They either pay the Saudis price or shut the lights off, rendering the Saudis price setter/swing producer.

Saudi spread pricing works like this:

Assume, for purposes of illustration, Saudi crude would sell at a discount of $1 vs. Brent (due to higher refining costs etc.) if they let 'the market' decide the spread by selling a specific quantity at 'market prices'/to the highest bidder. Instead, however, they announce they will sell at a $2 discount to Brent and let the refiners buy all they want.

So what happens?

The answer first- this sets a downward price spiral in motion. Refiners see the lower price available from the Saudis and lower the price they are willing to pay everyone else. And everyone else is a 'price taker' selling to the highest bidder, which is now $1 lower than 'indifference levels'.

When the other suppliers sell $1 lower than before the Saudi price cut/larger discount of $1, the Brent price drops by $1. Saudi crude is then available for $1 less than before, as the $2 discount remains in place. Etc. etc. with no end until either:

1) The Saudis change the discount/raise their price

2) Physical demand goes up beyond the Saudis capacity to increase production
Note that the way it works is not quite as simple as Mosler writes, although I love his straightforward manner and I think the read above is very informative and beautifully contrarian. On a short-term basis there are fluctuations due to paper speculation and the fact that although Aramco has a lot of power, that power is not total. In addition, Aramco has at least 17 separate prices based on location and crude quality. In any case, Mosler's explanation, while lacking all of the details, serves its purpose to explain the spiral that has occurred (and continues to do so).
The thesis that Saudi OSPs create constant pressure on oil prices and are the main driver of oil prices is sure to raise eyebrows, so I will offer further evidence of its truth.
Let's have a look at the Aramco price changes in the middle of 2014 -- as prices were rising for the first half of the year but started to fall in the second half. Below is a chart of the Arab Light OSPs during that turning point: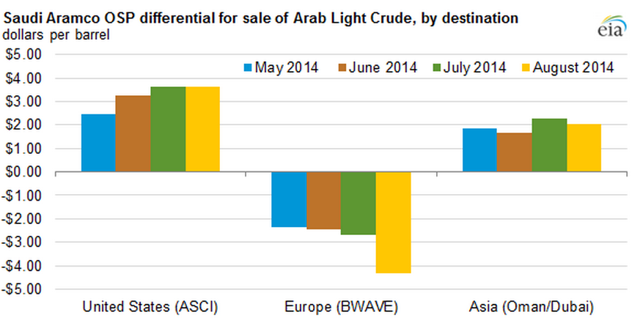 (Source: eia.gov)
We can see that the trend turned negative (lower premiums and higher discounts) from July to August. For August compared to July, the Asia and Europe regions saw lower prices while the US price stayed the same. After August, the prices turned farther downward in a hurry.
Below is a chart of WTI and Brent during that time period. (WTI has a very high correlation with ASCI)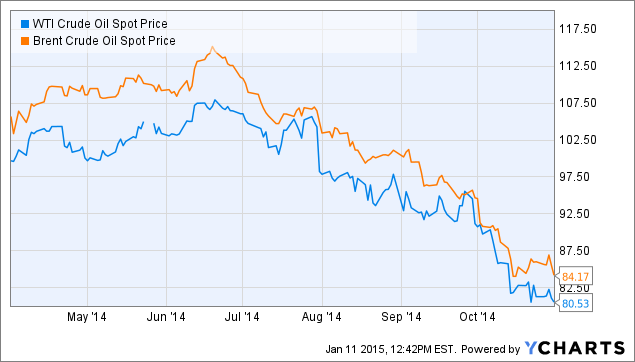 WTI Crude Oil Spot Price data by YCharts
Keep in mind that the August OSPs would have been announced during the first few days of July. We can clearly see that oil started to drift lower in July, but truly started dropping precipitously once the August pricing kicked in. The downturn accelerated right along with the acceleration of Saudi discounting; prices were cut more and more as the months went on. The following chart zooms in on July 1 until the present: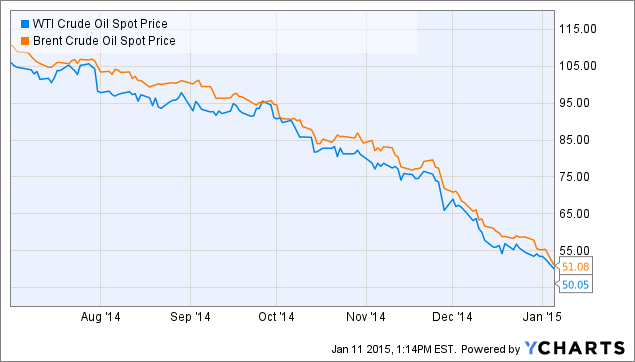 WTI Crude Oil Spot Price data by YCharts
The most current data reflects February 2015 OSPs and the prices were announced about a week ago as follows:
US: premium of $0.30
Northwestern Europe: discount of $4.65
Asia: discount of $1.40
As we can readily see, the prices have come down quite a bit since the inflection point in the summer of 2014.
Why? And Where Do We Go From Here?
Why the Saudis would wish a lower oil price is difficult to say with certainty. My opinion is that they simply want to crush some of the high-cost oil and thereby lower overall global production. If they achieve that, then their future pricing power goes up. They can also raise production to fill any gap left by the lost production elsewhere thus gaining market share. If prices stay low enough for long enough, the Saudis can raise prices substantially and despite the rise, high-cost oil will not come back for years. While fracking can technically be cranked up rather quickly the funding for it will undoubtedly take years to come back if the loan default pain in 2015 is deep enough. And I expect that pain to go deep.
Political motivation cannot be ruled out, but I think that is a secondary goal. Any effects vs. Syria, Russia, Iran, or others will be a bonus on top of the economic gains of forcing many producers out of business for a protracted length of time.
From here we go downward, frankly. One can see from the February 2015 OSP pricing that the pressure on oil prices due to Aramco have only accelerated since the summer of 2014. The US price is about $3 lower and the Asia price is about $3.40 lower than that time. The Europe price is slightly lower.
Any news of production cuts (likely to come from the US and other high-cost producers) will give oil prices a bounce, but for long-term strength in the price, look to Aramco pricing. When that entity begins to raise prices across the board we will see a true and steady rise in the oil benchmark contracts.
ETFs for which oil benchmarks are relevant:
Disclosure: The author has no positions in any stocks mentioned, and no plans to initiate any positions within the next 72 hours.
The author wrote this article themselves, and it expresses their own opinions. The author is not receiving compensation for it (other than from Seeking Alpha). The author has no business relationship with any company whose stock is mentioned in this article.