A number of tailwinds have set up this holiday season to be strong, including the warm weather, a strong shopper with fat wallets thanks to employment and low gas, as well as relatively easy year-over-year comps. Thus, we've been focusing on retailers for our 4040 series. And we've taken a look at specialty retailers, more specifically, the likes of Restoration Hardware (NYSE:RH), Container Store (NYSE:TCS) and Five Below (NASDAQ:FIVE).
For these three, it's been a very different path over the last year. RH is up 45%, while FIVE is down 18% and TCS has been cut in half.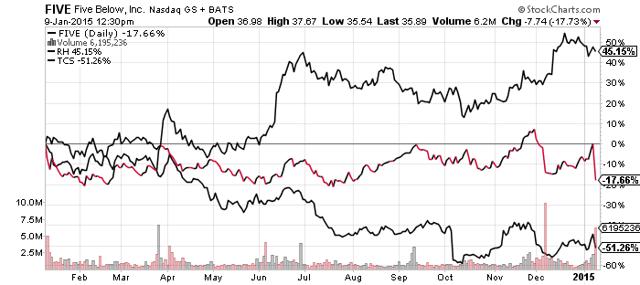 After a strong showing for most of December, both FIVE and TCS got hit hard again last week. TCS for a weak quarterly report and FIVE on weak holiday sales guidance. Even still, shoppers were shopping, so someone was taking market share from these guys (more on this later).
But, at a certain price, everything is a buy.
The problem being; you won't find an enticing valuation at FIVE or TCS, or even RH for that matter. FIVE trades at 24.5x forward EV/EBITDA, with TCS at 16x and RH at 17x. That doesn't mean that specialty retail won't prove a lot of people wrong,
General risks to my theory include the American public suddenly having an out of five year trend desire to pay for overpriced storage and organization capacity, a desire to drive to the one or two locations within driving distance in the markets that TCS actually has a store in an effort to experience the "atmosphere" and "experience" of overpaying for storage and organization capacity...(Container Store Group: Structural Issues, Margin Compression, And Possible Impairment)
TCS' has a couple of issues: Granted, one of TCS' big issues has been managing near-term expectations by management, which has led to continued disappointments and ultimately crushed management credibility. But TCS could get really aggressive with its store expansion (with just a store base of just 70), but with continued issues with store traffic, it's tough to see how TCS is a long-term opportunity.
We want to like FIVE: This comes after its recent sell-off and the fact that store growth will be easiest for them. Its return on invested capital is three times RH at 30% and it has an EBITDA margin above both TCS and RH -- at 13%.
FIVE came out of the gate blazing after its 2012 IPO, but peaked at nearly $55/share in 2013,
In effect, we believe this is the beginning of the end for FIVE and view it as a broken retail growth IPO. We believe this view is confirmed by the stock's technical break-down as it teeters precariously upon the two year trend line of support that formed following its 2012 IPO (Deterioration In Gross Margins, Inventory Productivity And Technicals Suggest Beginning Of The End For Five Below)
Our infatuation could be driven by the fact that FIVE is in the low-priced retail market, which we're fans of going forward. However, its customer base is one of the most volatile around, pre-teens and teens. Not to mention their fickleness, just look at the charts/performance of Aeropostale (NYSE:ARO), Abercrombie (NYSE:ANF), American Eagle (NYSE:AEO), etc.
RH is a bit of a different story: It's been the belle of the specialty retail ball, with shares up 200% since the 2012 IPO -- and there are still plenty of bulls, almost too many,
RH has a lot of things going for it. It has a very compelling growth story that is far from over. RH is growing at a prudent rate; no rapid, disjointed saturation just for the sake of it (Restoration Hardware Looks Expensive, But Worth A Look Anyway)
Yet, I'll admit the unit economics are impressive. It's high-end business model allows it to pull down over half a million dollars per employee -- compared to FIVE's $160k per. And they're generating an impressive amount of money per store on their first 70 or so, but it's tough to extrapolate that out when they've picked the low hanging fruit in higher end markets. But, finally, paying 17x forward EV/EBITDA for an 10% return on invested capital and 10% EBITDA margin, just doesn't interest me.
Where we stand: The crux of our retail store thesis is; why invest in volatile and questionable growth, at a high valuation, when there are better plays in the retail market? We like the discount part of the market, versus specialty. Read: Big Lots (NYSE:BIG) is a quiet turnaround and Dollar General (NYSE:DG) offers value in the dollar store space.
Even still, investors love to focus on "hottest" areas of the market. But given the volatility (think: shares of FIVE and TCS have fallen by more than 10% on four different occasions over the last twelve months), questionable valuations and growth/margin stumbles this early in the store build out, we'd pass on all three specialty retailers above.
Disclosure: The author has no positions in any stocks mentioned, and no plans to initiate any positions within the next 72 hours.
The author wrote this article themselves, and it expresses their own opinions. The author is not receiving compensation for it (other than from Seeking Alpha). The author has no business relationship with any company whose stock is mentioned in this article.