Introduction & Background
Another year has come to a close and I am once again writing an update on my foray into dividend growth investing. It was two short years ago that I made the plunge and converted my retirement portfolio of a haphazard collection of mutual funds and random investments into one focused on the dividend growth strategy.
During that time there have been substantial changes to the composition of the portfolio as I strive to build a diversified mix of high quality dividend growth investments. Some moves have proven to be better than others, but overall I am beginning to feel comfortable with the portfolio makeup. It's not perfect, as there are still positions like TAL International (NYSE:TAL) and Coach (COH) providing me with some heartburn, but the good have outweighed the bad and the portfolio is performing as intended by providing me with an ever growing stream of dividend income.
As a comparison to where this all began, here is the composition of the portfolio from the end of 2012, prior to my discovery of the "Dividends & Income" section here on Seeking Alpha.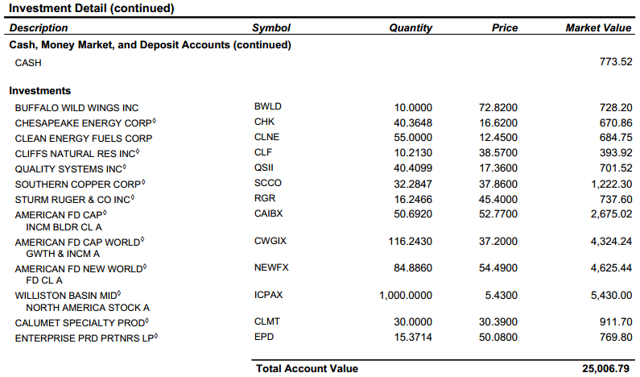 You can see I had a wide variety of investments, with a mix of mutual funds, master limited partnerships, growth stocks, and speculative stocks. Of the equities owned, only Enterprise Products Partners (EDP) would qualify as a dividend growth investment with its now 17 year streak of dividend increases. Otherwise, I was very heavy in cyclicals and speculation, with companies like Chesapeake Energy, Clean Energy Fuels, Cliffs Natural Resources, Sturm Ruger and Southern Copper taking up a large percentage of my individual equity holdings.
In hindsight, there were a few good picks as Buffalo Wild Wings (BWLD) and Enterprise Products Partners have gone on to produce 100%+ returns over the last two years. However, those gains would have been countered with losses in Clean Energy Fuels (NASDAQ:CLNE) and Cliffs Natural Resources (NYSE:CLF), Southern Copper (NYSE:SCCO), and Calumet (NASDAQ:CLMT).
Fourth Quarter Highlights
It was a quiet quarter for the portfolio as there were no sales made during the period. This marks the first time since the portfolio was rebuilt that no sales were made during a quarter. Fortunately there were some new contributions made during the period, allowing me to make two purchases in the account.
On December 1, I added to my position in Occidental Petroleum (NYSE:OXY) with a purchase of 7 shares at $79.15 per share. This purchase will add $20.16 to my annual income based on its current $2.88 per share dividend payout.
With this purchase I have taken advantage of the huge pullback in crude oil, and the subsequent drop in Occidental share price, to double down on my position. Occidental has an excellent balance sheet with an "A" credit rating and according to its most recent investor presentation is expected to have nearly $10B in cash on the balance sheet at the end of 2014.
Management discussed potential uses for the cash on the Q3 Conference call, where a focus on share repurchases and continued strong dividend growth was mentioned. The company may also use some of the available cash to add to its acreage in the Permian Basin by buying properties at a discount from distressed producers.
Occidental is a Dividend Contender with a 12 year streak of increases that has provided a 16.8% CAGR of the dividend over the last decade. With a strong cash position and low debt Occidental has the financial strength to weather the drop in oil prices and I expect the company to continue its streak of raising dividend payouts in the future. With a dividend yield over 3.5% and a history of double digit increases, this seemed like a great time to double down on my position.
Then, on December 23rd, I made my third investment into International Business Machines (NYSE:IBM) with a buy of 4 shares at a price of $162.25 per share. This investment will increase my annual income in the portfolio by $17.60 at the current $4.40 dividend rate.
I believe IBM to be one of the most undervalued stocks in the market. It's trading at a PE ratio of just 9.8, with a forward ratio of 9 based on 2015 estimates. The stock is rated 4 stars by Morningstar, who gives a fair value estimate of $196, a 23% gain from the current price. IBM is a cash cow generating about $13B per year in free cash flow, which it has used to fund an aggressive share repurchase program. Through this program, IBM has retired approximately 20% of the shares outstanding since 2009, which has given a nice boost to earnings.
In addition to buybacks, the company has rewarded shareholders with growing dividend payouts. IBM is a Dividend Contender with a 19 year streak of increasing dividends. It has raised the payout at a CAGR of 19% over the last decade.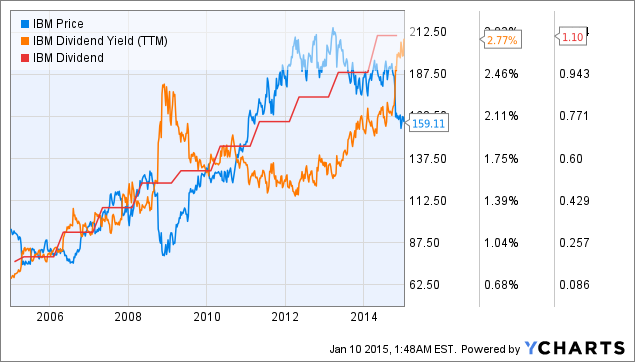 IBM data by YCharts
The current yield of 2.77% doesn't sound overly impressive compared to other potential investments, but it's actually the highest yield that IBM has provided in the last ten years, even higher than at any point during the "Great Recession".
The company has taken flak for its lack of revenue growth in recent years, but I am not concerned as I feel the restructuring of the business from hardware to services will prove fruitful over the long run as they shift to a higher margin business.
Dividend Increases
My favorite part of these updates is highlighting the dividend increases granted by companies during the last 90 days. To me it's the most satisfying part of dividend growth investing in seeing my income methodically grow over time.
The average for the nine announced increases comes to 12.8%, which is slightly above the 12.4% average announced increases for the Q3 update. This extends the streak of double digit increases to 7 quarters.
With an overall dividend yield on the portfolio of about 2.9%, these double digit increases keep me well above my "Chowder Number" goal of 12% and well above the rate inflation.
Here is the updated dividend history of the account.

While I didn't quite make it to the $1,200 goal that I had set, I can't complain at all with a nearly 53% year over year increase in dividend income.
Now that we've started a new year, I have a new goal to set for my annual dividend income. My goal for 2015 is to produce an average of $115 per month, which would equal $1,380 for the year. This would be an increase of 23% over my 2014 total.
Portfolio Performance
The portfolio had another great quarter as the total equity value increased from $41,287 to $44,896 during the period. Of that increase, about $1,221 of the gains were due to new investments, leaving $2,388 in gains due to dividends and increasing share price. This 5.8% increase compares favorably to the 4.4% gain seen by the S&P 500 during the quarter. While capital gains aren't the focus of the portfolio, it is satisfying to see that I am keeping up with the broader market.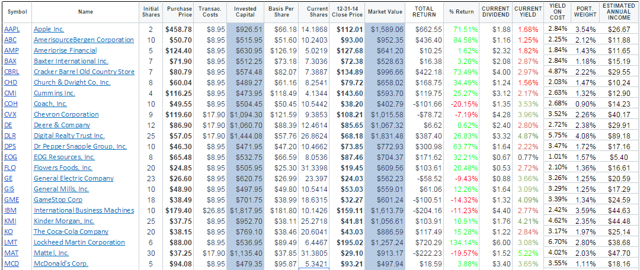 On The Radar
As mentioned above, there are a few companies that I am watching more closely as they have been underperforming for some time.
TAL International Group is a position that I purchased before learning the important lesson of buying "quality" from fellow contributor Chowder. The company pays an attractive dividend of 7.1% and has an impressive 7 year dividend CAGR of 29%, but has an 81% debt/cap ratio and a payout ratio of over 75%. However, I do like the yield the stock provides, and management has reiterated that there is plenty of safety in the dividend when looking at cash flows. I will continue to hold for now and take advantage of the depressed share price for dividend reinvestment, but if a better opportunity presents itself, this may be a position on the chopping block.
Coach, Inc. is another disappointing position, as it's seen decreasing sales and lower earnings, and has paid the same $0.3375 dividend for 7 consecutive quarters. Management has stated that it expects the dividend to be maintained at the current level through fiscal 2015, with future increases being tied to growth in net income. At this point I plan on giving it another quarter or two to see if the turnaround can be made.
Some stocks on the radar for potential replacements include Southern Company (NYSE:SO), Parker-Hannifin Corp. (NYSE:PH) and Visa Corp. (NYSE:V).
Closing Thoughts
While the ride has included a few bumps along the way, I am pleased thus far with my journey into dividend growth investing. Shifting the focus from a search for capital gains to a predictable stream of growing income has helped me be much calmer during recent market volatility. In fact, I now look forward to the next market correction so I can pick up more income with my next purchase.
I hope this update is encouraging and helpful for others looking to learn more about the dividend growth method. Happy investing.
Disclosure: The author is long AAPL, ABC, AMP, BAX, CBRL, CHD, CMI, COH, CVX, DE, DLR, DPS, EOG, FLO, GE, GIS, GME, IBM, KMI, KO, LMT, MAT, MCD, MDP, MDU, MNK, MSFT, NSC, NXPI, O, OHI, OXY, PII, PM, PSX, QCOM, ROST, SBUX, T, TAL, TGT, THO, TUP, UNP, WBA, WEC, WFC, WMT, WSO, WYNN. I am a Civil Engineer by trade and am not a professional investment adviser or financial analyst. This article is not an endorsement for the stocks mentioned. Please perform your own due diligence before you decide to trade any securities or other products.
The author wrote this article themselves, and it expresses their own opinions. The author is not receiving compensation for it (other than from Seeking Alpha). The author has no business relationship with any company whose stock is mentioned in this article.