"Two years of college will become as free and universal as high school is today" President Barack Obama January 9, 2015 [1]

"Just as free K-12 education is an educational and civil right, #freecommunitycollege should be as well" Secretary of Education Arne Duncan via Twitter [1]

"Nothing is free...high school should already offer most of these same skills...states are not the funding model to emulate" Forbes article in response to BO's proposal

"The right way to expand Tennessee Promise nationally is for other states to do for themselves what Tennessee has done...instead of creating a new federal program" Chairman of the Senate Education Committee Lamar Alexander in response to BO's proposal
Background
Building on a model used by the city of Chicago and the state of Tennessee, President Obama announced a proposal, known as America's College Promise, that would make two years of community college education universal and more importantly free. At the same time, the president also called for expanded technical training, work-based learning, and programs compatible with part-time students through the creation of the American Technical Training Fund.
The president said the programs would keep America in the forefront of global competitiveness by providing an educated workforce that is not saddled with debt and worthless degrees.
America's College Promise
Under the proposal, the ACP would create a federal/state partnership to enable states to waive tuition for students who meet certain requirements including at least half-time enrollment, a 2.5 GPA, and measurable progress toward a degree.
The ACP will require participating community colleges to offer programs that are fully transferable to local public four-year colleges or occupational training programs with high graduation rates that lead to gainful employment opportunities.
American Technical Training Fund
The ATTF, which will award programs in community colleges and training institutions that help high-potential low-income workers gain marketable skills in growing fields such as energy, IT and advanced manufacturing, already exist in varying forms in Texas and Tennessee.
Potential costs
Assuming the proposal becomes a law, which is no certain matter, the total bill over the next decade could top $60 billion. On an annual basis, that is less than 10% of the current $68.6 billion in discretionary appropriations for the Department of Education.
Potential benefits
The proposals could help slow the student loan debt problem in America, which now tops $1 trillion.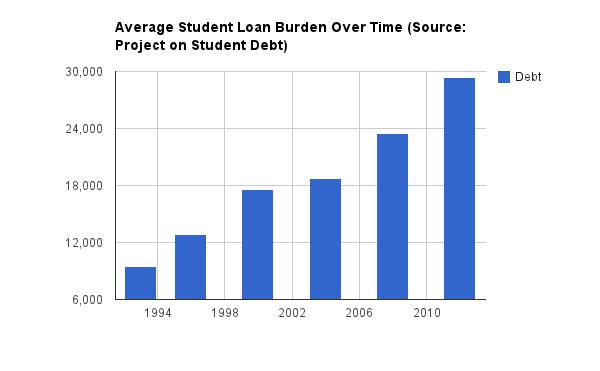 In addition to making college more affordable, the proposals could also increase the number of students who successfully make the transition from community college to a four-year degree, which currently sits at about 60%, according to the National Student Clearinghouse.
An investment take on the winners
There are many stakeholders who stand to gain from a more educated and productive workforce, including businesses, federal and state governments, stock markets, and more. Narrowing the scope of investable winners requires digging a little deeper. Here are my top winners, based on information we have in the early stages of the post-announcement environment.
1) John Wiley & Sons (NYSE:JW.A)
John Wiley is a global provider of knowledge and knowledge-enabled services in the areas of education, research and professional practice.
Why it wins: The company's Education segment produces education content, online program management for higher education institutions and course management tools for instructors and students. The company offers digital and custom print education content and produces traditional print textbooks. As of its most recent annual report, the education segment accounted for over 20% of total revenues, and of that number, print and digital text books accounted for over half of segment revenue. If ACP proposal is enacted, increased enrollment in college and similar programs should drive demand for textbooks and other educational resources.
2) Houghton Mifflin Harcourt Company (NASDAQ:HMHC)
HMHC provides education solutions for institutions and consumers worldwide.
Why it wins: While the company focuses primarily on the K-12 market, its Trade Publishing Segment provides reference materials to schools, colleges, libraries and other institutions. Also, the company's Comprehensive Curriculum group (which accounted for over 60% of its Education Segment's net sales) provides complete curriculum management, including teaching aids, workbooks, and textbooks to primary and secondary educational institutions. This "turn-key" type solution could be embraced by community colleges who prepare for a potential influx of students who would have otherwise been unable to attend community college.
3) Pearson Education (NYSE:PSO)
Pearson provides a range of education products and services, including curriculum textbooks, student assessments and testing services, and education technologies for primary through post-secondary aged students.
Why it wins: The company's Higher Education Segment (which accounted for over 25% of consolidated revenues as of the most recent 10-Q) provides textbooks, digital learning, tutoring and assessment products to undergraduate, post graduate and vocational learning institutions. Pearson could see an uptick in demand for both its educational services management products and its print products if either ATTF or ACP proposals are enacted.
An investment take on the losers
Generally speaking, the biggest losers from ACP and ATTF are those involved in the for-profit education sector that compete with community colleges and non-profit trade schools for enrollment and tuition dollars.
1) ITT Education Services (NYSE:ESI)
ESI provides technology-oriented undergraduate and graduate degree programs through its ITT Technical Institutes and Daniel Webster College.
Why it loses: ESI competes for both of the groups of students that the ACP and ATTF seek to enrich: those who desire a four-year degree and those who desire relevant technical training. ESI posted decreases in new student enrollment (9.5%), continuing students (4.7%), total student enrollment (6.3%) at its most recent quarterly earnings release. This enrollment decrease is a result increased cost sensitivity as well as better outcome alternatives.
2) DeVry Education Group (DV)
DeVry is for-profit education services provider that operates in three segments: Medical and Healthcare, International and Professional Educational, and Business and Technology Management. In addition to undergraduate, graduate and professional degree programs, the company provides professional education services and operates associate degree and technical training institutions.
Why it loses: Like its peers, DeVry is struggling to attract and retain students. DeVry Education operates DeVry University, a significant portion of its total business. The company provided weak revenue guidance, reported restructuring charges, and a 15% decrease in total undergraduate student enrollment as of its most recent earnings announcement in October. In addition to competing with other for-profit and non-profit universities, DeVry Education has significant downside based on unsuccessful prior acquisitions and remaining recorded goodwill which is subject to impairment and write-offs in future periods.
3) Apollo Education Group (NASDAQ:APOL)
Apollo Education Group provides private education services through online and onsite undergraduate, graduate, professional development, and non-degree programs primarily to working learners. The company operates the University of Phoenix.
Why it loses: Keeping with the trends above, Apollo Education Group has more struggles than enrollment, as I discussed in this analysis last month, but enrollment is a decidedly important issue. In its earnings call last week, Apollo Education reported decreases in University of Phoenix new degreed enrollment (5.0%), Degreed Enrollment (13.5%); and earnings per share (64.4%). If that wasn't enough, the Company also revealed a glitch in its online classroom that prevented students from connecting to its courses and resulted in perhaps otherwise avoidable attrition. Like DeVry, Apollo Education Group may be negatively impacted as students take advantage of free tuition under President Obama's proposals foregoing a possibly more convenient but costlier for-profit education route.
Final thoughts
Perhaps the most important thing to consider right now is that President Obama's proposals are just that. He may face stiff resistance from congress or be unable to get his proposal ratified as a law in any form. If that is the case, it's business as usual for all parties involved. In fact, the whole prospect of "universal higher education in America" seems pretty absurd. But then again so did the idea of "universal healthcare in America". For now, the tide appears to be with BO and his educational agenda, and the headaches keep mounting for for-profit education services providers. If the ACP and ATTF become a reality, look for those that support higher education (like my winners noted above) to realize a potentially modest, but not inconsequential positive impact, and steer clear of those that compete with the very system that the president is looking to overhaul.
Disclosure: The author has no positions in any stocks mentioned, and no plans to initiate any positions within the next 72 hours.
The author wrote this article themselves, and it expresses their own opinions. The author is not receiving compensation for it (other than from Seeking Alpha). The author has no business relationship with any company whose stock is mentioned in this article.