With 2014 now history, I wanted to spend some time discussing one of the most volatile and speculative biotech investment trends of 2014: Ebola stocks. Ebola began gaining national attention in August, with the World Health Organization announcing late in the month that Ebola cases may surpass 20,000 before being contained. Investors began to pay more attention to potential ways to play the Ebola scare in September with the first official announcement of Ebola in the United States on September 30th, 2014 bringing the Ebola scare to the forefront of the minds of many in the investment community. While the Ebola scare is more or less out of the minds of investors and media here in 2015, there is a lot to learn from how investors reacted that can be applied to similar scenarios in the future. The Ebola stock craze is not the first investment opportunity of this nature as outbreaks of SARS, MERS and West Nile Virus have caused investors to flood to stocks with any connections to contagious diseases, which is not doubt something that will again take place when the next contagious disease gets worldwide attention.
To begin this discussion, I developed a list of all the publicly traded companies I could find that had been mentioned as potentially having useful treatments/products for the Ebola scare and had seen a significant increase in volume as well as volatility due to Ebola. I looked at performance during Q4 as most of the volume and volatility related to Ebola came just into October after Q4 started and had more or less died out by the end of 2014. I did not include either Johnson and Johnson (NYSE:JNJ) or GlaxoSmithKline (NYSE:GSK) as they did not really gain any volume or volatility from their research into potential Ebola treatments.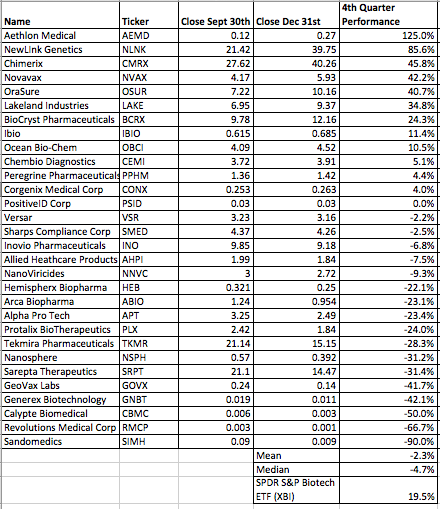 While you would think that all the Ebola-related news and interest from the investment community would be good for these stocks, that does not seem to be the case as the negative mean (-2.3%) and median (-4.7%) performance figures for these securities are substantially worse to the gaudy 19.5% price return put up by the small-cap leaning SPDR S&P Biotech ETF (NYSEARCA:XBI) in Q4 2014. While this information in itself may be enough for some to avoid dabbling in these names, what else can we take from this data? Let's take a look at performance of securities with a market cap greater than $100 million as of the end of Q3 versus those with a market cap of less than $100 million at Q3 end.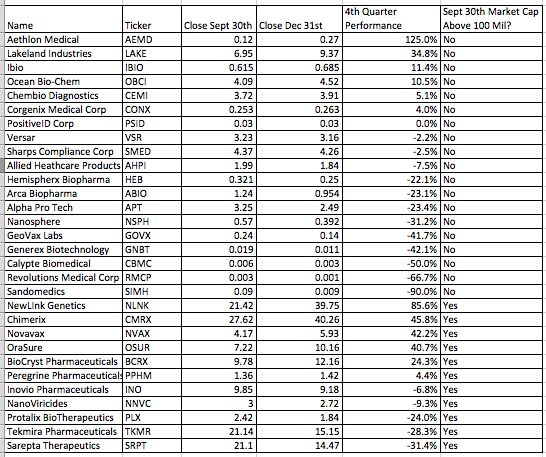 Stock with a market cap greater than $100 million outperformed those with a market cap less than $100 million by a whopping 24.1 percentage points (13% vs. -11.1%). Those with a market cap greater than $100 million had a performance median that was greater by 11.9 percentage points (4.4% vs. -7.5%).
So, what would be my tips for those looking to make investments in this space?
1. Avoid stocks with tiny market caps
The numbers I have presented illustrate that investors should not going long any of these names with tiny market caps. Am I saying that you should never buy a stock with a tiny market cap? No. I myself operate almost exclusively in the micro-cap and small-cap spaces. What I am saying is that investors looking to buy a stock based on a contagious disease like Ebola are best to avoid names with a tiny market cap. Just look at the five worst performers on my Ebola stock list. All five have a share price under a quarter with the stocks having a combined market cap under $50 million ($7.67 million, $15 million, $4.2 million, $0.6 million, and $19.65 million). If the companies actually had a chance at garnering significant revenues from a contagious disease outbreak, they would not be trading so cheaply in the first place
2. Avoid stocks with fluff PRs
When investors are looking for as many ways as possible to play a contagious disease outbreak like Ebola, companies will gladly satisfy the desires of investors by pumping out many Ebola press releases, many of which will actually contain little or no relevant news and should not affect the company's valuation. One company I have highlighted for doing this is Hemispherx Biopharma (NYSEMKT:HEB). In an October piece now available exclusively to Seeking Alpha PRO subscribers, I highlighted how this company with connections to Stratton Oakmont as well as other penny stock pumpers has a history of churning out PRs during times of contagious disease outbreak.
"During the SARS outbreak between 2002-2004, HEB issued 19 press releases mentioning SARS in the title, yet has only issued 3 since 2004. Also, with the spike of West Nile Virus cases in the United States in 2003, HEB issued 8 press releases mentioning the virus in the title of the PR in 2003-2004, yet has only issued one since."
Hemispherx impressively churned out 8 press releases related to Ebola in a matter of only three months late in 2014 (9/8/14-12/9/14). The company has now decided to display itself to the investment community as a checkpoint inhibitor story, another hot term with investors, and Hemispherx actually PR'd a report by an analyst predicting a gaudy amount of upside that hopes to receive investor relations funds from Hemispherx:

Source: Arrowhead Analyst Report On HEB]
Even Seeking Alpha couldn't stop from showing its skepticism by noting how Hemispherx's drug Ampligen has been "experimental" for 25 years: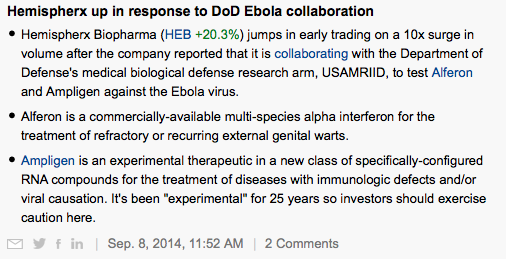 3. Look for stocks that have deep pipelines and don't need Ebola-related revenues to sustain valuation
What happens to your stock in the event that providing treatments/products in the fight against Ebola does not lead to a significant stream of revenue? While you certainly want to identify an investment that provides significant upside in the event that the company is able to gain significant revenues from the fight against Ebola, it is important that the company has other attractive portions of its business in order to provide downside protection. NewLink Genetics (NASDAQ:NLNK) is a great example.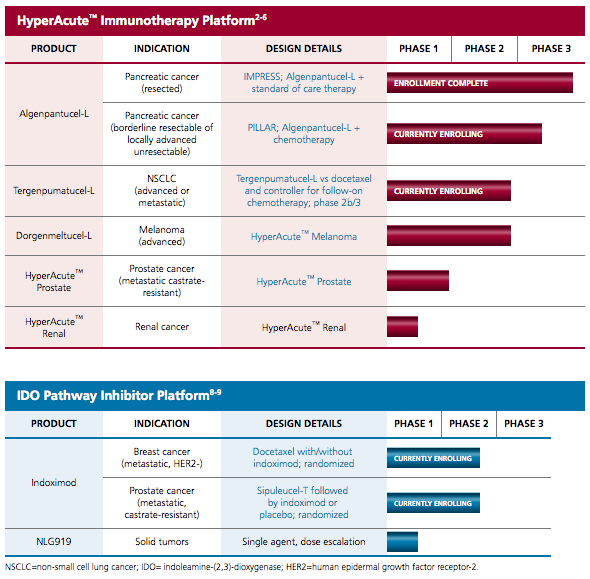 Source: NewLink Website
Investors began bidding up NewLink in earnest in October when it was announced that human testing of the company's Ebola vaccine had begun. When I initially saw the huge run the stock was making on the beginning of human testing for its Ebola vaccine, I figured the stock was a prime candidate for a short, but, after doing some due diligence, I realized that this was a company with a deep pipeline that was definitely not a short candidate. The company confirmed my thoughts in regards to its deep pipeline by announcing on October 20th that it had signed a license agreement with Roche (OTCQX:RHHBY) for the development of its IDO pathway inhibitor, NLG919, as well as established a research collaboration with Roche for the discovery of next generation IDO/TDO compounds. The stock has continued to hold up well after its substantial Ebola run-up.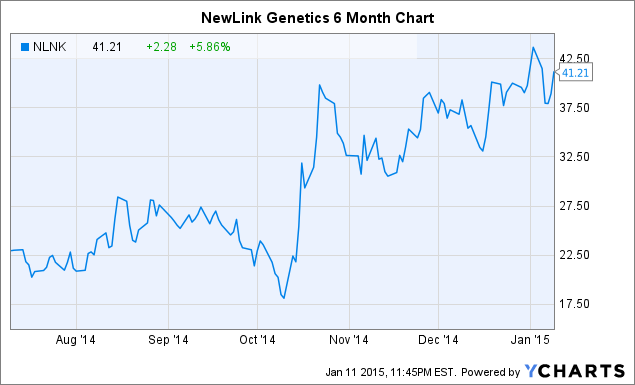 I do realize that many looking at this group of stocks are not what you would necessarily call investors. Many looking at this space are day traders or swing traders looking to make a trade with a good/risk reward based on news, volume, and price action. Traders will need to consider a different set of factors when looking to get involved in these stocks.
1. Where is the top?
For a trader, I think this is an extremely important question when looking at contagious disease stocks. While it is not smart to think it is always possible to call tops, I do think it is necessary to be able to acknowledge at what point there is more risk than reward for a long position. To look into the question further, I gathered data on the highest Q4 volume date and date of the highest close in Q4.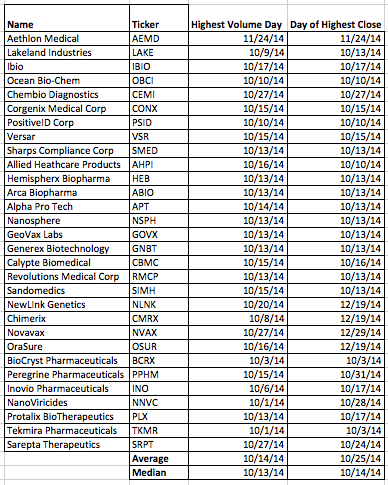 The interesting statistic here is the median date of each event as this removes the substantial effect the stocks that hit highs near the end the year have on the average. The highest volume day for the stocks was 10/13/14 in accordance to the median while the high in price was just a day later, on 10/14/14, per the median. Over half of the data set had its highest volume day on the week of October 13th. Additionally, over half of the data set saw highs in price that same week. Given this, it appears that the topping of the Ebola stocks was correlated with the height in volume. Traders being able to identify this soon after the top would be able to play the short side of the Ebola trader very effectively over the next few weeks. Some examples where volume and price topped out the week of October 13th and offered excellent shorting opportunities include: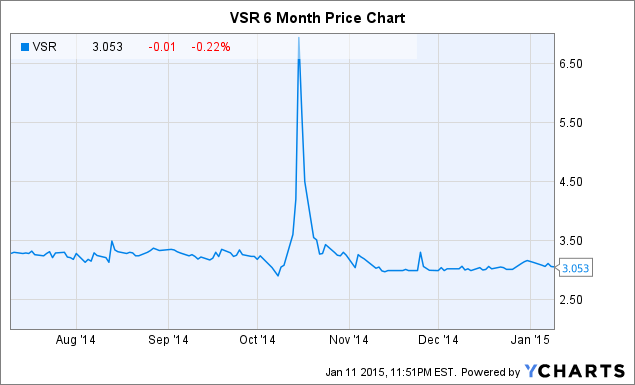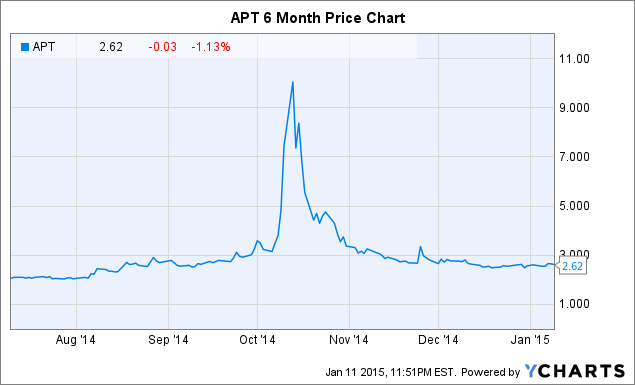 2. Is there enough liquidity?
When reviewing which Ebola names to trade, liquidity is an important factor. Some of the names on the list I developed are thinly traded, and it might be hard to initiate a price without moving the stock significantly. For instance, when a stock like Generex Biotechnology Corporation trades 8 million shares in a day, this is not really enough shares for a trader to get involved as 8 million shares is only $240,000 with a shares price of just $0.03. For reasons similar to this, traders should look to avoid stocks under a dollar and many may even look to avoid those under five dollars to ensure no liquidity issues.
3. What could happen to _____ if ________ happens?
At the trading desk I used to work at, we would discuss what would happen to certain stocks in the event of various hypothetical scenarios. When trading stocks based on a contagious disease, it is essential to run through potential scenarios based on the stocks you would like to trade. Contagious disease stocks can react substantially to various news events, which can come at any moment. Let's say I decided go long Ibio (NYSEMKT:IBIO) for a trade during all the volume and volatility of October. What are some of the questions I should ask myself?:
What could happen to IBIO if the World Health Organization announces that it believes Ebola is contained?
What could happen to IBIO if a cruise line company announces that it believes a few vacationers that recently boarded a ship in Miami may have Ebola?
What could happen to IBIO if President Obama announces plans for a bill to provide an additional $500 million for Ebola research?
What could happen to IBIO if a known short-seller like Citron comes out saying the stock will go to 0?
A trader that chooses to get involved with stocks of this nature needs to have thoughts on how a particular stock could be affected by general Ebola news flow as well as stock-specific news flow. Equally important is that the trader needs to have a trading plan in relationship to how to handle the position if certain news possibilities become a reality.
Conclusion
Contagious diseases can bring especially speculative waves of investing, and the recent Ebola scare was no different. While this does bring substantial increases in volume and volatility, it does not necessarily bring lasting price appreciate for investors, as displayed by the significant underperformance of stocks in the Ebola basket that I was able to identify. For those that would like to invest in stocks with potential for upside from the fight against Ebola, important factors were to avoid stocks with tiny market caps, avoid stocks with fluff PRs, and look to invest in companies with deep pipelines. For those just looking at this group of stocks for a trade, important factors to consider include the relationship between volume and price, the importance of liquidity, and the reaction the stocks might have to specific flavors of news.
Disclosure: The author has no positions in any stocks mentioned, and no plans to initiate any positions within the next 72 hours.
The author wrote this article themselves, and it expresses their own opinions. The author is not receiving compensation for it (other than from Seeking Alpha). The author has no business relationship with any company whose stock is mentioned in this article.
Editor's Note: This article covers one or more stocks trading at less than $1 per share and/or with less than a $100 million market cap. Please be aware of the risks associated with these stocks.