There were many calls heading into 2015 which called for increased deal-making in the healthcare sector and today we have a flurry of deals. Although the largest deal is worth just north of $5 billion, the volume of deals, especially among smaller names, is quite impressive. Also of importance is how these deals strategically fit the acquirer's long-term plans because each of today's transactions seem to be great buys to further the combined companies' business.
Add in AmerisourceBergen's (NYSE:ABC) deal for MWI Veterinary Supply (NASDAQ:MWIV) today and we have around $10 billion in deal volume. All of these transactions could be setting up the industry for further consolidation down the road as these companies continue to develop their early stage drug pipelines.
Chart of the Day:
The healthcare sector had a great year last year, and with today's M&A news it certainly looks like healthcare will be a winner in 2015 too.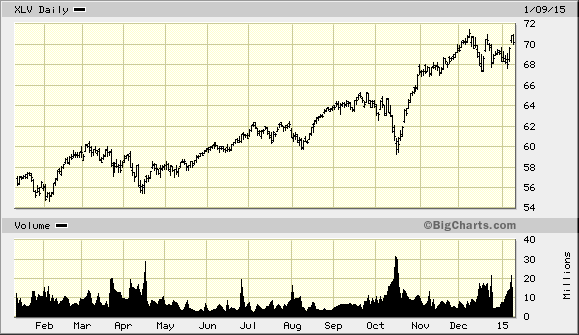 Source: BigCharts
We have no economic news today, but have the JOLTS and Treasury Budget tomorrow.
The Asian markets are lower today:
All Ordinaries - down 0.78%
Shanghai Composite - down 1.65%
Nikkei 225 - CLOSED
NZSE 50 - up 0.45%
Seoul Composite - down 0.19%
In Europe, markets are higher today:
CAC 40 - up 1.18%
DAX - up 1.31%
FTSE 100 - up 0.13%
OSE - up 0.84%
Roche Buys Into Foundation
There are a number of deals that have been announced in the healthcare sector today, starting with news that Roche Holding AG (OTCQX:RHHBY) is buying a majority stake in Foundation Medicine (NASDAQ:FMI). The deal calls for Roche to purchase 20.6 million shares of Foundation at $50/share, with Foundation issuing 5 million new shares to Roche and Roche tendering for 15.6 million shares. With Roche having the opportunity to invest another $150 million in research, they will control between 52.4%-56.3% and gain board representation. Foundation Medicine will continue to operate independently and management will retain control of the company as Roche will only take a minority of the company's board seats.
Roche is offering a 109% premium, but shares of Foundation Medicine are trading above that level as investors cheer.
Another Hepatitis Deal
Tekmira Pharmaceuticals (TKMR), the Canadian drugmaker, announced that it was acquiring privately held OnCore Biopharma in an effort to create a global leader in treatments for Hepatitis B, or HBV. The agreement calls for Tekmira to issue new shares for OnCore's shareholders, which will see them control about 50% of the combined company. The total value of the deal, based off of Friday's closing price, is roughly $750 million.
For those not familiar with OnCore Biopharma, the company was planning an IPO to raise capital to continue to fund their drug portfolio which had been developed to an early stage. One of the company's founders is Mike Sofia, the man behind Gilead Science's (NASDAQ:GILD) Sovaldi, who will be retained and named the combined company's Chief Scientific Officer.
Shire Gets Its Target
After its deal with Abbvie (NYSE:ABBV) fell through, Shire (NASDAQ:SHPG) walked away with a healthy break-up fee payment which many analysts figured the company would use to fund its own acquisitions. Speculation immediately centered on NPS Pharmaceuticals (NASDAQ:NPSP), a deal which would combine two companies that focus on orphan drugs.
This weekend Shire announced that they had reached an agreement to purchase NPS Pharmaceuticals for $5.2 billion, in a deal which bolsters its pipeline and is a bet on the future. While some may question the premium attached to the deal, it is important to remember that NPS Pharmaceuticals' shares traded near $30/share prior to rumors of it being a target of Shire's last month. NPS shareholders will get $46/share in cash.
Disclosure: The author has no positions in any stocks mentioned, and no plans to initiate any positions within the next 72 hours.
The author wrote this article themselves, and it expresses their own opinions. The author is not receiving compensation for it (other than from Seeking Alpha). The author has no business relationship with any company whose stock is mentioned in this article.
Editor's Note: This article discusses one or more securities that do not trade on a major U.S. exchange. Please be aware of the risks associated with these stocks.