Buy Sify Technologies Ads (SIFY) and Rediff.com India Ltd. Adr (REDF): SIFY is an Indian provider of corporate network and data, internet access and online portal services in India. It is among the largest internet, network, and e-commerce services companies in India, offering end-to-end solutions with a comprehensive range of products delivered over a common Internet backbone infrastructure. A significant portion of its revenue is derived from corporate services, which include corporate connectivity, network and communications solutions, security, network management services, enterprise applications and hosting. Consumer services include broadband home access, dial-up connectivity and the iWay cyber café chain across one hundred cities and towns. The stock was down 27.4% during the week and is up 95.6% YTD.
REDF is an Indian provider of internet content, communications and information services via Rediff.com. Its website consists of interest specific channels relevant to Indian interests including cricket and movies, community features including e-mail and chat, and e-commerce offerings. It also offers broadband and wireless content to users who have access to these services. The stock was down 15.7% during the week and is up 114.2% YTD.
Both SIFY and REDF incur losses every quarter, and both are up approximately three-fold to five-fold in the last twelve months, while revenues are up 5% to 7% for SIFY and in the mid-teens for REDF. No analysts cover either company, and none of the high alpha or guru funds have a position in either stock.
Both stocks are up strongly this year based on excitement about India expanding its broadband coverage and also an explosion in online content and services in India, both of which would be tremendous positives for both companies. The steep correction last week was on no new news, and puts the stocks at 40% to 50% below recent highs in April, while the fundamental story is still the same.
We would be cautious buyers here, and would buy small positions on any further dips below $4 for REDF and below $10 for REDF, based not on fundamentals, but based on the huge potential for both stocks if the India broadband and Internet services story plays out, and taking advantage of the recent steep technical correction.
Buy Travelzoo Inc. (TZOO): TZOO provides online travel insurance travel offers from airlines, hotels, cruise lines, and vacation packages via Travelzoo.com for the North America and Europe markets. It also offers the SuperSearch pay-per-click travel search tool; and the Travelzoo Network, a network of third-party web sites that list deals published by Travelzoo. In addition, the company operates Fly.com, a travel search engine that allows users to find the best prices on flights from various airlines and online travel agencies. The stock was down 22.9% during the week and is up 43.6% YTD.
TZOO trades at a current 67 P/E on a TTM basis, and at a forward 25 P/E, mid-range based on its historic P/E range. Earnings meanwhile are projected to rise from 79c in 2010 to $1.64 in 2011 and $2.36 in 2012, at a compounded 73% growth rate, well above the 25 forward P/E and even above the current P/E. The stock dropped last week on earnings that came in at 30c, up 51% year-over-year, but short of analyst estimates of 38c per share, and revenue that accelerated to 34% year-over-year growth but still short of analyst estimates at $37.6 million versus the $40.2 million consensus. The company explained that the earnings miss was due to its television ad test that accounted for 7c of the miss, but it seems that investors may be focusing more on the revenue miss.
We believe that the long-term story and growth trajectory of TZOO is still intact. The company with only $130 million in annual revenue, versus $3.3 billion for competitor PCLN, has lots of room to grow. There are ample opportunities for international expansion as the company moves beyond its base in North America and Europe. TZOO shares are weaker here, and in the absence of any positive news are most likely going to tread lower. We would be buyers into any pullback to the mid-$50s as it tests the 200-day moving average, buying in stages so as to take advantage of any continuing weakness.
Netsol Technologies Inc. (NTWK): NTWK is a developer of information technology software for the global financing and leasing industry. The stock is down 34.2% during the week and is down 46.5% YTD. The stock gapped down sharply on Thursday morning as the company guided down June 2011 FY revenue and earnings to $35-$36 million and11c-13c versus analyst estimates of $40-$44 million and 18c-23c. NTWK trades at a forward 6 P/E based on its June 2012 fiscal year projections.
Aegean Marine Petroleum (ANW): ANW is a supplier and marketer of refined marine fuel and lubricants to the worldwide shipping industry. The stock is down 17.5% during the week and is down 47% YTD. The stock was down on no new news last week. ANW trades at a forward 5-6 P/E, while earnings are projected to rise from 54c in 2010 to 95c in 2012. Thus, it trades at a discount to its projected 32% compounded earnings growth rate.
Dynavax Technologies (DVAX): DVAX is a developer of drugs using immunostimulatory sequences technology to treat asthma, infectious, inflammatory and auto-immune diseases. The stock was down 15.6% during the week and is down 20.3% YTD. The stock was down last week after the company released phase 3 trial data for its investigational hepatitis B virus (HBV) vaccine.
Fibertower Corp. (FTWR): FTWR is a provider of facilities-based backhaul services to wireless carriers for the transport of voice, video, and data traffic. The stock is down 16.3% during the week and is down 72.4% YTD, on no news last week.
Table (click to enlarge):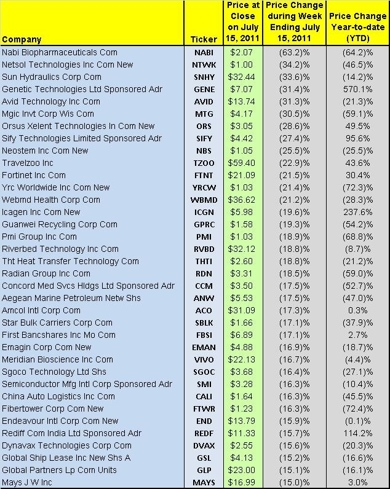 Credit: Historical fundamentals including operating metrics and stock ownership information were derived using SEC filings data, I-Metrix® by Edgar Online®, Zacks Investment Research, Thomson Reuters and Briefing.com. The information and data is believed to be accurate, but no guarantees or representations are made.
Disclosure: I have no positions in any stocks mentioned, and no plans to initiate any positions within the next 72 hours.
Disclaimer: Material presented here is for informational purposes only. Nothing in this article should be taken as a solicitation to purchase or sell securities. Before buying or selling any stock you should do your own research and reach your own conclusion. Further, these are our 'opinions' and we may be wrong. We may have positions in securities mentioned in this article. You should take this into consideration before acting on any advice given in this article. If this makes you uncomfortable, then do not listen to our thoughts and opinions. The contents of this article do not take into consideration your individual investment objectives so consult with your own financial adviser before making an investment decision. Investing includes certain risks including loss of principal.