The Canadian dollar continues to decline as labor market and inflation data deteriorate. The CurrencyShares Canadian Dollar Trust ETF (NYSE:FXC) is down almost 11% since July, as is seen in the chart below.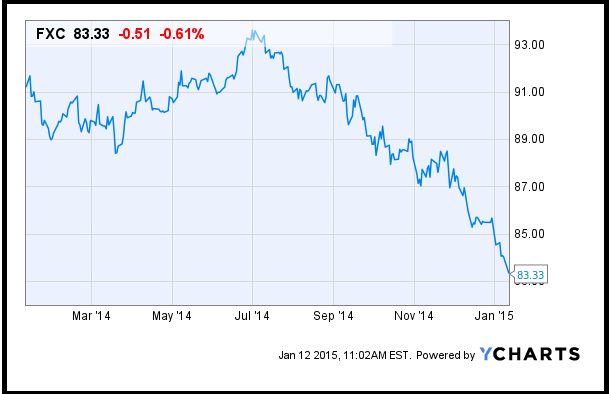 As the employment landscape in the country has fallen in recent months, consumer spending dropped, adversely affecting the Canadian currency. On Friday, the Employment Change figure for December came in at a loss of -4,300 jobs, above the previous months reading of -10,700 jobs, but missing estimates for 15,000. After strongly gaining employment during the early fall months, the labor landscape has now lost momentum, as is seen in the chart below. Analysts now see more downside risk for employment in 2015.
"We see a downside risk to the consensus expectation of a soft 15k gain in December. Hiring intentions have been pared back as employers are a little more cautious given the sharp decline in oil prices. In light of this, we could see a soft pace of hiring early in the new year. The unemployment rate is expected to remain at 6.6%," according to a report by FX Street.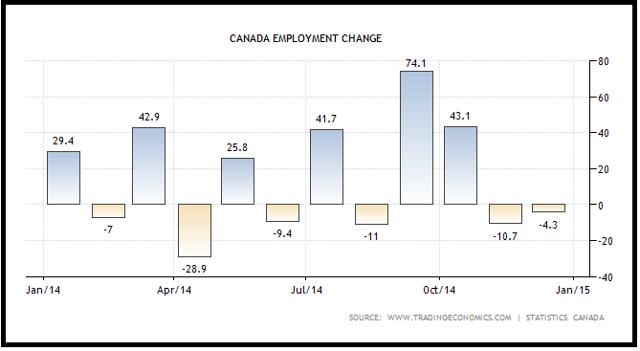 Data provided by Trading Economics
Meanwhile, the decline in oil prices have weighed on government revenue, as well as suppressed inflation measures, leading analysts to give less probability to a central bank interest rate rise in the near future. In November, the annual producer price figure came in at 1.9%, below the previous month's reading of 2.5%, as well as missing forecasts for 2.92%. In 2014, producer prices broadly declined during the second half of the year, tracking oil prices lower, falling from 4% in March to now below 2%, as is seen in the chart below.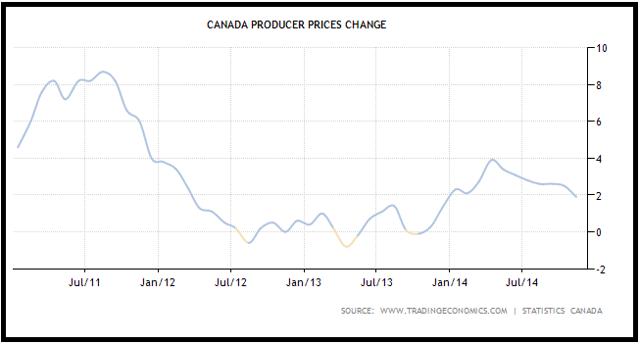 Data provided by Trading Economics
As a decline in oil prices has hurt both the labor market, energy producer earnings, as well as led to lower inflation expectations, housing starts have declined in the country. In December, the Housing Starts figure came in at 180,600 homes added, below the previous month's figure of a revised 193,200, as well as missing estimates for 193,500. As employment and energy producer revenues pulled back during the middle-half of 2014, so did housing starts, indicating consumers were less willing, and able to spend, as is seen in the chart below.
Canada's economic landscape is still in poor shape as lower oil prices continue to weigh on both inflation readings and producer incomes. As jobs are lost, consumer spending is on the decline, as is seen with the housing starts figure. Canadian policymakers have a lot to figure out with regards to fixing its economy, and therefore, its currency will likely continue to decline over the next few months.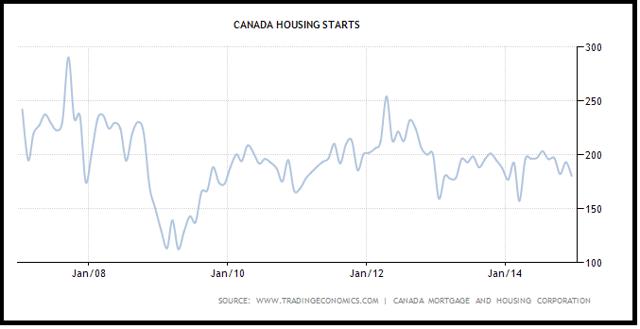 Data provided by Trading Economics
Disclosure: The author has no positions in any stocks mentioned, and no plans to initiate any positions within the next 72 hours.
The author wrote this article themselves, and it expresses their own opinions. The author is not receiving compensation for it (other than from Seeking Alpha). The author has no business relationship with any company whose stock is mentioned in this article.