OPEC underestimated the resilience of core US shale producers and now Saudi Arabia and the OPEC market share hawks have forced themselves into a position where they are unlikely to reduce production before the June 2015 regular OPEC meeting. Otherwise, they will appear to have capitulated to the army of US shale drillers.
Based on accumulating evidence, WTI will bottom out between $35-to-$40 per barrel, most likely during 1Q2015. With WTI having approached $46/bbl, horizontal rig counts in the core basins remained remarkably steady as of 2 January 2015. Based on the fact that breakeven prices in core portions of the Bakken, Eagle Ford, and Permian range between $40 and $60/bbl, the zone between $45 and $40 will likely be the turning point at which horizontal rig counts slow noticeably even in the core parts of the major plays. At $40/bbl for WTI, the rig laydown rate will likely rise sufficiently to begin driving prices back up as the market anticipates stabilizing or declining production.
Recent history (2008-2009) shows how fast and far crude prices can plummet, but also shows that recovery can be rapid, even amidst a serious global recession (which is not the case today). The first quarter of 2015 will be the first stages of a period of intense buying and consolidation activity. Intrepid investors will be able to position themselves well to profit from asset appreciation as crude prices begin to recover later this spring and beyond.
Two core factors and a "wild card" deserve attention and are discussed in greater detail (below):
--Factor One: US refineries on the Gulf Coast and East Coast are saturated with domestic crude in both physical and economic terms. Unless exports are allowed to expand and relieve this backup, WTI's discount to seaborne crude will grow and hasten the march down to $40. In 1Q2015, the Gulf Coast will also likely experience a heavy oil glut as scheduled refinery maintenance coincides with a greater flow of Canadian Heavy crude that will compete with heavier Saudi grades for market share. This will fuel Saudi paranoia about market share and motivate the Kingdom to keep the taps of light, medium, and heavy production open for at least 2-3 months to come.
--Factor 2: Even at current prices, US liquids production will continue growing through at least 1H2015, and likely beyond as producers refocus on sweet spots, hedges protect higher cost production, and falling service costs lower economic thresholds for an increasingly large portion of the US shale asset portfolio.
--Wild Card: In a low global oil price environment, US product exports-which have been a major safety valve to get US crude onto global markets despite the export ban-may lose competitiveness. If this happens, more U.S crude barrels will stay at home and contribute to the short-term domestic supply glut. This author believes is increasingly likely that Congress will take action in 2015 to eliminate or dramatically scale back restrictions on crude oil exports.
Core Factor 1: US Refineries Are Saturated With Domestic Crude
U.S. refiners are rapidly approaching-and in the case of the US Gulf Coast region-have likely already hit a wall beyond which they will not be able to incorporate further meaningful volumes of U.S. crude production. This is extremely important because it means that even if U.S. crude output rises less than expected in 1Q2015, refineries cannot accommodate more domestic barrels and WTI prices will suffer accordingly as the supply chain backs up.
EIA data for PADD 3 refinery runs suggest that refineries began to experience constraints in late 2012 when imports fell below 50% of total crude supplies to refineries, resulting in a surge of exports from PADD 3 to PADD 1 and Canada (Exhibit 1). PADD 3 refiners have been able to further decrease imports as a proportion of total barrels run, but now seem to be hitting a tougher to surmount wall that comes when domestic crudes account for 60% or more of supplies to a given set of facilities.
Exhibit 1: Gulf Coast Refineries are Saturated With Domestic Crude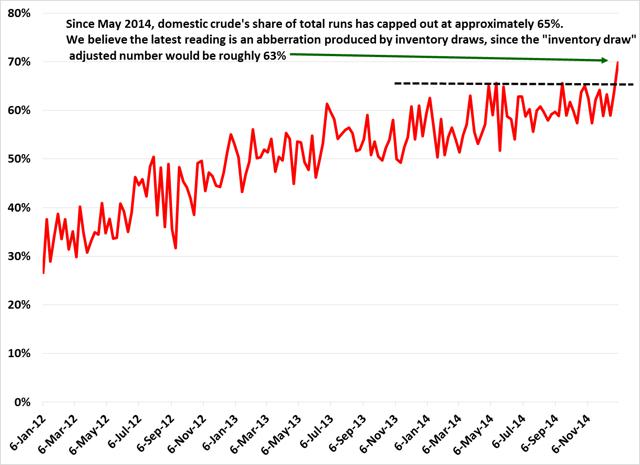 Source: EIA, Author's Analysis
The wall thesis appears robust, particularly in light of the fact that despite steady increases in domestic crude supplies, PADD 3's refineries have repeatedly run up against the 65% threshold. We view the most recent data point as an aberration produced by inventory draws as refiner made end of the year drawdowns to use expensive legacy barrels, free up space, and re-stock with today's low-cost supplies.
The fact that PADD 3-home to the largest and most complex refining capacity in the appears to have tested a maximum import substitution threshold at around 65% domestic crude/35% imports, suggests continued domestic oil production gains will increase pressure for allowing full-on crude oil exports.
The combination of physical-and perhaps equally as important-economic barriers helps create a pressing need for allowing US crude oil exports. Valero (NYSE:VLO), the largest US refinery operator by throughput capacity, claims to be able to use light sweet crude for 56% of its total supply. Yet in practice the company's own data show that thus far has been unable to run more than 42% light sweet crude in its system (Exhibit 2).
Exhibit 2: Valero Light Sweet Crude Runs as Percentage of Total Refinery Throughput, Actual vs. Theoretical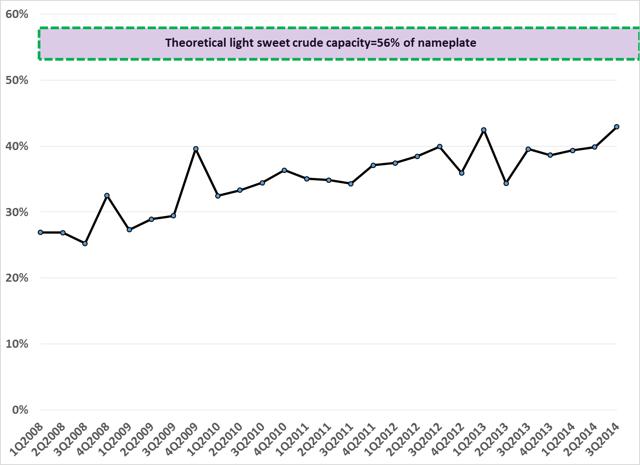 Source: Company Reports, Author's Analysis
Core Factor 2: Rig Counts Down Outside the Permian…But Production Likely to Increase
Over the past month, the drilling rig tally in the "core" US liquids basins (Bakken, Eagle Ford, Permian) has dropped by 54 rigs (Exhibit 3). Notably, 38 of the lost rigs (70% of the total) came from vertical operations in the Permian (Exhibit 4). Horizontal rig levels have declined slightly in the Bakken and Eagle Ford, but are still at or above where they were when WTI was at $90/bbl in late summer 2014. Horizontal rig counts have risen meaningfully in the Permian, as more E&P's embark on horizontal drilling programs there. The "secondary" liquids plays (DJ Niobrara, Granite Wash, and Mississippian Lime) have declined slowly since prices began falling, without the sudden drop seen in Permian vertical rigs over the past month
Exhibit 3: Rig Count Weakening in Core Plays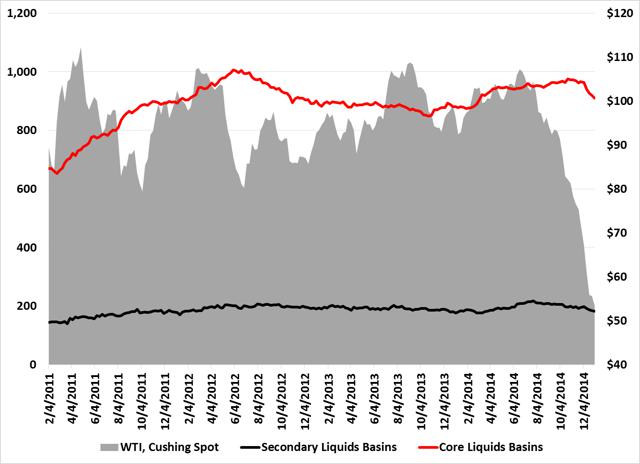 Source: EIA, Author's Analysis
The price drop has primarily impacted vertical drilling in the Permian thus far, with the drop beginning in earnest at $60/bbl WTI. The fact that horizontal wells still has not declined in a meaningful way, suggesting that operators are having success "high grading" their drilling programs by focusing on the highest potential sweet spots.
Continued drilling activity also reflects two other key factors. First, many operators have hedged substantial volumes through 2015, and in some cases out into 2016, which provides cash flow to underpin and sustain drilling programs at prices that on a standalone basis would cause them to lay rigs down. Second, many debt-laden producers have no choice but to keep drilling and producing in an attempt to service their large debt loads.
Exhibit 4: Permian Vertical Wells Drive The Rig Count Slowdown Thus Far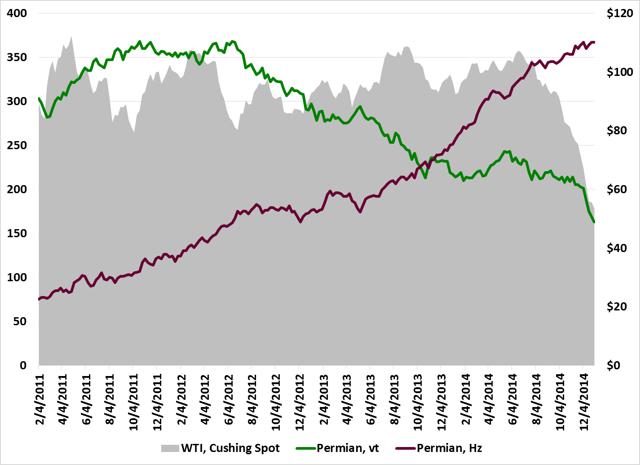 Source: EIA, Author's Analysis
Higher Output on The Way in the Next Few Months
Horizontal wells offer substantial potential for efficiency gains through longer laterals and improved fracing techniques-tactics that vertical wells typically cannot use. Horizontal Permian wells are more productive and have much higher EUR figures than their vertical cousins. For instance, QEP Resources (QEP) reports that its vertical Atokaberry wells have an average EUR of approximately 253,000 boe, while Pioneer Natural Resources' (NYSE:PXD) Wolfcamp horizontal wells can have EUR's exceeding 1 million boe.
Daily production numbers approximately reflect the large EUR disparity. Thus, more and improved horizontal wells-particularly in the Permian, which has much larger reserves and higher production growth potential than the Bakken or Eagle Ford as more producers turn to horizontal wells-can still yield production growth amidst falling rig counts as producers focus on their best acreage first and home in on the best completion techniques for each area.
As an example of the leverage in return on investment that producers can gain through enhanced completion techniques, PXD discloses in its November 2014 investor presentation that in its Eagle Ford wells, a 4% increase in completion capital spend can boost ultimately recoverable oil by 20% and a 12% increase in capital spend can raise EUR by 30%.
The ability to drill longer laterals and use more proppant in horizontal wells provides a cushion to boost productivity, especially as service costs fall. This is a fundamental reason why horizontal drilling activity will likely remain high unless WTI prices fall to the mid-$40s or lower and producers believe prices will linger for a quarter or more at $45/bbl or below.
Wild Card: Where Will U.S. Refined Product Exports Head?
Product exports have been the "safety valve" for the past several years because they provided a path for a substantial portion of domestic crude production growth to find an outlet into the global market since direct crude exports were-and still are-tightly restricted. If U.S. crude oil output simply stays steady and product exports slow in the first months of 2015, a severe WTI glut would likely result, with a commensurate downward effect on prices.
The fact that exports are not higher now in the winter season, when demand for distillate fuel peaks, suggests appetite for U.S. refined product exports may be weakening somewhat. For the week ending 2 January 2015, U.S. total refined product exports stood at 3,371 kbd, a high level, but meaningfully less than the nearly 3,600 kbd U.S. refiners were exporting in early January 2014 (Exhibit 5).
It will not take a catastrophic drop in refined product exports to put significant pressure in WTI prices-even a 5-8% reduction would trap more than 200 kbd of additional domestic crude in the U.S. This author believes 2015 will be the year real movement comes on allowing greater U.S. crude exports, but regulatory loosening is unlikely to happen quickly enough to prevent WTI from testing the $40/bbl level in 1Q2015.
Exhibit 5: US Product Exports Remain High…So Far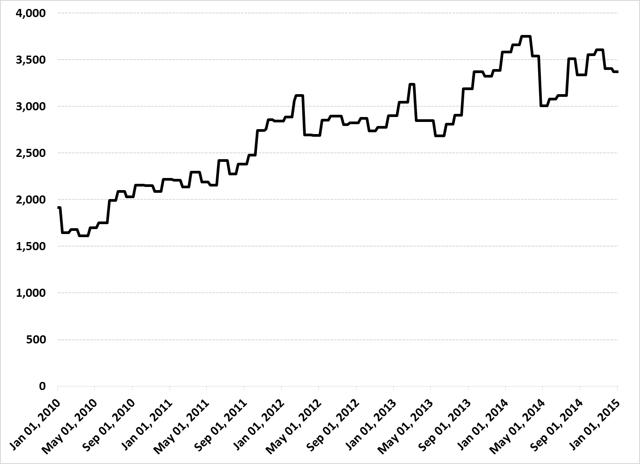 Source: EIA, Author's Analysis
Investment Implications
OPEC is unlikely to reduce production over the next three months because the low-cost countries who want to clip U.S. shale production-Saudi Arabia, Qatar, Kuwait, and the UAE-want a fast, violent drop that does not give US producers as much time to improve efficiency and learn how to profitably produce at lower oil price levels. They would rather just drive as many US shale producers as possible from the market with a rapid, "microburst" price downdraft.
The environment is increasingly ripe for consolidation. The list of potential targets is massive and far exceeds the scope of this analysis. With respect to potential consolidators, low-cost producers look better by the day. EOG Resources, Inc. (EOG), PXD, Apache (APA), and Continental Resources, Inc. (CLR) are increasingly well-positioned to acquire smaller, higher-cost competitors and then apply their drilling approaches and well cost completion advantages (especially EOG, PXD, and APA who have captive, low-cost frac sand supplies).
The majors, most of whom have lagged far behind the independents with respect to shale activity now also have a chance to lever their strong balance sheets and bulk up reserve bases on much more favorable terms than they could have even six months ago. Finally, foreign investors-especially from Asia have an opportunity to deploy their capital reserves to acquire increasingly well-priced molecules in the ground that they know their home economies will need a few years down the road.
Bottom line: each dollar WTI falls by makes the U.S. oil patch a more attractive hunting ground for acquisitive parties of all stripes. The coming months will be the first in a 2-3 quarter period of intense consolidation, acquisition, and capital injection activity.
Disclosure: The author has no positions in any stocks mentioned, and no plans to initiate any positions within the next 72 hours.
The author wrote this article themselves, and it expresses their own opinions. The author is not receiving compensation for it. The author has no business relationship with any company whose stock is mentioned in this article.