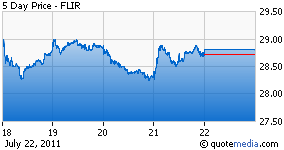 Flir Systems (NASDAQ:FLIR) had a lot of good news in their Q2 quarterly announcement, but were hurt by a drop in government buying, particularly U.S. military buying. It appears that the company managment was somewhat surprised by the amount that government contracts were delayed at the end of the quarter. From overall revenues of $390 million, the Government Systems group represented almost half of the revenue or $ 175 million. Their Surveillance segment represents $141.5 Million of the Government Systems Group's revenue.
On the positive side, the commercial group revenue was up 32% to $215 million. Part that success is based on the bounce back of the recently acquired Raymarine business.
Flir is a multi-divisional manufacturer of a wide range of products, most of which have a common theme of imaging, and in particular thermal imaging, or devices that sense infrared light. The company has built a leadership position in several imaging related product lines. The divisions cover many types of customers: commercial, consumer, government and industrial.
In the past year, Flir has made two significant acquisitions, moving beyond their legacy of thermal imaging finished products. Raymarine, acquired on May 14, 2010, ICx, acquired on Oct 4, 2010 – its operations were allocated into the Surveillance, Detection and Integrated Systems segments.
Business Segments
The five major Flir segment are:
Commercial Revenue - $ 215 M up 32%
1. Thermal Vision and Measurement – Rev. Q2 - $164.9 M up 21%
2. Raymarine – Rev. Q2, $50.2 M
Government $175 M, down 19% excluding the impact of ICX acquisition
3. Surveillance, Rev. Q2 - $149.8 M
4. Detection, Rev. Q2 - $17.2 M
5. Integrated Systems, Rev. Q2 - $16.2 M
Gross margins, at 52.5% were roughly unchanged, excluding the impact of the ISX acquisition.
Market
Flir participates in a diverse range of products, making market tracking difficult. In the surveillance industry infrared sensing products are becoming significantly cheaper to sell, a fact which could significantly change the size and nature of the market. For example, the price of thermal imagers is bringing these devices into the buying range of many commercial users for the first time.
Company Position
Flir holds a leading position in thermal imaging, and is expanding to other multi spectral visioning systems. Pressure on Flir's largest customer, the U.S. Government, to control spending is already having an effect on growth. Flir is becoming more diversified and less dependent upon government surveillance. In surveillance, competitors such as Bosch Security Systems and Pelco/Schneider Electric have introduced or plan to introduce their own thermal imagers. These new entrants will take time to establish their credibility in this market, and may make in-roads in the "new" commercial segments first, however their introductions are likely to have an impact on pricing.
The company has also been expanding their marine business, most notably through the acquisition of Raymarine.
Competition
FLIR has many competitors who offer thermal cameras and thermography products, companies such as Fluke, Infrared Cameras Inc., Infrared Inc. do not appear to be taking market share. We see no indication that FLIR's recent struggle with revenue in the Government segment of the house is due to competition – more so the general delay in Government spending. In fact the commercial side, where the competition would be strongest, is where Flir had its best results. As mentioned above, there is more competition coming to thermal cameras from respected brand names such as Bosch, Pelco and Axis.
FLIR Growth Rates
In our pricing model, we assume that the organic growth (excluding acquisitions) for Flir to be 5 percent in the next year, growing to the 10 percent range for the long term. This may ultimately be conservative, but until we see the impact of Flir's ability to manage the more complex multidivisional company they have created, the impact of government spending restrictions, and the impact of a slow economy on marine equipment buying, we are holding to these assumptions.
We've assumed net profit rate maintained at the 14-15 percent rate over the long term. Although net profits have been higher, Flir is increasing the complexity of their business, and adding lower margin consumer and distribution businesses. Competitors are adding lower cost thermal surveillance products. We view these moves as adding risk to the margin assumptions.
Cost Control
Generally gross margin rates stayed about even for the quarter, after correcting for the effect of acquisitions. However opex rates as a percentage of revenue jumped in the quarter, something to watch carefully in the coming quarters as the company absorbs the new businesses, and deals with the unanticipated drop in government revenues. We hope the company will get a ahead of the tight buying conditions expected in government spending, and watch spending more carefully.
Risk Assessment: MEDIUM
We assess Flir's risk level as medium.
On the positive side, the company has a great brand in high-end thermal imaging sensor-based equipment, and is diversified into several different product types and market segments. They have a fairly "deep moat" as it would be very difficult for a competitor to overtake them in reputation, relationships, and market share in many of their core government / surveillance segments. The company has $235 M in cash on hand. Longer term, the recovery of government defense spending is an upside to growth.
On the negative side, the company has been growing the complexity of the business rapidly through acquisitions, and some of these segments are lower margin business. These are also segments where Flir does not have a dominant position. There is more competition and reduced product prices coming in the thermal sensing business as other big brand companies enter the field with cheaper products. We don't see a short term end in sight for government spending cutbacks.
Our Proprietary Pricing Model
At VineSecurityJournal, we assess stocks primarily based on their fundamental value. We estimate the revenue and earnings to be generated by a company over the next ten years. We look at the risk involved in the business, look at the assets and liabilities, and we discount the value of the future earnings according to risk level. For companies with medium to high risk levels, we discount the value of future earnings more aggressively.
Finally, we compare the value of those future earnings to the stock price. Are the shares "on-sale" – or are they expensive?
Plugging our revenue and growth rate assumptions into our pricing model, we conclude that a fair value for Flir stock is about $24, below, but not far from its current market price.
Conclusion – Flir is a strong competitor with solid products. We wouldn't have a problem with holding the stock at this price, as we like the company. However we feel the stock is slightly overvalued, and we'll take our chances to wait for a dip to buy in at around $24.00
Postscript – Although not direct competitors or FLIR, Investors in Government contractors like Ingersol Rand (NYSE:IR), L-3 Communications (NYSE:LLL), Lockheed Martin (NYSE:LMT) and Raytheon (NYSE:RTN) will want to be cautious about similar spending reductions at the end of the 2nd quarter. It is quite possible that military spending cuts will be harder than anyone has anticipated, and likely to be around for a few years.
Disclosure: I have no positions in any stocks mentioned, and no plans to initiate any positions within the next 72 hours.